2014 Ulysses Festival Kicks Off (With Schedule!)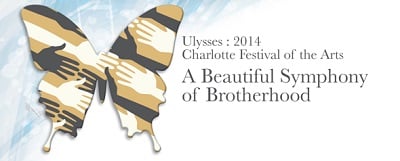 Around 4:15 p.m., a stage is erected in the bustling 7th Street Public Market. A few musicians—a jazz trio—enter and take a table among the market's customers. A couple dancers claim their corner in the space and begin to stretch, followed by an entire choir warming up beside the deli. On the other side of the room, booths are assembled, with labels like "Charlotte Knights" and "Opera Carolina."
For those who don't know about Thursday's opener for a month-long cultural festival, it all comes together when Center City Partners President Michael Smith takes the stage.
"Good evening, everyone," Smith says. "Welcome to the kick-off for the 2014 Ulysses Festival: A Beautiful Symphony of Brotherhood."
An evening of singing, dancing, and live music follow Smith's talk. The subtitle to the event, which features four weeks of cultural programming, hints at the overall theme. This year, Ulysses (which references the regional butterfly, not the Tennyson poem) focuses on the 1964 Civil Rights act. Through opera, exhibitions, lectures, dance performances, concerts, a theatrical performance, and a film, the legacy of the act is examined.
"It is a one-month celebration of the cultural community," says Maestro James Meena, general director of Opera Carolina and organizer of the festival. "And it's organized by the cultural organizations ourselves. It is to raise awareness and drive participation, and to celebrate the great diversity of this community."
As the festival is a series of events, rather than a one-stop, weekend experience, the kick-off encouraged attendees to meet with the participating performers and representatives. And of course, they were encouraged to go.
"We need you to buy tickets," Smith says. "This is ticket-driven, this is a common theme. Take your family; take dates. Turn this into something that you program into your life so that you can get out and really experience the incredible talent that Charlotte has to offer."
It's the festival's third year, and organizers promise new attractions to accompany the theme.
"There's a lot new this year," Meena says. "A lot of our smaller groups doing community-based performances. Plus our opera and our dance groups are doing community performances, which are free. That's very new. And there are also lectures to go see."
Check out the festival's events below, and just a heads up: By purchasing tickets for two events that aren't free, you can claim a 30-percent discount. We've marked the free events, and others are hyperlinked to ticketing sites. Check out ulyssesfestival.org for more information.
EXHIBITIONS AND LECTURES:
No Longer Just a Dream – FREE
March 25, 6 p.m.
Harvey B. Gantt Center
Display of ArtVee Mobile Eco-Studio – FREE
March 20, 7p.m.-9 p.m.
McColl Center for Visual Art
From Apartheid to Democracy: The Struggle for Liberation in South Africa – FREE
Batte Center Rotunda Lobby, Wingate University
Bearing Witness: The New York Photo League and Sonia Handelman Meyer
Mint Museum Randolph
Out of the Shadows: Undocumented and Unafraid – FREE ON SUNDAYS
Levine Museum of the New South
Faces of Freedom Summer: The Photography of Herbert Randall – FREE ON SUNDAYS
Levine Museum of the New South
Women of Vision: National Geographic Photographers on Assignment
Mint Museum Uptown
OPERA:
Wagner's The Flying Dutchman
March 22, 27, 30
Belk Theater
Rise for Freedom – FREE (Donation requested)
April 3, 7 p.m., Johnson C. Smith University, Biddle Hall
April 4, 7 p.m., First Baptist Church, Matthews
April 5, 7 p.m., Sharon Presbyterian Church
CONCERTS:
Gospel SHOUT! – FREE
March 27, 7:30 p.m.
United House of Prayer for All People
A Little Knight Music
March 28, 12 p.m. and 7:30 p.m.
Knight Theater
Johnny Clegg Band
March 28, 7:30 p m.
Batte Center, Wingate University
South by South Africa
March 29, 7:30 p.m.
Batte Center, Wingate University
Free At Last: A Choral Celebration of the Civil Rights Era
April 3, 7 p.m.
The Auditorium at Northwest School of the Arts
Christ Church Cathedral Choir of Oxford, England
April 4, 7 p.m., Covenant Presbyterian Church, Charlotte
April 5, 7:30 p.m., Davidson College Presbyterian Church, Davidson
All Russian
April 11-12, 8 p.m.
Belk Theater
McColl in Response – FREE
April 17, 6 p.m.–8 p.m.
McColl Center for Visual Art
UNC Charlotte Jazz Ensemble
April 22, 7:30pm
Robinson Hall at UNC Charlotte
DANCE:
Ulysses Dance Project 2014: A Symphony of Brotherhood – FREE
April 6, 6:30pm
Patricia McBride & Jean-Pierre Bonnefoux Center for Dance
Othello
April 24-26, 7:30pm
Knight Theater
FILM:
Bayou Blue – FREE
March 20, 7–9 p.m.
McColl Center for Visual Art
THEATER:
Harriet's Return
March 21, 7:30 p.m.
Pease Auditorium at CPCC