2016 BOB Awards: Explore!
The best of arts, culture, and entertainment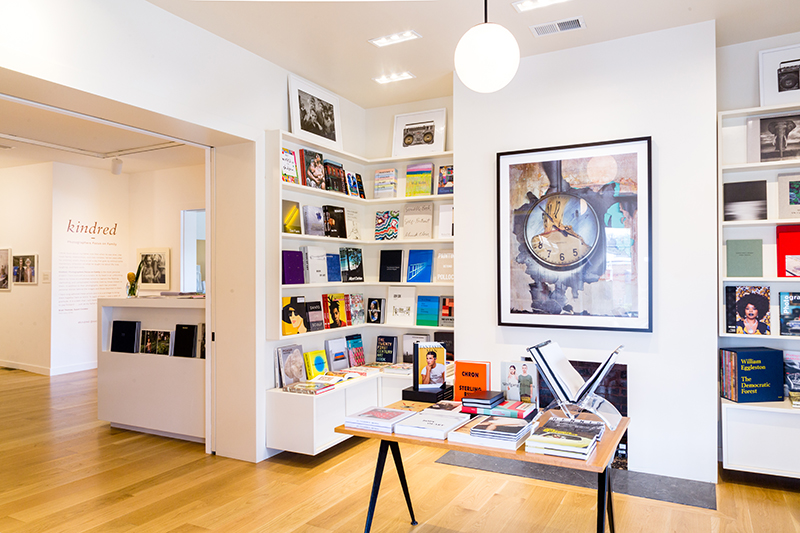 » New arts venue
SOCO Gallery
This former pop-up gallery found a permanent home in Myers Park in 2015, allowing founder Chandra Johnson to forge an arts destination in Charlotte. Crowds pack show openings, and pieces sell out. SOCO's bookstore helps visitors accessorize their coffee tables and bring home affordable art. And the exhibits, such as Liz Nielsen's Night Garden and Xavier Guardans' Traveling Lights, make SOCO Gallery a spot to watch on a national level. 421 Providence Rd., 980-498-2881
---
» Festival
Charlotte Film Festival
In 2015, Charlotte Film Festival made a triumphant return after a three-year hiatus. It was a sprawling, nine-day affair in multiple theaters across the city. With new branding and a lineup of premieres and creator Q&As, CFF now feels like a film festival worthy of Charlotte's size. All of this happened a year after the expiration of a vital North Carolina tax credit that sent many local filmmakers packing.
---
» New public art
Ainsa III
Queen's Table, the anonymous group behind this UNC Charlotte Center City sculpture, is the same group that commissioned and funded the famed Sculptures on the Square at Trade and Tryon. With Ainsa III, by artist Jaume Plensa, Charlotte has a new public art icon. Metal letters from nine international alphabets comprise the 12-foot-tall figure, which was installed last year. Like Charlotte, Ainsa III represents cultures across the world. Find it between the campus and First Ward Park.
---
» Theater troupe
XOXO
Charlotte's never had anything quite like XOXO. This is the group that takes van-loads of culture vultures into the South Carolina woods for the eerie (and hilarious) Bohemian Grove, a play named for a campground rumored to host meetings of the world's most powerful men. XOXO is one of the arts groups in On the Hook, the collective created as a cultural reaction to white supremacy in the United States. Today, the group workshops the hyper-localized #CAKE, a choose-your-own-adventure theater experience that explores class and race in Charlotte.
---
» Museum exhibition
Nuevolution at Levine Museum of the New South
Levine Museum staff worked for three years to create this exhibition—and community conversations around it—that explores the evolving relationship between Latinos and the South. In the 3,500-square-foot, interactive experience, visitors learn about cultural pride through quotes from well-known Charlotteans such as Ron Rivera and Felix Sabates. The exhibition also includes an interactive citizenship test to show what it's like to become an American, along with works from local and international artists. 200 E. 7th St., 704-333-1887
---
» New meet-up
CreativeMornings
This is a meet-up for any person, of any occupation, who wants to feel inspired on a Friday morning. Each month, the national CreativeMornings organization assigns a single theme for all of its 137 chapters. Local speakers then interpret that theme with stories and advice for rooms packed with professionals. Charlotte's chapter began last fall, and it's drawn full houses ever since.
---
» New arts programming
New Frequencies at McColl Center
On the first floor of the McColl Center for Art + Innovation on a recent February evening, the sounds from the Ben Goldberg's Invisible Guy jazz trio bounce off the canvas-covered walls. Goldberg, a clarinetist, is known for pushing the limits of Klezmer music. The New Frequencies series aims to do the same for Charlotte. New Frequencies introduces filmmakers and performers who are pushing their art forward, with cutting-edge films, progressive jazz, and dance premieres. Here, the future of art is on display. 721 N. Tryon St., 704-332-5535
---
» Entertainment deal
Free River Jam Concerts at USNWC
On Thursdays and Saturdays from May through September, the U.S. National Whitewater Center hosts free concerts. Acts from recent years include The Hackensaw Boys and Samantha Fish, along with the local boys in The New Familiars. They occupy a stage with a scenic, whitewater-rapid-filled backdrop and on-site food and beer vendors. For many of us, it's a consistent way to entertain visitors by doing something fun and affordable. 5000 Whitewater Center Pkwy., 704-391-3900
---
» Unlikely cultural hub
Le Méridien
A stay at Le Méridien Charlotte grants you free access to the Mint Museum. More than that, Art + Aperitif, on the first and third Wednesdays of each month, invites local artists to its Longitude 80 lounge for a talk and meet-and-greet. (The events also include local performers.) The hotel recently partnered with N.C. Fashion Association for a new monthly series called Cocktails + Couture, where attendees enjoy drinks and discuss fashion trends with special guests. 555 S. McDowell St., 704-372-9610
---
» Place for community conversations
Harvey B. Gantt Center for African-American Arts + Culture
It's not enough for the Gantt Center to have an exhibition such as 1960Now, which displays portraits of figures from the Black Lives Matter movement, inspired by figures of the Civil Rights era. What makes the Gantt different is how it uses its exhibits as a catalyst for community conversation. Public talks and meet-ups are part of that effort. And an annual symposium, with a list of past speakers that includes Dr. Cornel West and Common, show how far the center is willing to go to help Charlotte reflect on the social and racial issues of today. 551 S. Tryon St., 704-374-1565
---
» Idea for arts exposure
ArtPop
It's 5 p.m. on a weekday, and you're in traffic. Your eyes wander toward a flash of color above. It's not some advertisement; it's a vinyl re-creation of an oil painting by Charlotte's Nicholas Napoletano. It is part of ArtPop, the program that puts local artwork on unoccupied billboards across the city. It's made Charlotte into a 297-square-mile gallery, and it often has people saying, "Someone here made that?" The idea is so good, dozens of cities across the U.S. are adopting it, with Charlotte leading the way.
---
» Culture for kids
Playing For Others
This nonprofit organization pairs teens with local arts groups so they can learn more about themselves and their place in the world. Some groups buddy up with a disabled child to explore creative mediums. In the group's HeARTbeat program, teens research a nonprofit and create a work of art to describe its mission to the world.
---
» Place for self-expression
Charlotte Storytellers
Here's a story: A few young professionals meet in Charlotte and decide to start a storytelling group. They meet once a week and share stories around a theme. Showcases follow. Charlotte businesses get involved. And now, the group has become this city's version of The Moth, the radio show/podcast where true stories bring tears, rolling laughter, and for some, inspiration to join in the fun.
---
» Music release
Benji Hughes, Songs in the Key Of Animals
Hughes has a famous Captain Morgan jingle ("Got a Little Captain in You?"), cereal commercials, and songs appearing in Eastbound and Down and How I Met Your Mother. The tracks on this record aren't jingles; they just sound like they could be. Some of it recalls Beck; other tracks Prince. All feel like Benji Hughes, Charlotte's Prince of Infectious Indie-Pop.
---
» Event to act like a child
Science on the Rocks
If a friend tells you he or she doesn't want to have a drink, eat astronaut ice cream, fly rockets, and escape into virtual reality, here's some advice: Break up with that friend. Science on the Rocks is for those of us who don't mind a side of silliness with our beers. Last year, Discovery Place partnered with Google Fiber for a Back to the Future Night, with hoverboards and all. 301 N. Tryon St., 704-372-6261
---
» Overall venue
McGlohon Theater
Whispers carry across the 700 seats of Spirit Square's McGlohon Theater, the venue once known as a First Baptist Church sanctuary. With its Byzantine dome and stained glass windows, it hasn't shed the shell of its former life. There's another remnant from those years, too: Whether it's Iron & Wine or Maria Bamford, every word or note penetrates in this space. It's intimate, but somehow, seeing a show here will leave you feeling like part of an enraptured congregation. 345 N. College St., 704-372-1000
---
» Interactive art installment
"Touch My Building"
Artist Christopher Janney turned the 7th Street Public Market and its garage into a musical instrument when he created "Touch My Building" in 1998. At the top of every hour, the building welcomes the next 60 minutes with song and a dance of lights. But passersby can make the lights dance at any time if they can spot and press the shapes of hands along the outer walls. There's also a riddle on the light-rail line side of the building. Decipher it and press the hands in the order described, and see what happens. Atezixforto? What can it mean? 224 E. 7th St., 704-230-4346
---
» Place for chef spotting
Atherton Market
Local farmers bring their best goods to Atherton Market on Saturday mornings, and Charlotte chefs are always there to scoop them up. Here's who you're likely to see, with a helpful tip on how to spot them:
• Paul Verica, Heritage: He usually sports some Eagles gear, most often a ballcap (Editors' note: We do not endorse Eagles fandom).
• Clark Barlowe, Heirloom: If you've seen him cook, you've seen the beige poorboy hat he always wears.
• Luca Annunziata, Passion8: With a scratchy beard and heavy Italian accent, he can look and sound intimidating. But underneath that he's a very fun guy.
In Atherton Mill, 2120 South Blvd.
---
This article appears in the May 2016 issue of Charlotte Magazine
Did you like what you read here? Subscribe to Charlotte Magazine »
---