2016 BOB Awards: Follow!
The best of people and personalities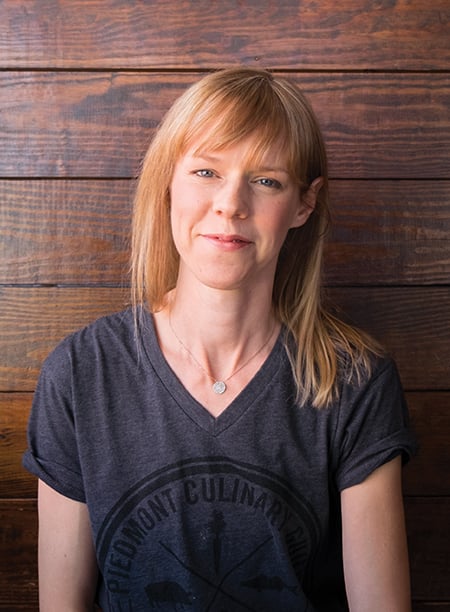 » Pastry chef
Ashley Bivens Boyd
Ashley Bivens Boyd was a teenager when her mom, Cathy Coulter, bought restaurant 300 East. Boyd worked as a hostess (a bad one, she jokes) and later, when she was old enough, as a server. She kept that job during her summers off from college in Chicago, where she studied fine art and graduated with a degree in painting. After graduation, she got a job that sounded fascinating—restoring old carousel horses. In reality, Boyd found it monotonous. Looking for a new art job in a competitive market, she became discouraged, and instead used her experience at 300 East to land a job as a pantry chef, in charge of salads and other cold foods. She was drawn to the work of that restaurant's pastry chef and began coming in on her days off to learn how to make desserts. She found purpose in what she first thought was a secondary career.
From there, Boyd's career progressed as any chef might hope it would: jobs in Chicago, Charleston, and Detroit, where she chipped in at Tribute, a restaurant acclaimed by The New York Times. Then, she decided to come back home to Charlotte.
That was in 2001. Over the next 15 years, as Charlotte's food scene has improved, Boyd has remained focused in the kitchen, setting a Charlotte standard in that old house-turned-restaurant on East Boulevard. And if you've ever seen her desserts at 300 East or Heritage, where she helps chef/owner Paul Verica with the dessert program, you'll see that art degree is being put to beautiful use. 300 East Blvd., 704-332-6507
---
» Athlete
Cam Newton
He's not a normal human being. He jumps and does a front flip over the heads of six-plus-foot tall NFL defensive backs. He slings passes at speeds we can't fathom. He's one of only a few dozen people in history to be able to call himself an NFL MVP. He led the Panthers to a 15-1 season. He became the target of criticism from people around the country this year—he's too brash, they'd say—and he handled it all with that perfect, pearly smile. He hands footballs to children when he scores. He showed us how to dab—ALL of us, from 90-something grandmothers to City Council members to the Charlotte Ballet. He took us to the Super Bowl. So we not only forgive him for being confident enough to do a Superman pose, we love him for it. Because he just might be.
---
» Social justice fighter through arts
Quentin Talley
Cities around the country now have social protest movements such as "Black Lives Matter." Quentin Talley has been pushing these conversations in Charlotte for years. Through his OnQ Performing Arts, which is celebrating its 10th anniversary this year, Talley depicts the black experience through struggles and triumph by way of stage plays, music, poetry, and dance. Last season, he brought us "The Children of Children Keep Coming," forcing audiences to confront the legacy of slavery and the power of freedom and justice.
---
» Connector of people
Chuck Barger
Looking for an apartment, a graphic design job, a good book, or a date to a charity fund-raiser? The co-owner of Common Market South End can help with all of these things, in addition to selling you a sandwich or a self-adhesive mustache. He'll welcome you to his deli and bar with a smile or a kiss on the cheek, reassuring you that your day, and your city, will keep getting better. 1515 S. Tryon St., 704-332-7782
---
» Beer legend
Michael Brawley
When Brawley set out to renovate his Charlotte craft beer shop, Brawley's Beverage, there was one main theme: family. Brawley wanted a place where you could bring your mom or dad, or your son or daughter (and friends, too, of course), and have a good time. You're likely to see members of his family, too, including his mother, Jean, and daughter, Piper.
Brawley, who opened his store in 2003, long before the craft-beer boom in Charlotte, now has a small but beautiful tasting room that's full most nights of the week. Huge floor-to-ceiling windows beckon you to come in from Park Road and try one of the 20 featured beers on tap while getting a lesson in local craft with the man known to many as "The Godfather of Charlotte Beer." 4620 Park Rd., 704-521-1300
---
» Local character
Funky Geezer
He shows up at the Evening Muse for open mic night wearing his trademark pageboy hat, looking impossibly skinny and far too old to be out past 9 p.m. on a Wednesday. But as he starts to play, the bluesman silences all doubt. Halfway through his song, he puts on a ridiculous plastic beanie cap and declares, "Let's get happy." The audience whoops and claps.
He is Woody Williams, otherwise known as the Funky Geezer. Fixture at Smelly Cat Coffeehouse in NoDa, onetime contestant on "America's Got Talent," and the best damn bluesman you can hope to see for three dollars on a weeknight. In a city often accused of being bland, he's a much-needed enigma, a man who sings with sorrow and a sense of humor that draws us all in.
---
» Twitter feed
@Panthers
The night before the Panthers' home game against Washington in Week 11, the Redskins fan club gathered at Whisky River in the EpiCentre. At 7:07 p.m., Washington's social media team tweeted a video of the scene, "Carolina is #Redskins country. #HTTR." At 7:54 p.m., Carolina's social media team replied: "Good luck with getting a trademark on that." With that eight-word shot at the controversy surrounding Washington's nickname, @Panthers went from an account we Charlotteans loved to the account heard 'round the league. News outlets from Sports Illustrated to ESPN ran stories on that single tweet. The next day, the Panthers won 44-16. And by the end of the year, the team's Twitter feed had more than 1.3 million followers, fourth-most in the NFL.
---
» Nutritionist
Jennifer Brunelli
Not only is she a sports dietitian with the Carolina Panthers, but Jennifer Brunelli, MS, RD, LDN is also a former seven-time All American swimmer. While attending the University of South Carolina, she was named the 2004 Student Athlete of the Year, and went on to become the director of sports nutrition at North Carolina State University. In addition to sports nutrition counseling, Brunelli advises clients on weight management strategies, meal planning for people with food allergies and intolerances, and medical nutrition therapy.
---
» Native son
Steph Curry
Pick a neighborhood, any neighborhood. Listen for the sound of bouncing balls in the driveways. Listen as the children launch shot after shot toward the goal, calling it out as if they're on national television. "3 … 2 … 1 … Curry for threeeeeee!" This happens now all over the country—heck, all over the world—as the reigning MVP and NBA champion has grown into the most popular basketball player on the planet (yes, even more popular than LeBron James, in terms of jersey sales, at least). But somehow, it means more when you hear it here in Charlotte, where Curry grew up, and where he was once the kid with the bouncing ball in the driveway, dreaming.
---
This article appears in the May 2016 issue of Charlotte Magazine
Did you like what you read here? Subscribe to Charlotte Magazine »
---