2016 BOB Awards: Live!
The best of family, fitness, and living well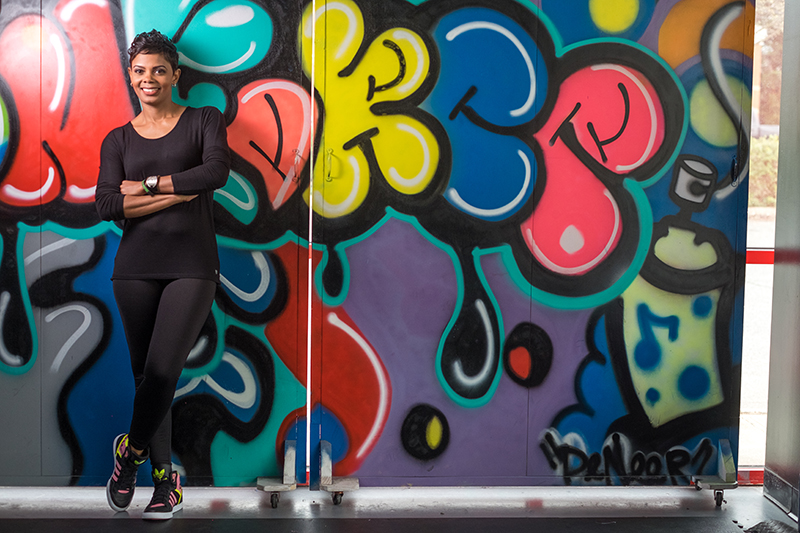 » Park to take the kids
Play 60 KidZone at Freedom Park
You might see a parent timing his or her own 40-yard dash at Freedom Park's NFL Play 60 installation. Don't be confused, though: This spot is for Charlotte kids. (How are we not supposed to tackle the dummies, though?) Charlotteans pack the state-of-the-art area on sunny days, hopping between the mock commentator booth and obstacle courses. Play 60 was born of an NFL initiative that challenges kids to play for 60 minutes each day. Here's the thing: They'll want to stay for much longer than that. 1900 East Blvd.
---
» Overall gym
YMCA
The Y—with 19 branches in the Charlotte area, including the Sara's YMCA branch that opened in Ballantyne in February—uses fitness to bring us together. On a Wednesday night at the Johnston Y in NoDa, adults of all ages and skin tones swim laps next to kids learning the breaststroke, with hip hop blaring on the radio and moms and dads checking their cell phones on the bleachers. Upstairs, yogis breathe deeply and cyclists sweat in a spin class. Everyone is in this together, at least for an hour or two.
---
» Grocery store aisle for health nuts
Healthy Home Market
Whether you're looking for organic produce, local honey, or grind-your-own peanut butter, this Charlotte-owned chain helps you avoid spending your whole paycheck on quality groceries. Check out the bulk aisle for deals on organic quinoa, organic almonds, split peas, trail mix, and nutritional yeast. Multiple locations.
---
» Pet Birthday Cakes
Canine Cafe
We know. People are having kids later in life, which means we treat our dogs like kids. Canine Cafe has flavors from peanut butter banana to apple oatmeal, and the cakes come in various sizes and shapes—including bones and fire hydrants—or as a platter of petit fours. 125 Remount Rd., Unit A, 704-588-3647
---
» Yoga shop
Gumbo
Founded by Alicia Roskind and Hal Smith, Gumbo is an extension of the Plaza Midwood yoga studio Okra Charlotte. It sells yoga accessories such as mats and blocks, and clothing from designers such as Just Live and Be Love Apparel. Healthy snacks, like the low-sugar Frontier Bites, cater to those watching their diet, and the store regularly has local food delivery services Nourish and Viva Raw on site to serve customers. Head to Gumbo, purchase a new yoga outfit and mat, then go next door to Okra for a class. 1916 Commonwealth Ave., 704-999-6630
---
» Disc golf course
Kilborne Park
On a gorgeous February morning, you can hear basket chains cling-clang in the distance every few seconds at Kilborne Park. For paid pros and newcomers alike, this course is a favorite among the 15 or so disc golf courses around Charlotte. In 2012, Kilborne hosted events in the Professional Disc Golf World Championship. The park has a difficult course cleverly titled "Skillborne." But average players like that it's a scenic spot, well maintained, and has enough easy holes to make anyone feel like a champ. 2600 Kilborne Dr.
---
» Zumba instructor
Janean Benton
By day, Janean Benton is a manager at IBM, but on Saturday mornings, you'll find her in front of a Zumba class. Wearing a baseball cap and Adidas high-tops, she burns through dances with crisp calls and contagious joy. She squeezes in three classes a week, on top of being a mom, wife, and fund-raiser for charitable causes, including Dance Out Hunger, an event she co-chairs each holiday season to fund local food banks. The 41-year-old also teaches wellness seminars and hosts Fashionably Fit, a charity event that ties fashion to fitness.
---
» Place to take kids reading
Story time at ImaginOn
The clientele at ImaginOn isn't the easiest group to keep captivated, but the folks who run story time at the Spangler Library pull it off most days at 10:30 a.m. Parents are encouraged to join in and become active participants in early childhood literacy. Outside of the regularly scheduled meeting, there are other sessions with holiday themes, a bilingual reading, and a high-energy version just for preschoolers. Here, ImaginOn meets kids where they are. 300 E. 7th St., 704-416-4600
---
» Local online learning
Charlotte-Mecklenburg library system
Learn Web design on Lynda.com, practice speaking Italian with Pronunciator, or research stocks on Morningstar—all at no charge. Your son or daughter can find free homework help on Tutor.com while you catch up on the news you've missed since The New York Times put up a pay wall (a library card lets you read individual articles—including the current day's news—on ProQuest Newsstand). Charlotte's library system thrives in the digital age. All you need is a library card and a computer.
---
» Art workshop for kids
Mint Museum
The NexGen Mint program lets Charlotte's budding artists create alongside masters. Take a recent visit from world-renowned sculptor/designer Jens Praet. Praet's work with shredded paper in resin turns heads around the world. In January, Praet and NexGen teens concocted household objects with an unlikely product: issues of Charlotte magazine. With these workshops and free gallery access, the Mint stands above others in inspiring young Charlotteans. 500 S. Tryon St. (Uptown) and 2730 Randolph Rd. (Randolph), 704-337-2000
---
» Place to learn a new skill
SkillPop
On one website, you can sign up for classes on taking better Instagram photos, hand-lettering, gardening, or blogging. That's the idea of SkillPop: pop-up courses for those of us who learn better in person.
---
» Place to picnic
Romare Bearden Park
All those photos you snapped of the uptown skyline while sitting in the stands at BB&T Ballpark may have distracted you from an important truth: You can enjoy a similar view while picnicking and listening to live music on your lunch hour at Romare Bearden Park (Tuesdays and Fridays, now through August). Or you can bring the kids on a Wednesday evening from now until September, spread out a blanket, and soak up the jazz, beach music, or whatever tribute band is on tap that week for the Party in the Park series. 300 S. Church St.
---
» Hike with history
Reedy Creek Nature Preserve
One of the most popular trails in this 737-acre, east Charlotte preserve leads to the ruins of the Robinson Rock House, a stone structure historians believe was built between 1780 and 1810. The site, which has been excavated by archeologists from UNC Charlotte, was part of a large plantation in the mid-19th century and then home to a blacksmith and woodworker. 2900 Rocky River Rd.
---
» Most efficient workout
HSM Core
This low-impact workout by Hilliard Studio Method is deceptive. Using Megaformer M3S machines, a trainer helps you push, pull, and lunge your way to toned muscles, using various springs and tensions on the machine. With loud music and personal attention from your trainer keeping you motivated, you won't notice the minutes ticking down on the black clock with red digits that times the 40-minute class. 601 Kings Dr., Ste. GG, 704-661-8429
---
» Daily fee golf course
The Golf Club at Ballantyne
The first unwritten rule of golf is that it's intended to be fun. A big part of that is where you play, and Golf Club at Ballantyne delivers. It's not a private club, but it was built with the idea of catering to the people who play here. The course is in good condition (so you can't blame the greens if you putt poorly), the staff is attentive and organized, and the layout can challenge good players while still allowing occasional golfers to feel good about themselves. The holes wind between office buildings, but this club manages to maintain a park-like feel. In other words, it's a nice place to spend a few hours, regardless of what you shoot. 10000 Ballantyne Commons Pkwy., 704-248-4383
---
» New workout
CycleSouth
This cycling class takes place in a dimly lit room with candles flickering. And the music—lots of Rihanna and Beyonce—never stops pumping. A tiered floor helps cyclists in the back see the upbeat, enthusiastic trainers as they lead the class through pedaling, stretching, and strength training on the bikes. 401 N. Tryon St., Ste. 108, 704-372-4700
---
» Neighborhood
Park Road / Montford area
When Park Road Shopping Center opened in 1956, it was technically 100 feet outside the Charlotte city limits. It was in the country. Today, the shopping center is at the center of a sizzling neighborhood. A new developer purchased the property in 2011 and has slowly given it a makeover while keeping some of that old charm. Blackhawk Hardware and Park Road Books are still here, but in 2015 they were joined by popular salad chain Chopt and growing pan-Asian chain CO. All around the shopping center, new apartments rise and houses sell within hours of going on the market. And people who live in those houses and apartments now talk regularly about giving the area a new name, one that honors yesterday but captures the excitement of tomorrow.
---
» Neighborhood to watch
FreeMoreWest
South End and Plaza Midwood get most of the attention, but another neighborhood near uptown is becoming the best representation of this city's potential. FreeMoreWest, named for its intersection of Freedom Drive and Morehead Street, is home to restaurants with cult followings—Savor Cafe, Pinky's, Rhino Market & Deli—along with a mix of new residential buildings filled with young professionals and older homes with longtime residents. With LaCa Projects displaying Latin American art and street monuments dedicated to the area's African-American history, this could be gentrification done right.
---
» Most Charlotte thing ever
Yoga at Breweries
"I'm working out!"
"I'm drinking beer!"
"I'm working out and drinking beer!"
Welcome to Charlotte.
The Olde Mecklenburg Brewery has the most popular yoga event, Yoga on Tap, every Tuesday night at 6:30 p.m. But multiple other breweries have yoga each week, too.
---
» Suburb
Huntersville
With about 600 acres of parkland, a 19th-century cotton plantation on Mountain Island Lake, and a downtown that was once a mill village, Huntersville doesn't feel like strip-mall suburbia. It feels like a welcome escape from the city.
---
» Pet store
Four Dogs Pet Supplies
The owners—Dan and Kim Owens, and Todd and Betsy Hintzmann—sell food, toys, treats, supplies, and even pet art. Mostly, though, they love dogs—their dogs, your dogs, any dogs—and cats, birds, or whatever animal you may have. You can tell by the way they remember your pets' names and histories—and the treats they give for even the poorest "shake" effort. 2630 N. Davidson St., 980-298-6046
---
» Acupuncture
Two Trees
When David Bonilla and Paula Kearney opened their business in Plaza Midwood in early 2015, they couldn't afford their own treatments. So they added the option of a community treatment, which takes place in a room with six recliners, to make acupuncture more accessible. The cost? A pay-what-you-can sliding scale ranging from $20 to $45. Traditional services and herbal consultations are available as well. 1318-A3 Central Ave., 704-770-1318
---
» Hike within a short drive
Crowders Mountain State Park
From Charlotte, head about 30 miles west, park, walk toward the trailhead, follow the white diamond signs that mark the Crowders trail for 2.8 miles, climb the 336 steps at the end, reach the top, turn left, step up on the rock, and look out, toward Charlotte. 522 Park Office Ln., Kings Mountain, 704-853-5375
---
» Running trail
U.S. National Whitewater Center
With more than 20 miles of woodland trails extending along the Catawba River, the U.S. National Whitewater Center is a destination for runners of all levels. Run at your own pace or compete in one of the races in the Whitewater Race Series, which includes color runs, 5Ks, and the newly created New South Trail Marathon & Half Marathon. After a challenging workout, relax by the water with a beer and watch the rafts go down the rapids. 5000 Whitewater Center Pkwy., 704-391-3900
---
» New Park
First Ward Park
Workers with power tools are renovating the brick building next door, and orange cones block off the nearby light-rail tracks. But amid all the construction in a booming uptown, we made room for some grass and sunlight. There's a giant water fountain behind UNC Charlotte Center City's Brevard Street building, and at the opposite end of the park, near ImaginOn, stone boulders and animal-shaped sculptures sit for kids to climb on. 301 E. 7th St.
---
This article appears in the May 2016 issue of Charlotte Magazine
Did you like what you read here? Subscribe to Charlotte Magazine »
---