2016 BOB Awards: Play!
Best of beer, cocktails, nightlife, & going out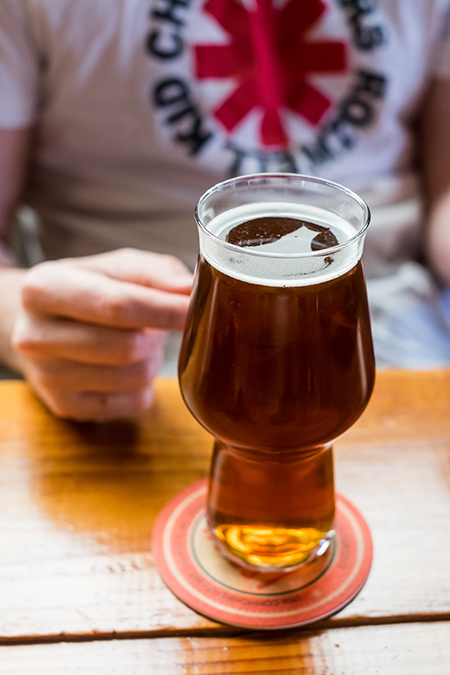 » Happy hour you leave work for
The Local
In the heart of uptown, this spot invites you to sneak out early. On Mondays, Tuesdays, Wednesdays, and Fridays, there's a $5 appetizer menu. On Thursdays, there's team trivia. Tuesdays also bring $2 tacos, by the way. Did we mention there's live music on Wednesdays and Fridays, too? Don't worry, we won't tell the boss. 105 E. 5th St. 704-347-0035
---
» Bar with a sunset view
Rooftop 210
With a name like "Rooftop 210," you know what you're getting. This 25,000-square-foot, open-air rooftop bar sits atop the EpiCentre and, naturally, gives incredible views of the skyline as the sun sets. Even more, in the summer, this is the spot for the weekly Alive After Five. 210 E. Trade St., Ste. B320, 704-526-0848
---
» Gay bar
Cathode Azure
This blue-lit bar below Tupelo Honey Café thumps constantly from Wednesday to Sunday nights. The porch has everything from drag queens in feather boas to young men in, well, not much of anything. From an always-busy dance floor to fabulous drag shows to some of the city's friendliest bartenders, Cathode Azure is a gay bar waiting to welcome everyone. 1820 South Blvd., Ste. 106, 704-823-6066
---
» New neighborhood brewery
Legion
On the January day in 2013 when the owners of Brodt Music Company announced they were closing, longtime customers came to the store to cry. The 13,000-square-foot store, which had the largest collection of sheet music in the Southeast, had been in this spot on Commonwealth Avenue for 60 years (and in business for 78 years in all). Two years later, Phil Buchy and Newton Craver turned the space into Legion Brewing Company, the first craft brewery in Plaza Midwood. They used everything they could from the old place—flight boxes are made from wooden dividers in the old store. And against the far wall, under a painting of a puppy, there's a piano, ready and waiting for anyone who wants to play a few notes. 1906 Commonwealth Ave., 844-467-5683
---
» Bar/club for karaoke
Jeff's Bucket Shop
With drink specials dipping below the $3 mark six nights a week, liquid courage is everywhere. Perhaps that's a reason this Montford bar has karaoke every night. Jeff's is hard to spot—a hole-in-the-wall located down a flight of stairs. It's perfect for people who want to keep their talents below ground for a while. 1601 Montford Dr., 704-525-0425
---
» Beer place to take the kids
Free Range Brewing
Some people don't like to see kids at breweries. Free Range isn't for those people. "Cultivating community" is one of the brewery's stated goals, and that includes catering to the next generation. The specialized kids' area is stocked with board games, Legos, a magnetic chalkboard, and more. 2320 N. Davidson St., 980-201-9096
---
» Wine bar
Foxcroft Wine Co., Dilworth
In the heart of Dilworth, the second Foxcroft Wine Co. is a casual space simply designed, with rows of warm pine shelving adorned by wine bottles. Guests can choose from a sizeable by-the-glass menu or select a bottle to share. Foxcroft also boasts a full-sized kitchen that serves flatbreads, sliders, and the ever-popular doughnut holes. 1235 East Blvd., Ste. 1, 704-602-2133
---
» New brewery for the craft beer enthusiast
Wooden Robot
In the spring of 2015, Wooden Robot wowed the Charlotte craft beer community by bringing a sour IPA called Hop Rocks (made in collaboration with Fullsteam Brewery out of Durham) to the popular Brawley's Black & Blue event. The accolades continued when the brewery opened in South End in July. Wooden Robot won the Queen City Brewers Festival Best in Show award for A Sour Darkly and earned a spot on Beer Advocate's Class of 2015 for best new breweries in the United States. Not bad for its first year. 1440 S. Tryon St., Ste. 110, 980-819-7875
---
» Reason to take a beer trip up north
D9's sour program
Sours have become the rage in craft beer over the last few years, and D9 Brewing in Cornelius puts out impressive offerings in its Ancient Sour series. Leading the way is Ezekiel 25:17, a black sour with fruit and berry flavors that bounce off your tongue. I-77 traffic be damned, this brewery is worth the trek. 11138 Treynorth Dr., Cornelius, 704-457-9368
» Reason to take a beer trip down south
Legal Remedy Brewing
Founded by a group of home-brewing friends, this Rock Hill brewery/brewpub opened this past fall with an ambitious tap list that has 24 beers, spanning multiple styles. Legal Remedy impressed many at the 2016 Queen City Brewers Festival with its Double Indemnity Double IPA. 129 Oakland Ave., Rock Hill, 803-324-2337
---
» Place to watch the Panthers and feel like you're at the game
Draught
With an extensive tap list that includes several favorite local craft beers, solid pub fare, live music, and game-day giveaways, Draught has become the tailgate spot before and after Panthers games. Oh, and it doesn't hurt that it's right next door to Bank of America Stadium, where your cheers from the bar join the ones coming from the game crowd. 601 S. Cedar St., 704-375-7566
» Place to watch games other than the Panthers
Uptown Duckworth's
Three stories. One hundred fifty taps. One hundred eighty televisions. Come for NFL Sunday. Come for March Madness. Come for the British Open. Come for any game, anywhere. Sit wherever you wish. Watch whatever you want. Win. 330 N. Tryon St., 980-939-1166
---
» Place to meet up for a craft beer
Craft Growler Shop and Tasting Room
Choose from 36 taps, or grab a bottle from the shelves, and don't forget to pair that beer with a top-notch charcuterie board or flatbread. A new partnership with Unknown Brewing to become a Food Truck Friday location will only bolster Craft's must-visit designation. 1320 S. Church St., Ste. 100, 980-207-3716
---
» Brewery to meet people
Sycamore
Sycamore's open, outdoor setup in South End attracts both dog owners and joggers passing by. Whether you're sharing a picnic table, huddling around the fire pit, or jamming to the occasional live music, it's a prime place to strike up casual conversation with someone new. 2161 Hawkins St., 704-910-3821
---
» Mocktails
The Dunhill Hotel
Alcohol-free beverages for adults that don't fall into the category of soda, tea, or a cloying concoction of sugary juices are hard to come by. Nab a seat at the bar inside the historic Dunhill Hotel, though, and a refreshing and sophisticated array of mocktails awaits. Think herb-muddled blends with tonic and citrus or a refreshing cucumber-spiked drink with salt and lime. 237 N. Tryon St., 704-332-4141
---
» Place for an Inventive Cocktail
The Punch Room
The backdrop for this dazzling feat of cocktail theater is a 37-seat lair on the 15th floor of the Ritz-Carlton. Drenched in black and gold and warmed with sultry light, the vibe is Gatsby-esque. Center stage is Bob Peters, who, with an arsenal of potent liquor, farm-fresh ingredients, handmade potions, and unlikely tools, is pouring award-winning cocktails and libations worthy of an encore, or two. 201 E. Trade St., 15th floor, 704-547-2244
---
» Trivia night
Petra's
How do you make one trivia night stand out from all the trivia on all the weeknights in all of Charlotte? Give a drag queen the mic. Lana Cane hosts trivia at Petra's the second Tuesday of every month, starting each show with a monologue. Questions are a grab bag of local history, current events, and entertainment—and you get bonus points for drinking. It's not for the easily offended. 1919 Commonwealth Ave., 704-332-6608
---
» Whiskey selection
Cowbell Burger & Whiskey Bar
Choose from more than 100 whiskeys, bourbons, and scotches from around the world, including rare finds such as The Macallan 30-year and a Japanese Hakushu, aged 18 years. The restaurant playfully breaks down the spirit menu into business class, first class, and private class selections. The biggest collection is the bourbon collection, with more than 60 choices. 201 N. Tryon St., Ste. 1010, 980-224-8674
---
» Bartender
Brian Lorusso
Behind the bar at Dogwood Southern Table & Bar, Lorusso mixes up homemade syrups, infusions, and foams to make drinks that widen your eyes and make your palate dance. But it's the casual conversation and Lorusso's bartender's instincts that make you feel like you're drinking with friends here—even if you're drinking alone. 4905 Ashley Park Ln., Ste. D, 704-910-4919
---
» Nightclub with staying power
Suite
When Suite opened at the EpiCentre in 2008, it helped usher in an era of posh, spare-no-expense-in-decor nightclubs in the city. But while many clubs have come and gone, Suite continues to attract crowds, music and TV stars, fashion events, and late-night partying under the skyline on the cabana-filled patio. 210 E. Trade St., Ste. A300, 704-971-7878
---
» Neighborhood holdout
The Thirsty Beaver Saloon
On the north side of Central Avenue between Hawthorne Lane and the railroad tracks, wide swaths of land have been cleared and footings are being set for massive, modern apartment complexes that will bring hundreds of new residents to Plaza Midwood. In between them, the only structure standing is a 1,200-square-foot honky-tonk with $3 PBRs, a jukebox, and a velvet picture of Kenny Rogers on the wall. God bless the Beaver. 1225 Central Ave., 704-332-3612
---
» Cooking class
Chef Alyssa's Kitchen
Not all millennials are simply taking pictures of restaurant food and posting them on Instagram. Two of them, Chef Alyssa Gorelick and her business partner (and soon-to-be-husband), Andrew Wilen, make it possible to post great shots of food you've actually made. Located inside Atherton Market, Chef Alyssa's Kitchen offers classes on healthy cooking, Southern favorites, basic knife skills, and, new this year, a three-night workshop for beginners. 2104 South Blvd., 704-817-7568
---
» Brewery
NoDa Brewing Co.
In the fall of 2015, NoDa opened its spectacular 32,000-square-foot facility on North Tryon Street, helping to usher in a new name for the area—NoDa North End. The brewery plans to release new specialty canned beers throughout the year, and it's creating more sour and barrel-aged beers. NoDa continues to live up to its slogan—the beer on everyone's lips. 2921 N. Tryon St., 704-900-6851
---
CHARLOTTE CRAFT BEER DREAM FLIGHT
3C IPA
Triple C
A medal at the 2015 Great American Beer Festival in September helped to confirm there's a new top IPA in Charlotte now.
Cataclysm II
Heist
The brewery's Russian Imperial Stout series has been nothing short of outstanding, headlined by this version, aged in Elijah Craig and Rittenhouse Rye barrels.
Mexicali Stout
Birdsong
Head brewer Conor Robinson has perfected this blend of chocolate, coffee, cinnamon, and chili spice for a winter stout that's like no other.
Mecktoberfest
Olde Mecklenburg
This beer stood up to the big boys overseas and came home with the gold medal at the 2015 European Beer Star competition in November.
Good Morning Vietnam
Wooden Robot
Take a smooth blonde ale, add local coffee and fresh vanilla beans, and the result is a tantalizing treat.
---
» Annual social on the rise
The Gray Classic
Herb and Felicia Gray have established themselves as a power couple in Charlotte's social and philanthropic circles. The Gray Classic is a four-day series of events, anchored by a golf tournament, that takes place each July. The series includes a business roundtable, women's empowerment brunch, after-party, and more, while raising money for community programs—including 100 Black Men of Charlotte, a group that provides mentorship programs to young African Americans.
---
» Tour to Take Visiting Friends On
Funny Bus
You've never seen the city like you will on a 90-minute tour provided by Funny Bus. As the bus rolls through uptown, South End, and surrounding neighborhoods, a comedian host spews fast facts (and not-so-factual things, too) while directing your attention to buildings and monuments. The host's mixture of jokes and insults will keep you laughing. Plus, you can bring your own beer and wine. 704-659-3186
---
PARTYING OUTSIDE
» Patio with games
Thomas Street Tavern
ANY SUNNY DAY, CHARLOTTE, N.C. — Two rows of bleacher seats overlook a net-enclosed area with two ping-pong tables. Someone's playing. Nearby, four people toss bags back and forth in a game of cornhole, and two folks desperately try to take a ring that's attached to a string, let it go, and have it catch on a hook about eight feet away. You hear it everywhere: "Ohhhh, so close!" It's the sound of minor failures on an otherwise perfect day. 1218 Thomas Ave., 704-376-1622
» Outdoor drinking
The Olde Mecklenburg Brewery
One picnic table is attached to another table, attached to another table, attached to another table. The brewery's traditional German biergarten—which covers about 20,000 square feet and can accommodate at least 600 people—is this way for a reason. When you're drinking from the taps of Charlotte's first craft brewery (opened in 2009), you're a part of a community that's grown from one beer to the next beer, and so forth. 4150 Yancey Rd., 704-525-5644
» Place to bring out-of-towners
VBGB Beer Hall & Garden
Take your friends here, and they're likely to begin snapping photos of the towering Jenga game. Located in the tourist-friendly AvidXchange Music Factory, VBGB Beer Hall & Garden has a weekend DJ on site and a bar window that serves a tented outdoor area that's spacious enough for the whole entourage. 920 Hamilton St., 704-333-4111
---
This article appears in the May 2016 issue of Charlotte Magazine
Did you like what you read here? Subscribe to Charlotte Magazine »
---