2016 BOB Awards: Shop!
Best of style and shopping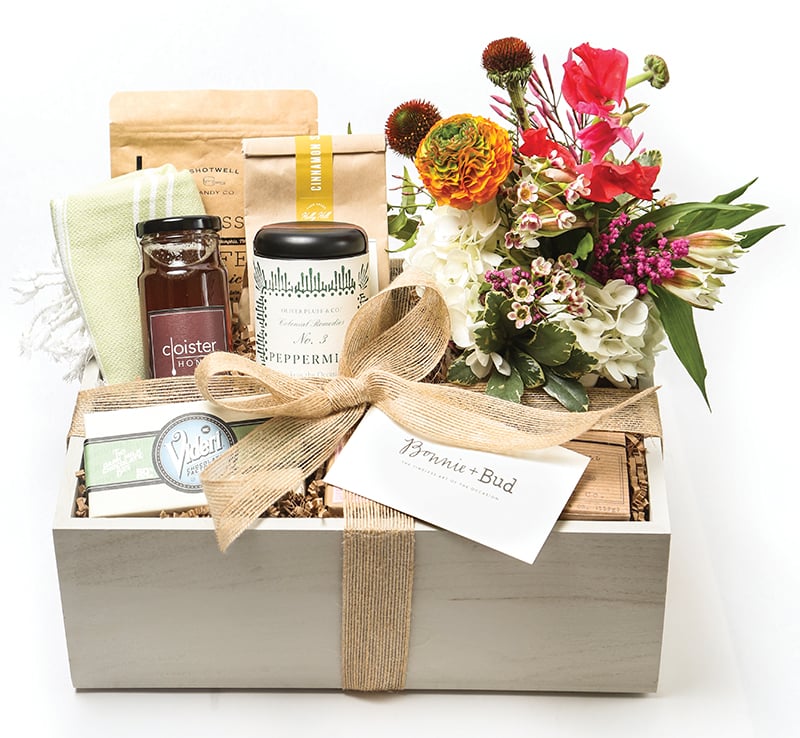 » Gift box
Bonnie + Bud
Founded by Charlotte resident Whitney Holofchak, Bonnie + Bud is a gift box business inspired by Holofchak's grandmother, Bonnie, and her Uncle Bud. Holofchak strives to create gifts of love and generosity using local and handmade goods. Order one online and have it delivered to your recipient's doorstep. 919-351-9466
---
» Place for hostess gifts
Bedside Manor
An indulgence from this luxury bed-and-bath boutique will confirm your status as a person of good taste. Try an elegant silver picture frame, Côté Bastide potpourri crystals, or an Alixx votive to ensure a spot on next year's invitation list. 6401 Morrison Blvd., Ste. 19, 704-442-4006
---
» Home accessories
Lauren Nicole Designs
At this small shop in Ballantyne, you won't find antique tea caddies or high-end art, but painted boards with funny sayings, Charleston candles in canning jars, mercury glass lamps, throws, and chalkboard place cards. Mirrors have charming local names, such as Dilworth. A full-service design studio is in the rear. 12206 Copper Way, Ste. 128, 877-583-0355
---
» Place for a unique piece to finish off an outfit
CLTCH
Pronounced clutch, this narrow space along Plaza Midwood's main stretch collects jewelry and accessories, much of which come from local crafters. CLTCH sells masculine items such as bow ties, beard oil, and flasks. For women, you'll find hats, scarves, and—of course—clutches. 1512 Central Ave., 704-375-2444
---
» Interior design firm
Lucy and Company
You can spot an interior designed by Beth Keim, owner of Lucy and Company, by the room's colorful palette and striking textures. Playful designs (and a can-do-anything attitude) may be Keim's signature, but even black-and-white is beautiful with her touch. Shoppers can admire her work at boutique clothing store Sloan's new SouthPark location. With the team Keim has around her, Lucy and Company has—deservedly—become Charlotte's go-to design firm. 1009 East Blvd., 704-342-6655
---
» Record store
Lunchbox
In the age of technology and constant communication, records are making a comeback. Sales are so good at Lunchbox that the store will soon move into a new space that's three times the size of its old one. There's something about having something to hold that isn't a smartphone. 1419-A Central Ave., 704-331-0788
---
» Place to buy a used bike
The Re-Cyclery
Bikes crowd the floor and hang from the ceiling in neat rows in The Re-Cyclery's warehouse. There's a child-sized, vintage Schwinn Bantam for $120, a toddler bike with training wheels for $25, and a $320 refurbished Fuji. Donated bikes are refurbished here and sold to fund Trips For Kids Charlotte's cycling programs for impoverished or at-risk youth. 1132 N. Caldwell St., 704-910-3970
---
» Place to give your stilettos some TLC
Belk Shoe Repair
On the fourth floor of the Belk store at SouthPark Mall is the footwear fixer you never knew you needed. The cobblers offer shoe lovers a variety of services, such as heel tap replacements and height shaving. The prices are reasonable and the knowledgeable staff can usually turn around an order within a week. Belk fourth floor, SouthPark Mall, 4400 Sharon Rd., 704-364-4251
---
» Stylist for a celebrity blow-out
Ben Mauney at Varji & Varji
Few things make a woman feel more fabulous than freshly blown-out tresses. Whether you've got a special event on the calendar or simply need a pick-me-up primp session, Ben Mauney at upscale SouthPark salon Varji & Varji is your guy for an A-list-approved blow-out. 720 Governor Morrison St., Ste. E-70, 704-366-7366
---
» Gifts & wrap
Paper Skyscraper
While you're shopping for coffee table books and shea butter lotion and paintings of Charlotte landscapes, remember that gifts come in packages. At this beloved Dilworth shop, you'll find wrapping paper decorated with ladybugs or ice cream cones, and you may even overhear two elderly women chortling in the card aisle. Sample birthday card message: "Be good to your family! One day you'll need them to smuggle alcohol into your nursing home." 330 East Blvd., 704-333-7130
---
» Baby boutique
Tiny
The small humans wearing clothing and accessories from Tiny may be some of the best dressed in Charlotte. Owner Carolyn Hotham wanted to create a colorful store with toys and dog statues, offering brands such as Chloe, Little Marc Jacobs, and Hudson. She also has more than 20 years of experience as a boutique owner, including at Charlotte stores Hotham and Very Chihuahua. 715 Providence Rd., 704-900-5667
---
» Beauty shop
Woo Skincare + Cosmetics
Co-owned by Charlottean Kara Campbell, who has held high-level positions at Clinique and Chanel, Woo Skincare houses an artful collection of top-notch beauty products. If you're having trouble picking a gift, the staff combines your vision with their aesthetic expertise for a one-on-one shopping experience in the Myers Park store. 2900-A Selwyn Ave., 704-333-0443
---
» Spot for a throwback concert tee
The Rat's Nest
With a tagline touting "Vintage clothes that don't suck!" this NoDa shop's collection of old band tees is a nostalgic nod to the good ol' days. The Rat's Nest is a place you might find a mix of AC/DC raglan tees, patched NASCAR jackets, or retro cowboy boots, depending on what funky finds the store has in stock. 442 E. 36th St., 704-371-3599
---
» Place for a quick mani/pedi
Polished Nail Bar
With five locations stretching from Ballantyne to Huntersville, Polished Nail Bar is a no-fuss salon with friendly nail technicians who perform fast touch-ups that can be done over your lunch break. The express bar even invites walk-ins, men, and kids to enjoy the experience. Multiple locations.
---
» Place to shop when you need style guidance
KK Bloom Boutique
Kendrick Allen and her team help you cast aside your style stick-ups and find exactly what you're looking for. As you try on the trendy threads, you'll feel like a total "it girl." The staff respectfully guides you away from pieces that won't flatter your figure and toward those that will, like a fashionable friend would. 2823 Selwyn Ave., Ste. E, 704-919-1142
---
» Lingerie
I.C. London
This shop in the Village at SouthPark is more than just a cheeky name. I.C. London's variety will tempt you to ignore your budget. And with the largest bra selection in the metro area, along with bra fitting experts, you're sure to find a match. 4310 Sharon Rd., Unit T13, 704-377-7955
---
» Place for running shoes
Run For Your Life
Run For Your Life understands that not every runner has the same footwear needs. Spanning three Charlotte locations, the store takes its passion for fitness a step farther, offering a training program as well as shoes. Run For Your Life has some of the best brands on the market, making it difficult to ditch half-marathon aspirations. Multiple locations.
---
» Nursery/plant shop
Campbell's
For some people, whenever they see an orchid, they think of Jesse Campbell. The late owner of Campbell's Greenhouses & Nursery created a place where staff members are always ready to help you pick out a plant (or three). Carrying everything from succulents to tropical treasures, Campbell's is a go-to garden supplier. 2000 South Blvd., Ste. 530, 704-331-9659
---
» Kicks
Social Status
The fashion-forward crew knows that sneakers are trendier than ever. At Social Status in Plaza Midwood, you'll find unique street kicks with patterns that pop and bold designs. There's nothing plain about these shoes. 1519 Central Ave., 704-632-9902
---
» Gifts designed locally
Addison Weeks
Addison Weeks makes shopping local a cinch. Made by Charlotte native Katherine Weeks Mulford and Virginian Lee Addison Lesley, the handcrafted gemstone jewelry and housewares are earthy yet chic. Find Addison Weeks products at local stores including Acquisitions, Meredith A. Jackson Jewelry, SPLURGE, and Granville.
---
» Gourmet grocer
Reid's Fine Foods
Before the gourmet grocer was trendy, Reid's delivered food and sundries to its customers on bicycles. Today, with a new location at SouthPark Mall to go along with the trusted spot on Selwyn Avenue, Reid's is a haven for the food-savvy and time-starved. Dine in or take out. There's a restaurant, a wine bar, full-service butcher shop, and all the fixin's you need for an easy weeknight meal or a proper soirée. 2823 Selwyn Ave., 704-377-1312; 4331 Barclay Downs Dr., 704-377-7686
---
» Brand for hometown pride
704 Shop
It's never been so easy to rep Charlotte in style. One of the city's fashion upstarts, 704 Shop sells a diverse selection of shirts and apparel with creative twists on Charlotte sports-team logos, the skyline, and local companies. 704 Shop is an online-only shop, but sometimes does an occasional pop-up around town.
---
This article appears in the May 2016 issue of Charlotte Magazine
Did you like what you read here? Subscribe to Charlotte Magazine »
---