2017 BOB Awards: Explore!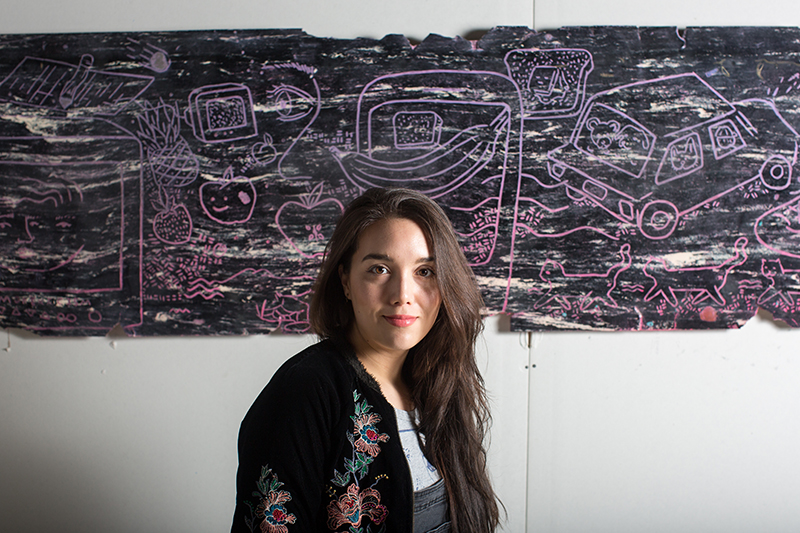 Artist to Watch
Grace Stott
The recent California Institute of the Arts grad's mixed-media works add surrealism to the city's arts scene. Stott wields an even bigger brush in the shows she assembles. From the feminist flair of the show Cherry Pie to the recent, domestic-themed Apple Pie, Stott curates massive programs that extract the best of our artistic class.
---
Country Venue
Coyote Joe's
Wednesday is line dance lessons night at this country mainstay, and ladies get in free. Put on your cowboy boots and practice stompin' them. You'll also want to come back for the big-name country acts that come here. This month brings Dylan Scott, the blue-eyed, deep-voiced breakout singer of "My Girl." 4621 Wilkinson Blvd.

---
Concert Venue
Fillmore's Underground
As local venues continue to dissipate in Charlotte, an unlikely friend to the local music community emerges at AvidXchange Music Factory. The Underground is an offshoot of the Fillmore, a large venue that rarely showcases regional acts. This midsized spot, which fits no more than 750 people, hosts bands such as Dashboard Confessional one evening, while Charlotte rockers Something Clever follow up a few weeks later. 820 Hamilton St.
---
Arts Festival
BOOM
For three days in late April (28-30 this year), Plaza Midwood hosts this artist-run fringe festival. Various venues around the neighborhood show local and tour performance art, theater, dance, and other mediums.
---
Museum Curator
Jennifer Edwards, Bechtler Museum of Modern Art
Before she moved to Charlotte, Edwards was an expert on artist Niki de Saint Phalle, who created the iconic Firebird sculpture in front of the Bechtler. Two years after taking the curator's job here, she's mastered and recontextualized the entire permanent collection in the museum's exhibits. 420 S. Tryon St.
---
Culture for Kids
Symphony Lollipops Series
This series educates kids on the vibrancy and importance of the symphony, through shows that retell classic tales, and kids learn the role of each instrument. 128 S. Tryon St., Ste. 350.
---
Record Label
Refresh Records
This independent label is young, but has already put out vinyl and digital releases for local mainstays, including Junior Astronomers and Ancient Cities.
---
Best Musician
Well$
The city's bombastic hip-hop scene makes national headlines while going unnoticed in its own region. XXL and Pitchfork have cited Well$ as a major player from the area. The Congolese-American rapper's 2016 LP, The Way I'm Living Makes My Mom Nervous, offers a surprising perspective on how African and American cultures collide in his life.
---
Speaker Series
PechaKucha
PechaKucha is a series that evolves with the city. After the protests following the shooting of Keith Lamont Scott, PechaKucha was the first major arts event to address the turmoil head-on. It was also the first meeting that was bilingual, with both Spanish and English speakers.
---
Film
Live From the Double Door Inn
For 43 years, the Double Door hosted touring and local Americana, blues, folk, rock, funk, and country acts. This documentary tells the venue's story through conversations with those musicians, staff members, and attendees who occupied it.
---
Storytelling Group
The Crock
The Crock describes its events as "true tales from a simmering New South." Recent collaborations with businesses such as Not Just Coffee add a new, interactive angle. By pairing personal stories with specific beverages, heartfelt sharing is both heard and tasted.
---
Podcast about Charlotte
The Charlotte Podcast
Miller Yoho and John Short started the podcast as a couple of local goofballs who just wanted to learn more about the city. Sixty-plus episodes later, they've done interviews with the likes of N.C. Senator Jeff Jackson and Sean Garrett of United Way of Central Carolinas, and they offer an engaging point of entry into the lighter and darker sides of Charlotte.
---
Theater Troupe
Actor's Theatre of Charlotte
After being forced out of its uptown home last year, the troupe nearly signed a lease with a space in Plaza Midwood before talks fell through. It finally found a new venue on the west side, but is still working to get city approval to host audiences. Somehow, during this time, it has found a way to offer excellent programming. Over the past six months, Charlotte Ballet, Mint Museum Randolph, Queens University, and even neighbor Center City Church hosted shows while Actor's Theatre's new Freedom Drive location underwent renovations. 2219 Freedom Dr.
---
Arts Nonprofit
Hip-Hop University
Volunteers mentor area students using the principles and concepts of hip-hop in math, English, life skills, and other subjects. The school also has workshops for aspiring DJs, emcees, and break-dancers. The ultimate goal is to mentor students through school and see them graduate and continue to succeed. But the end result looks—and sounds—like something even bigger. 809 W. Hill St., Ste. D.
---
Place for Future Broadway Stars
Northwest School of the Arts
Eva Noblezada, a 2014 graduate, is starring as the lead in Miss Saigon on Broadway after a West End stint; teacher Corey Mitchell nabbed a Tony Award in 2015 for theatre education, the first of its kind. Whether you're a student or faculty member, Northwest may lead you to the big stage. 1415 Beatties Ford Rd.
---
Place to Get Space-y
Discovery Place Nature's Planetarium
The revamped, state-of-the-art digital planetarium at Discovery Place Nature explores Charlotte's night sky—and invites viewers to travel throughout the entire solar system in its projections. 1658 Sterling Rd.
---