2017 BOB Awards: Live!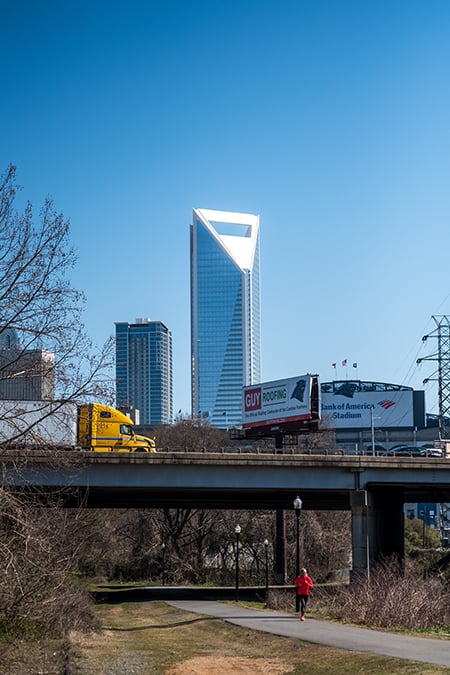 Unexpected View of Uptown
Irwin-Stewart Creek Greenway
Starting in Third Ward in uptown, run or walk or bike about a mile to the west along Irwin Creek Greenway and then Stewart Creek Greenway. When you reach the crossing at Grandin Road in Wesley Heights, stop. Turn around. Take a slow walk back through the tunnel of cherry trees and look eastward. All the trappings of a big city are there—a moving train, an NFL stadium, and skyscrapers—but you'll feel as though you have the view all to yourself.
---
Total Body Workout
HSM Core
It may not look like much, but the slow movements on the Lagree Fitness megaformer machines make even the strongest muscles tremble. The pace of this core muscle-focused class means it's low-impact, but tension springs make the movement in the 40-minute sessions high-effort. Expect to be sore, even after taking the essentials class, designed for beginners. 601 Kings Dr., Ste. GG.
---
Place to Increase Your Chances for an Appearance on MasterChef Junior
Chef Alyssa's Kitchen
Send your kids to Chef Alyssa's day camps, and little chefs will be making your dinner in no time. The future culinary stars will use only local, organic ingredients to create healthy dishes. Bonus: Parents are invited to do a tasting on the last day of class. Sessions are held in Atherton Mill from 9 a.m. to 1 p.m. on weekdays from June through August. 2104 South Blvd.
---
Way to Spend the Day Outside
U.S. National Whitewater Center
Climbers scale walls above the waterways at this 1,300-acre property, as paddles crash into the water below and zip-liners fly overhead. Even if you're more of a spectator than explorer, the center's free concerts, craft beer, and food experiences are more than enough to justify the $5 parking. 5000 Whitewater Center Pkwy.
---
Hike
Anne Springs Close Greenway
More than 40 miles of clearly marked and well-maintained trails wind through 1,200 acres at this Fort Mill nature preserve. Short loops are ideal for novice hikers and families out for a casual stroll; backpackers can break in their gear on longer hikes. The best part? Avoiding Crowders Mountain chaos on sunny days. 288 Dairy Barn Ln., Fort Mill, S.C.
---
Project with Potential
Charlotte Rail Trail
On warm, sunny days, the sidewalks of this 4.5-mile pathway along the light rail line, from Sedgefield through South End and into uptown, are crowded. Parents push strollers, millennials walk dogs, and runners of all ages and ability run. The Rail Trail initiative, led by Center City Partners, calls for even more public art and gathering spaces that would put the project in the same league as ambitious (and better-funded) linear parks in New York, Miami, and Atlanta.
---
Yoga Studio
Charlotte Yoga
The teachers and atmosphere welcome all experience levels, whether you're just learning downward dog or consider yourself a serious yogi. Providing a supportive community along with a satisfying workout, this well-loved spot brings the Zen and leaves the intimidation at the door. Multiple locations.
---
All-Around Gym
YMCA of Greater Charlotte
Gone are the days when the YMCA was nothing more than a sporty play-place for kids. For one monthly membership fee, you can visit every Charlotte-area location (there are 10 within the I-485 loop) and engage in millennial-approved workouts, such as CrossFit, barre, and hot yoga. Plus, we'll never forget how to spell it. Multiple locations.
---
Apple Orchard
Windy Hill Orchard
Plenty of families revel in a trip to this South Carolina orchard, which is just less than an hour's drive from Charlotte. The buzzing weekend atmosphere includes seasonal apple picking, cider tasting, and a killer cinnamon apple cider doughnut. One detail Charlotteans will enjoy: You can bring your dog. 1860 Black Hwy., York, S.C.
---
Place to Launch a Kayak
Latta Plantation Nature Center and Preserve
This serene spot has a dock and low bank for kayak launching, free of charge. The fishing's great on Mountain Island Lake, and you can pay to get a kayak tour if you're unfamiliar with the park. When you're not paddling around, you can also explore the hiking trails or equestrian center. 6211 Sample Rd., Huntersville.
---
Place to Roam with the Butterflies
RibbonWalk Nature Preserve
RibbonWalk Nature Preserve is a compact wedge of natural mixed-wood Piedmont forest, ponds, and walking trails in the oft-overlooked Nevin community four miles north of uptown. On weekdays and sometimes even weekends, you can roam the three miles of trails—and one of the region's oldest groves of American beech trees, with some specimens more than a century old—and view some of the preserve's 53 bird and 24 butterfly species, but otherwise not see a soul. 4601 Nevin Rd.
---
Place to Wear Your Kids Out
Kinetic Heights
Started by two Charlotte dads who were inspired by the adventures they had with their daughters, Kinetic Heights is an instant adrenaline rush, with a high ropes course, zip lines, a bouldering wall, obstacle training, and more. Kids are encouraged to try new things, take risks, make mistakes, and grow. Extra points: They give back to the community by offering free or discounted programs for those in need. 5664 International Dr.
---
Place for Future Steph Currys
Yes I Can Basketball League
Charlotte's most popular youth basketball program has held year-round camps, academies, and leagues since 1997. Not only does Yes I Can teach fundamentals in a productive learning environment; the group's goal is also to instill positive life lessons and build confidence by the end of each session. As leaders like to say, boys and girls receive plenty of both "perspiration and inspiration."
---
Place to Discover Your Inner Simone Biles
Perfect Balance Training Center
Kids can have fun or aim for a perfect 10 with gymnastics, tumbling, and conditioning classes for boys and girls—ages 18 months through 18 years—held in a 24,000-square-foot facility. There is also a program for special needs youth athletes that teaches fundamentals, teamwork, and independence. 8850 Monroe Rd.
---
Place to Find the Need for Speed
Victory Lane Karting
Kids (adults, too) will have a blast twisting and turning around the bends at Victory Lane. The third-of-a-mile track is the centerpiece of racing schools, summer camps, and youth leagues for eight to 15-year-old NASCAR hopefuls. Parents, don't miss the food and extensive craft beer selection at Pit Row Bar & Grill—which recently grabbed Guy Fieri's attention on Diners, Drive-Ins and Dives! 2330 Tipton Dr., Ste. 100.
---
Place to Channel the '80s
Jazzercise Charlotte Fitness Center
Yes, that Jazzercise. Throw out your preconceived notions and take one of the most fun and effective workouts in the city. Burn 600-plus calories in a class that is set to music you were sure to hear on the radio at some point. Don't dance? Don't worry. This is a no-judgment zone, and diehard regulars welcome you with open arms. The format is a combo of cardio and strength that works you to the core. The place has more than 20 instructors and 40-plus classes at an inexpensive membership fee. 1600 E. Woodlawn Rd., Ste. 300.
---
Free Workout
STAX
Every Monday and Wednesday, this yoga and fitness facility hosts more than a hundred people for a boot camp that's tough on the muscles and easy on the wallet. You'd think the instructors—including former NFL star Randy Moss—might not see you slacking in the back of the crowd, but they're next to you in no time with encouragement and advice. 3722 S. Tryon St.
---
---