2017 BOB Awards: Play!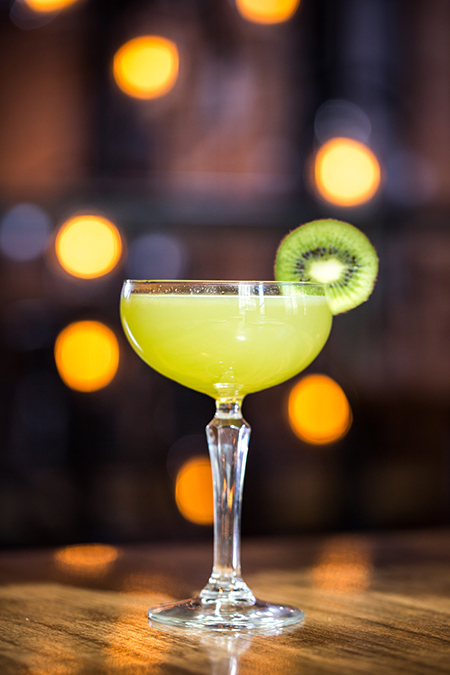 Place for an After-Work Drink
204 North
The dilemma with happy hour is usually something like this: You want something classy but not too expensive, convenient but not too ordinary. 204 North checks all the boxes, with a cocktail program that is affordable (signature cocktails are $12 apiece, and cocktails on tap start at $8) and a sleek, uptown vibe. 204 N. Tryon St.
---
Place to Watch Premier League
Big Ben British Pub and Restaurant
Liverpool fans may disagree with this choice, considering Big Ben is a favorite gathering spot for rival Arsenal crazies, but this South End pub nails the Saturday soccer experience regardless of who's playing. Big Ben opens an hour before every Arsenal match (or 9 a.m. when Arsenal isn't playing), and serves a full English breakfast with a banger, baked beans, mushrooms, grilled tomatoes, eggs, English bacon, spuds, and toast. 2000 South Blvd., Ste. 150.
---
Brewery
Heist Brewery
Written off by many Charlotteans a few years ago, Heist is surging under head brewer Eric Mitchell, who joined the team in 2013 and has mastered the style of the hazy IPA. But Mitchell and assistant brewer Scott Worthington have more than one trick; Heist won bronze in the 2016 World Beer Cup for Brockwell, its English mild ale, and people camped out overnight in February to get their hands on the brewery's Russian imperial stout, Cataclysm. 2909 N. Davidson St., Ste. 200.
---
Beer
Heist Brewery's Citraquench'l
Don't try to spell it—simply try it. Bursting with abundant Citra hops, this juicy IPA will have your tongue dancing to a tropical tune thanks to flavors of grapefruit, mango, orange, and pineapple. Citraquench'l garnered national attention with a Beer Advocate ranking of eighth among American IPAs (79th out of all beer styles). 2909 N. Davidson St., Ste. 200.
---
Dog Bar
Lucky Dog Bark & Brew
Dogs may be man's best friend, but we certainly aren't the best at reciprocating their efforts to hang out. That's why Kelly and Randy Waugh opened this dog-friendly bar, with locations in FreeMoreWest and Cornelius. Enjoy beers or dog-themed cocktails while the pups play at your feet. Everyone's happy. 2220 Thrift Rd.
---
Place to Take a Wine Class
Corkbuzz
This restaurant and wine bar is owned by Laura Maniec, one of less than 150 Master Sommeliers in the world. Sign up for Corkbuzz's blind tasting class, and you'll come away with flushed cheeks and the ability to deduce what kind of wine you're drinking. Do you know what makes a wine "star bright"? Do you know which wine has hints of jalapeño? Did you know there was so much to know about wine? 4905 Ashley Park Ln., Ste. J.
---
Margarita
Comida
All syrups at Comida are made in-house, and juices are fresh-pressed. The classic is just what you want: a kick of tart citrus, the signature tingle of tequila, and a salt-rimmed glass. Branch out with more unfamiliar flavors, such as tamarind or cilantro and jalapeño, or order a flight to choose a favorite. They all pair well with the restaurant's chewy chips. 1205 Thomas Ave.
---
> Place to Stage Your Own Bar Crawl (Grown-Up Edition)
Elizabeth Avenue
Find a compact collection of restaurants with craft cocktails on Elizabeth Avenue (aka Restaurant Row). Follow our map here for tips on the best grown-up bar crawl.
Stop 1: Stay hydrated.
Earl's Grocery, 1609 Elizabeth Ave.
Drink of choice: Bottle of water or kombucha
Stop 2: Check out a place known for its whiskey collection.
Customshop, 1601 Elizabeth Ave.
Drink of choice: Spiced old fashioned
Stop 3: Sink into a window-side lounge table and people-watch.
Carpe Diem, 1535 Elizabeth Ave.
Drink of choice: Sidecar martini
Stop 4: Pay homage to a new modern Italian kitchen, formerly Passion8.
Luca, 1523 Elizabeth Ave.
Drink of choice: Italian red wine
Stop 5: Head to the back of a bicycle shop and find a bar.
The Spoke Easy, 1523 Elizabeth Ave., Ste. 120
Drink of choice: Birdsong Brewery's Mexi-Cali stout (when in season)
Stop 6: You made it! Soak up the booze with a taco before calling a cab.
1900 Mexican Grill, 1523 Elizabeth Ave. Drink of choice: Hibiscus margarita
---
> Place to Stage Your Own Bar Crawl (Young & Sloppy Edition)
NoDa
Charlotte loves its bar crawls. Skip the crowds and $20 ticket by heading to NoDa and following our lead.
Stop 1: You're in for a long night—start with a cheap beer.
NoDa 101, 3205 N. Davidson St., Ste. 101
Drink of choice: Miller High Life
Stop 2: Get a tallboy and some food at a place with famous waffle fries.
Jack Beagles, 3213 N. Davidson St.
Drink of choice: Rolling Rock
Stop 3: Sit under the patio lights and enjoy the hangover you don't have yet.
Solstice Tavern, 3221 N. Davidson St.
Drink of choice: A local craft beer
Stop 4: Grab a seat in the window and watch passersby.
Davidson Street Public House, 3220 N. Davidson St.
Drink of choice: Atticus Finch
Stop 5: There's Skee-Ball! There's pool! There are board games! There's giant JENGA! There are dogs next door!
The Blind Pig, 453 E. 36th St.
Drink of choice: Vodka and Red Bull
Stop 6: If you're a dog person, you'll want to stay a while.
The Dog Bar, 3307 N. Davidson St.
Drink of choice: Bucket of beers
Stop 7: This local dive may be a good place to also chug a glass of water.
Sanctuary, 507 E. 36th St.
Drink of choice: PBR
Stop 8: Order a wafflewich, sit at the window, and celebrate being done. Tomorrow won't feel as good.
Salud, 3306 N. Davidson St.
Drink of choice: Westbrook White
Thai six-pack
---
Wine Trip
​Junius Lindsay
Down a gravel road past farmlands just outside of Lexington, you'll often find owner Michael Zimmerman pouring the wine here. If you ask, he'll tell you about his time in France and how he fell in love with French wines, which he emulates, and you'll fall in love with this peaceful place, about 70 miles northeast of Charlotte. Food trucks and live music bring some energy to the calming, open-air tasting room. 385 Dr. Zimmerman Rd., Lexington.
---
Bar Games
​Abari Game Bar
​Abari brought the arcade/bar hybrid to Charlotte in 2016. Tackle some Indiana Jones Pinball Adventure, Street Fighter, or, if you're feeling nostalgic, Ms. Pac-Man. There are more than 20 arcade options, plus gaming consoles. It's not always cornhole weather, but Donkey Kong is waiting for you. 1721 N. Davidson St.
---
New Bottle Shop
The Hop Shop
The son of an Air Force pilot, Hop Shop owner Patrick Villafane was born in Germany and grew up watching adults have conversations around beer. The spacious shop he opened in Plaza Midwood in November 2016 brings an easy-going atmosphere to a neighborhood that gets busier every day. The interior includes benches and tables and even two upholstered porch swings, all with seats facing each other to drive real-life interactions. 818 Lamar Ave.
---
Old-Fashioned
Dogwood Southern Table & Bar
Muddle, drizzle, pour, and serve. Cherries, oranges, syrups, bitters, bourbon, and ice. The actions and ingredients are the same as they ever were, but coming from the hands of Brian Lorusso and the bar staff at Dogwood, the classic drink tastes like something you couldn't possibly get anywhere else. 4905 Ashley Park Ln., Ste. D.
---
Irish Pub
Belfast Mill
The city has plenty of options for a Guinness, and plenty of places with bartenders who've moved here directly from Ireland. But few are in a World War I-era building that befits the traditional pint. Belfast Mill also receives high marks this year, in particular, for its renovation of its upstairs cocktail space, the Cotton Room, which opened in April 2016. 144 Brevard Ct., Ste. A.
---
New Bar
Haberdish
Some bars find that sweet spot between endearing and elegant, where they feel comfortable and confident. When Haberdish opened in NoDa this past winter, the buzz was about the food—fried chicken and sides that are a nod to the city's Southern traditions. But the bar, led by Colleen Hughes, is where everything feels right. The menu is ambitious, with about 30 cocktails, at least 14 types of bourbon, seven types of rye, and 12 types of Scotch. But it fits on one sheet of paper, front and back, and the bartenders are warm and reassuring. They work quickly, too, proving that you don't have to wait 30 minutes for a good drink. 3106 N. Davidson St.
---
Bar That Probably Has the Beer You're Looking For
Duckworth's Grill and Taphouse
Charlotte's original home for beer conquerors now has a combined 448 taps at five locations around the city. The uptown spot also lists an extensive collection of rare beers in The Cellar, a downstairs restaurant with higher-end food and cocktails. Toss in the fact that each location has two $3.50 pint nights per week and arguably the best cheesesteaks in town, and Duckworth's masters doing regular things right. Multiple locations.
---
Drink by the Water
Lake Norman Cottage
It's a wine bar. On the water. And it might be the most relaxing way to pass an afternoon in the Charlotte area. 200-A N. Harbor Pl., Davidson.
---
Place to shake your groove thang
Roxbury
Tell me what you want, what you really, really want. You want to dance! This multi-level nightclub in uptown is the top spot to go to let loose, dance, and turn back the clock to the '80s and '90s. 116 W. 5th St., 704-375-8090, roxburynightclub.com
---
Sour Program
Wooden Robot
Wooden Robot jumped into Charlotte's craft beer community two years ago with its Hop Rocks Sour IPA and never looked back. It's the city's first brewery to employ foeders (think barrels, but much larger) onsite, and head brewer Dan Wade has used these fermentation vessels to produce such tangy treats as Universal Automaton, Daddy Needs His Juice, and Peachy Apribot. 1440 S. Tryon St., 980-819-7875, woodenrobotbrewery.com
---
Beer Festival
Salud's Release the Funk
Jason Glunt has championed sour beers since he opened his NoDa shop in 2012. Back then, the thought of a festival consisting of only sours and wild ales seemed a bit … wild. It has since become a must-attend event every November, featuring the top sour-focused breweries in the South and beyond. Old-school hip-hop and funk classics play over the Neighborhood Theatre speakers throughout the day.
---
Beer Shop
Brawley's Beverage
Brawley's got a facelift a few summers ago, but Charlotte's oldest bottle shop retains that familiar neighborhood watering hole vibe. Michael Brawley and his staff never steer you wrong when choosing from the 24 taps and shelves of craft cans and bottles. Spying the patio and beautiful floor-to-ceiling glass windows is enough to make you pull off Park Road and stop in for a beer or two. 4620 Park Rd.
---
Reason to Venture Outside of Charlotte for Beer
High Branch Brewing
Located roughly 30 minutes north of uptown, High Branch won Best in Show at the 2017 Queen City Brewers Festival. The brewery has a historic feel to it as part of the revitalized Gibson Mill, from tree branch tap handles to the original, worn glass that allows peeks into the brewhouse. High Branch's wide variety of styles, from saisons to stouts, makes it a must-visit destination. 325 McGill Ave. NW, Ste. 148, Concord, 704-706-3807, highbranchbrewing.com
---
Place to Have a Birthday Party
VBGB
This is a beer hall, a volleyball court, and a restaurant, all in one. There's trivia on Thursday (but get here early if you want a seat) and a DJ on the enormous patio on Fridays and Saturdays. Come for the giant Connect Four, stay for the cheap beer. Happy birthday to you. 920 Hamilton St., 704-333-4111, vbgbuptown.com
---
SEASONAL BEERS
SPRING
Legion's Carolina Sparkle Party
This Berliner Weisse is tart but goes down easily at just four percent ABV—an ideal beer for porch-drinking weather.
SUMMER
NoDa's NoDajito
Brewed with mint leaves and lime zest, this World Beer Cup gold medal beer has more than enough flavor to quench your warm-weather thirst.
FALL
Olde Mecklenburg's Mecktoberfest
This Märzen is crisp with a hint of sweetness; a refreshing beer that is easy to enjoy in autumn weather.
WINTER
Triple C's barrel-aged program
From Up All Night (a breakfast porter brewed with local coffee) to Chocolate Covered Pretzel Stout (just as it sounds), Triple C head brewer Scott Kimball does wonders with bourbon barrels to create beers best consumed near a fire pit.
---