2017 BOB Awards: Shop!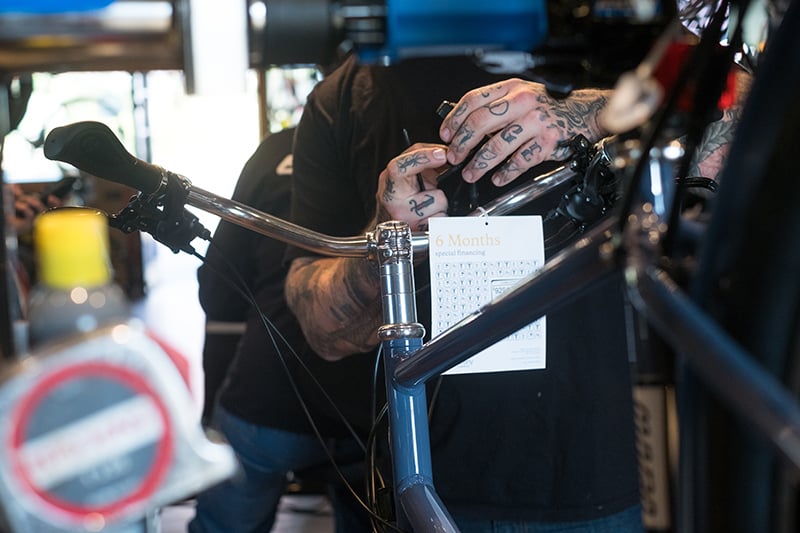 Designer Boutique
Capitol
Come to Capitol, which turns 20 in 2018, for exquisite pieces from designers including Yves Saint Laurent, Valentino, and Giambattista Valli. The clothing is not cheap, but the selection is among the best in the South. And it comes with owner Laura Vinroot Poole's brand of friendly, thoughtful service. 4010 Sharon Rd.
---
Wine Shop
Bond Street Wines
Sit down for a $10 tasting to sip away the workweek. The tastings are themed—some around a wine region, others around a producer—and include price points for different budgets. Since it opened in 2005, the store's selection has grown and matured, and the staff is happy to help navigate the offerings. 605 Providence Rd.
---
Yoga Shop
Gumbo Goods
Next door to Okra Yoga in Plaza Midwood, this cleverly named sister space sells more than just yoga mats. Find local brands of yoga attire, jewelry, and candles. It also sells natural lifestyle items, including cosmetics, toiletries, and essential oils. Down the street is Moxie Mercantile, across the way is City Supply Co., and around the corner is CLTCH, meaning Gumbo is in the center of a growing shopping hub. 1916 Commonwealth Ave.
---
Pet Store
Four Dogs Pet Supplies
Bring your own bag, and you'll get a poker chip to put in the donation box. For each chip dropped in, Four Dogs donates money to a local charity. The owners of this store are large supporters of the animal community, through donations such as this and events at the store. Of course, your own pets will be most concerned about the treat donations they receive. The staff is generous, too. 2630 N. Davidson St.
---
Accessories
CLTCH
You don't have to be stylish to look stylish. Step into this small shop on Central Avenue—pronounced "clutch"—for unique jewelry, bags, and gifts for men and women, many from local artisans. No matter what you buy, you can trust that your statement piece makes the right statement. 1512 Central Ave.
---
Place for Antiques
The Depot at Gibson Mill
Step along the creaky, wooden floors of this old mill building in Concord, and you'll likely find what you're looking for. The rows and rows of antiques make the 88,000-square-foot showroom feel small, but the stalls, filled with everything from records and tap handles to furniture and knickknacks, will keep your eyes wandering for hours. 325 McGill Ave. N.W., Ste. 250, Concord.
---
Men's Store
Tabor
Expect to find a wide selection of menswear—shirts range from classic blue and white Gitman Vintage oxfords to edgy Mark McNairy prints. The Myers Park shop excels because of this diversity, pushing the city's style boundaries but not annihilating them. Name the occasion (short of a black tie gala, maybe) and you can find an appropriate ensemble. Men do love no-hassle shopping. 421 Providence Rd.
---
Shoe Repair
Dean's Shoe Repair
Yes, you'll pay more than at most shoe repair shops. But Dean's offers two things most other places can't: impeccable service and long-lasting craftsmanship. Owners Mohamed and Holly Mahfoze have made small, on-the-spot repairs for free, and their ability to salvage even the most worn shoe is unmatched in town. 2925 Selwyn Ave.
---
Place to Buy a Suit
ABBEYDALE
The custom clothier is named after the east Charlotte street where owner David Watkins grew up. He extends that sense of familiarity to clients, ranging from regular guys in need of a suit to wear at their weddings to some of the city's power players. Watkins guides you through the process, and Abbeydale suits exude panache. 112 S. Tryon St., Ste. 600.
---
Ski Shop
Alpine Ski Center
Powder hounds and novices appreciate the knowledgeable staff at this 41-year-old outfitter, where you can find skis, snowboards, and accessories to hit the mountain—whether it's a day trip to Sugar Mountain or chasing corn out west. 1501 East Blvd.
---
Place to Take Out-of-Town Guests
7th Street Public Market
The market's array of vendors—especially standouts Not Just Coffee, Orrman's Cheese Shop, and Viva Raw—sell food and drinks to please nearly any palate. And its central location, on the light rail line and near uptown parks and museums, makes it a natural starting point for exploring the city. 224 E. 7th St.
---
Outdoor Store
Jesse Brown's Outdoors
SouthPark isn't the first place you'd think to look for camping equipment, but climbers, backpackers, and anglers choose to stock up at this store on Sharon Road. The knowledgeable staff isn't condescending—just ask 20-some-years-worth of Scouts (and their anxious parents) who've geared up for their adventures here. 4732 Sharon Rd., Ste. 2M.
---
Used Bookstore
The Last Word
The Last Word's rows of books, graphic novels, records, and video games are full of secondhand treasures. Located in the growing North Tryon Street corridor, the shop is lively on most nights of the week, with tabletop gamers and book clubs. A bonus to fuel your literary itch: Its sell-or-trade program lets you unload your old tomes for store credit. 5744 N. Tryon St.
---
Place to See an Author
Park Road Books
Take a look at Park Road Books' events calendar to see what makes it different from every other spot in town: Nationally recognized authors and poets stop by for readings on a weekly basis. The shop maintains a bond with Charlotte's own community of scribes by sprinkling them throughout the schedule. 4139 Park Rd.
---
Children's Boutique
Tiny
It feels like a high-end place to splurge on a new outfit for yourself, but everything here is, well, tiny. The stuffed animal heads mounted on the wall are another sign that this spot is for the younger members of the family. The vibrant store fills a niche in Charlotte's children's clothing scene. Some kids want large, not-so-subtle cartoon characters to adorn their clothing; others want something more stylish. The latter is where Tiny comes in. 715 Providence Rd.
---
Store for a Special Occasion
McKenzie Claire
Come here to find that dress, the one that speaks to your style, not just to the trend of the moment. Although you can also find a classic LBD here, the shop specializes in pieces with eye-catching flourishes: bold prints, chic beading and embroidery, and modern patterns that balance comfort and sophistication. The same goes for its jewelry and handbag selection; consider them exclamation marks at the end of your statement. 1419 East Blvd., Ste. G.
---
Place to Try a New Trend
KK Bloom
This women's clothing boutique makes staying on trend affordable, regardless of the occasion. Cheeky loungewear and comfortable denim hang alongside flirty party dresses and rompers that can be dressed up with the store's sizable accessory collection. A constant stream of new arrivals and sales that can net you a whole new outfit for less than $100 make this shop worth visiting regularly in-person and online. 2823 Selwyn Ave.
---
Home Accessories
Abode
The Dilworth showroom is owned and operated by interior designer Mary Tobias Miller, and it's a favorite for lifestyle enthusiasts looking to spruce up a space with a conversation-starting piece. The showroom has mainly vintage and transitional home items. 1530 East Blvd.
---
Pop-Up Shopping Event
Pink Social Girl Tribe
Happening but a few times per year, this pop-up market combines two of Charlotte's favorite things: local businesses and beer. Hosted at a brewery (usually Sugar Creek Brewing), the Pink Social Girl Tribe Pop-Up highlights more than 60 female-owned companies and "side-hustles," drawing in crowds big enough to make an empty warehouse feel packed. 220 East Blvd., Ste. 200B.
---
Throw Pillows
Piper Collection
Charlotte-based Piper Collection's pillows are youthful and chic, sprinkling personality onto any lonely couch or bedspread. With quirky prints and trendy patterns, these throw pillows have a special flair, and you can find them while perusing Theory Design Studio in Dilworth. 4901 Dwight Evans Rd., Ste. 134.
---
Place to Go Boho
Boem
The tenets of bohemian style are as follows: earthy tones, flowy silhouettes, trippy prints, and all-around hippie vibes. Elevating boho fashion into a sophisticated, wearable look is no easy feat, but Boem does so with class, curating threads and accessories for a wide age-range of shoppers. 3920 Sharon Rd.
---
Running Store
Run for Your Life
Upgrade your running shoes, but don't stop there. Join Run for Your Life's community of runners, of all levels, and participate in clinics and yoga sessions specifically designed for runners. Leave with new shoes and new friends. Multiple locations.
---
Nursery
Rountree Plantation Greenhouse & Garden Center
Variety is Rountree's specialty. The center showcases a slew of well-organized plants, trees, herbs, and flowers. The eager and knowledgeable staff members make sure you don't leave this place without a flourishing, healthy plant and the knowledge to keep it alive. 517 Rountree Rd.
---
Thrift Store
GW
Curating the GW boutique is arduous. Staffers pull from the mountains of donations Goodwill receives daily to find everything from designer clothing to jewelry to home accessories. With a focus on current brands and trends (from vintage to modern), the GW Boutique offers thrifting without all the digging. 5301 Wilkinson Blvd.
---
Place for DIY Help
Blackhawk Hardware
Asking for help isn't really necessary at Blackhawk Hardware, because the employees will likely beat you to it. Do-it-yourself projects can be intimidating. Take a deep breath, have a bag of free popcorn, and look for a khaki- and polo-wearing employee. 4225 Park Rd.
---
Record Store
Lunchbox Records
Sometimes, we need reminders that the internet can't do everything. It can't provide the feel of flipping through used records, the sound of each one slapping against the one you just flipped, over and over, until you find the one you forgot you wanted. Records provide a relief from our phones, and record stores provide moments when we discover that the best things are those for which we have to search. No store in town collects more of those moments than Lunchbox, which this fall will celebrate a dozen years in business, all during the Amazon.com era. 825 Central Ave.
---
Place to Find Local Essentials
Queen City Pantry/Vin Master
Despite a recent merge with Vin Master, Queen City Pantry stuck with its roots—choosing quality over quantity and prioritizing pantry essentials from local vendors. Artisan cheeses and farm-fresh milk, eggs, and butter are just starting points. Fill out your pantry with grains and pasta, too. Since it joined forces with Vin Master, wine and beer are also on the menu. 2000 South Blvd., Ste. 610.
---
Upscale Consignment Shop
JT Posh
Although it's full of thrifty shoppers, JT Posh is not a thrift store. Deals are a given with pre-owned closet pieces, but unlike your typical thrift shop, JT Posh focuses on labels—Tory Burch and Lululemon aplenty. Customers come in flocks when the store posts new items on its Instagram account. 2400 Park Rd., Ste. 2-A.
---
Beauty Store
Jeffre Scott
Follow your nose to find Jeffre Scott's array of perfumes and cosmetics, wedged in the middle of a strip mall. In contrast to the shop's unassuming exterior, inside feels more like a delicate jewelry box, with products displayed like artifacts in a museum. Treat yourself to a facial in the full-service salon or just shop—chances are, you won't leave empty-handed. 607 Providence Rd.
---
Place to Buy a Last-Minute Gift
Paper Skyscraper
Tomorrow is your friend's birthday and you forgot, again. It's crunch time. Instead of a gift card, switch it up with Moscow Mule mugs or a feisty pair of socks or world map file folders. Paper Skyscraper is full of items you never thought you needed, but of course, you do—and so does your friend. 330 East Blvd.
---
Place to Buy a Charlotte-Themed Gift
Green with Envy
For most, Charlotte pride happens fast and love for the Queen City is a commonality shared by natives and newbies alike. Green with Envy harvests that love at its Plaza Midwood location with gifts, home décor, and clothes that sport Charlotte and particular neighborhood emblems among other boutique basics. 1111 Central Ave. Ste. 200.
---
Gourmet Food Store
Reid's Fine Foods
Between its Selwyn and SouthPark locations, Reid's offers a lot of options. From dining in (and devouring a black bean burger) to shopping for groceries to carrying-out to browsing a mesmerizing parade of artisan cheeses and charcuterie, there is no wrong way to shop here. The company turns 90 next year. For Charlotte, that's a rarity. Multiple locations.
---
Bike Shop
Charlotte Cycles
So you've decided to dust off an old bicycle and ride to work a few days each week. Before you hop on, bring your bike to the friendly staff at this shop in Cherry. They'll make sure it's road ready—and help you find a helmet that fits. Serious cyclists will find plenty of gear to love here, too. 337 Baldwin Ave.
---