2018 BOB Awards: Explore
The Best of Arts, Culture, and Entertainment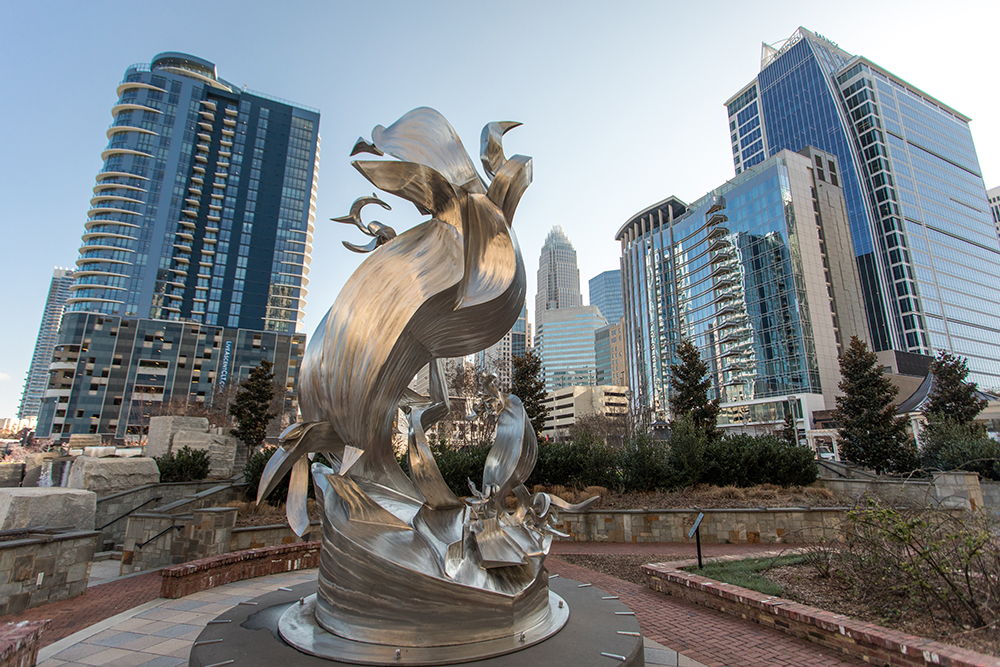 Public Art
Richard Hunt's Romare Bearden Park Sculpture "Spiral Odyssey"
African-American sculptor Richard Hunt rose to fame alongside Charlotte-born artist Romare Bearden. This tribute to Bearden reflects that friendship and mutual admiration. 300 S. Church St.
---
Venue for Short People
Visulite Theatre
It's hard to enjoy a concert when you have to stand on your tippy-toes to see. At the Visulite Theatre in Elizabeth, a venue for headliners and local acts alike, there's a sunken dance floor, so everyone has a view of each guitar solo and hair whip. And if dancing is not your thing, stand or grab a stool in the bar area a few steps up. 1615 Elizabeth Ave.
---
Impromptu Family Outing
Dish It Out
This drop-in pottery studio provides families a creative way to spend quality time together with minimal fuss. Guests choose a pre-fired bisque piece (most between $10 and $20) to paint while there; the studio then glazes and fires the pieces in about a week. On Mondays, kids under 16 can paint for half the normal price. The studio also hosts weeklong summer camps at which kids can explore pottery along with other art forms. 7828 Rea Rd., Ste C.
---
Walk Down Memory Lane
Robinson-Spangler Carolina Room
Spend a few hours in the archive room at the Main Library in uptown, and you'll learn something about this place we call home. Peruse old newspaper clippings, photographs, and even copies of this magazine, dating all the way back to the 1968 debut issue. 310 N. Tryon St.
---
Creative Outlet for Kids
Noah's Art
Children as young as 22 months are welcome at these art centers, where the staff actively works with them to develop their artistic talents. Parents can join their kids or choose a class in which little ones can work independently. The studios also host birthday parties, where kids complete one of several craft projects built around a theme, and summer camps, including ones done in conjunction with My Gym, a kids' fitness center. Multiple locations.
---
Artist to Watch
Kenny Nguyen
Nguyen's path to becoming an artist included a brief career in fashion design in his native Vietnam, a two-year stint at a local beauty salon, and ultimately, training in painting at UNC Charlotte. Now, he crafts some of the city's most exciting work, researching ancient Asian techniques with textiles and using oils, acrylics, plexiglass, and silk to blend the old with the new on canvas. Nguyen's bold, kinetic paintings have garnered shows in Charlotte's Sozo Gallery and across the world, including South Korea and Washington, D.C.
---
Concert Venue
PNC Music Pavilion
Listen: We all know that this isn't a fun venue to enter or exit. Because of the traffic, couples are likely to break up two or three times while leaving a Kenny Chesney concert. But as far as experiences inside a show go, PNC Music Pavilion rises above other outdoor venues in the region, providing the most space and freedom to take in sunshine and tunes. The magic of summer shows is found on the lawn, where you can lounge across blankets or mingle between sets. 707 Pavilion Blvd.
---
Arts Festival
Sensoria Festival
MacArthur "genius grant" recipient and author George Saunders said "the Sensoria Festival is one of the very best of its kind in the world." Central Piedmont Community College's yearly literary/arts festival brings world-class talent to its campuses. Saunders, the Paul Taylor Dance Company, multiple United States poet laureates, and others not only provide public performances and talks during the festival, but also visit the classrooms of the school for intimate, once-in-a-lifetime experiences for students.
---
Gallery
LaCa Projects
Latin American Contemporary Art Projects reflects a growing, dynamic portion of Charlotte's booming population. Director Neely Verano wants to do more than show world-class artists at this FreeMoreWest gallery. She wants to build a community. The recent café expansion, under the banner of Basal Coffee, underscores that charge. 1429 Bryant St.
---
Museum
Mint Museum Uptown
Recent exhibitions State of the Art, Women of Abstract Expressionism and Reveal and Detonate (the anchor exhibition of the citywide In Focus/Enfoque project) have been must-visits during the past few seasons, each representing the push toward diversity taking place across the art world. The Mint's educational and community programming is noteworthy; its gallery walls, however, are what make it an essential museum. 500 S. Tryon St.
---
Culture for Kids
Carolina Raptor Center
The youth program at this aviary produces much more than craft projects and paper birds. It puts kids to work. Junior Docents and Junior Rehabilitation Aviary Caretakers are roles that instill both responsibility and a love for nature. 6000 Sample Rd., Huntersville.
---
Musician
Lute
Grammy-nominated J. Cole is more than a fan of Lute: He's his boss. Lute signed to Cole's Dreamville Records label, and last year, the imprint released Lute's long-awaited debut LP, West 1996 Pt. 2. The record is an autobiographical statement from a voice often overlooked in Charlotte. As Charlotte's hip-hop profile continues to rise, Lute leads the way.
---
Arts Nonprofit
Jazz Arts Initiative
This nonprofit takes a multi-pronged approach to making jazz part of Charlotte's identity. Its Jazz Academy trains youths and adults in performance, the monthly Jazz Room concerts keep thousands of feet tapping throughout the year, and its involvement with the annual Charlotte Jazz Festival helps the massive effort stay locally minded.
---
Mascot
Hugo
We hear your catcalls for Sir Purr. And your pitches for Homer. And, yeah, Chubby weighs on our minds, too. But Hugo is the queen bee of Charlotte's mascots. Cheryl Henson, daughter of Jim Henson, created Hugo in 1988 when the Hornets became the city's first major professional franchise. He can do it all. Case in point: In September 2016, Hugo lined up in a mascot challenge during halftime of a Panthers game. He took a screen pass from Sir Purr near midfield, then darted through a zoo of defenders, past the outstretched arms of the Clemson Tiger and the Virginia Tech Hokie, for a 50-yard touchdown. Not bad for a basketball bee.
---
Dance Troupe
Baran Dance
Audrey Baran's troupe has represented contemporary dance at events at Goodyear Arts and the annual BOOM Festival in Plaza Midwood. Behind the scenes, its community projects and classes at Open Door Studios give aspiring dancers a path outside of the traditional.
---
Theater Troupe
Children's Theatre of Charlotte
Over the past couple of years, CTC has created a seasonal favorite (The Best Christmas Pageant Ever: The Musical), performed world premieres (Grace for President), and crafted stirring productions that reflect social conversation (And in This Corner: Cassius Clay). 300 E. 7th St.
---
Arts Speaker Series
Sphere Series
A band of female gallerists and museum leaders in Charlotte created a series that's educating potential collectors and helping this art market become formidable in the Southeast. Panel discussions include international newsmakers that represent the forefront of collecting art and urban development.
---
Way for Newcomers to Learn about Charlotte
Cotton Fields to Skyscrapers, Levine Museum of the New South
Dear 50 People a Day Who Are Moving to Charlotte: This city has history, despite trite rumors to the contrary. Run your hand through the pile of seed cotton, or walk through a tenant farmer's house, or learn which Charlottean coined the term "air conditioning," or stand in a school bus and understand the city's complicated history with school segregation and busing, or sit down at a lunch counter, or browse an old Belk store. It isn't until you understand the place where you live that you can truly call it home. 200 E. 7th St.
---
Music Festival
Tuck Fest
There's no better place to see an outdoor concert than the Whitewater Center, there's no better season to sit outside in North Carolina than spring, and there's no better price than free. Tuck Fest, held each April against the already musical backdrop of rushing waters and busy zip lines, started in 2013 with 14,000 attendees. Last year, 32,000 came over four days. Some of the most talented artists in modern music have performed, including Trombone Shorty, Jason Isbell, and St. Paul & The Broken Bones. 5000 Whitewater Center Pkwy.
---
Media Outlet
WFAE-FM (90.7)
Quietly but purposefully, the local NPR affiliate is becoming the most important news organization for Charlotte's future. Under the direction of general manager Joe O'Connor and a board of directors that's passionate about local journalism, WFAE saw total revenue increase from $4.9 million in 2016 to $6.3 million in 2017, a jump of nearly 20 percent. The nonprofit has invested in seven newsroom positions in the past year or so, bringing that staff's size to 21. (In 2006, WFAE had just two full-time reporters.) One recent addition is former Charlotte Observer columnist Tommy Tomlinson, whose podcast featuring Southern personalities, SouthBound, launched last fall. He'll join WFAE full-time this spring. 8801 J.M. Keynes Dr., Ste. 91.
---
Place to Meet Obscure Celebrities
BB&T Ballpark
Stars from cult childhood movies? Former wrestlers with catchphrases you can never forget? You probably haven't thought of these celebs in ages, but now that you see that they're here, in Charlotte, waiting to sign a photograph for you, you HAVE to go meet them. Ham from The Sandlot? You're killing me, Smalls! 324 S. Mint St.