2018 BOB Awards: Live
The Outdoors, Wellness, Pets, and Family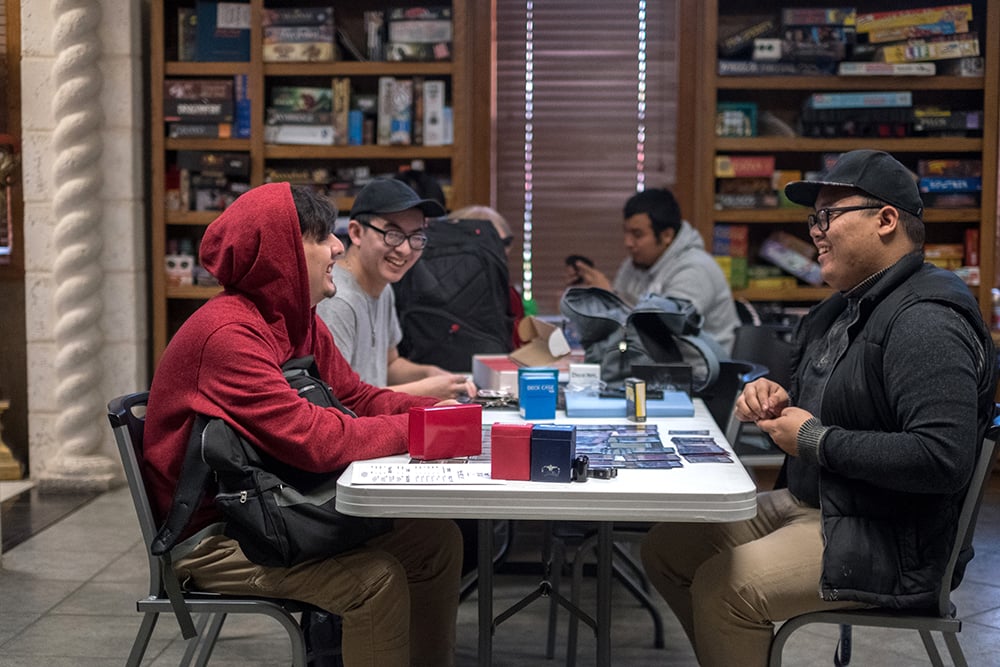 Board Game Mecca
Get Some Game
We're in the middle of a new golden age for board game fans. Though gaming in breweries and coffee shops has caught on, the most diehard gamers know that playing at home is best. Get Some Game sells the latest and greatest in old-school entertainment. If you can't afford to keep buying the games, they'll let you rent one for a small fee—and if you decide you have to purchase it, the fee will be taken off the total purchase price. 1224 Commercial Ave.
---
Skyline View
Irwin Belk Complex at Johnson C. Smith
Stand next to the statue of the bull that overlooks the university's football field, and look toward uptown. The skyscrapers appear to be growing from the opposite end zone. There's something overwhelming about being on this historic campus, which was built 150 years ago by newly freed blacks to give educational opportunities to young people who didn't have them, and gazing out at the jagged outline of commerce and progress. 500 N. Summit Ave.
---
Unexpected Sunset View
Plaza Midwood Harris Teeter
There are plenty of spots in Plaza Midwood with a view of the skyline, but few allow you to BYOS—bring your own snacks. Grab a bag of your favorite chips or even cheese and crackers at Harris Teeter, and then head up to the second floor for a pop-up picnic on the outdoor porch area overlooking the city. 1704 Central Ave.
---
Nail Salon
Polished
Complimentary wine (or beer) isn't necessary when getting your nails done, but it sure doesn't hurt. When sitting in the swanky, white leather chairs at one of six area Polished Nail Bar locations—from Ballantyne to Huntersville—it's easy to relax. Almost too easy. As far as we're concerned, getting guiltlessly tipsy in a glamorous salon is what self-care is all about. Multiple locations.
---
Gym
YMCA
An income-adjustable YMCA membership can get you access to any of the 15-plus locations nearby, making it a great value—especially considering everything included in a membership. Whether you prefer group fitness classes, personal training, swimming, or self-led weight and cardio sessions, the Y's fitness options are all achievable even to busy parents, thanks to the facility's free child care. Many locations host adult recreational sports teams, and the Lake Norman gym provides lake access in addition to its waterfront views. Paddleboarding, anyone? Multiple locations.
---
Luxury Spa
Toska European Spa
"The skin is the roof of the house," says owner Toska Husted, and she's right. Her Dilworth spa delivers upscale beauty services, including luxurious facials, enhanced by hard-to-find French skin care line Biologique Recherche. 1419 East Blvd., Ste. M.
---
Place for a Doggie 'Do
The Dog Salon
If you want your dog to stand out, the folks in this Midwood salon are practiced in coloring fur for pawesome mohawks in bright colors. Pooches who prefer to go au naturel will come home with a trim and soft coat. Dogs are part of the family now, and they should feel pretty, too. 1318 Central Ave., Ste.
---
Outside Fun
Fort Wild
Have you ever tried to keep a kid interested in an indoor exhibition? It's no easy feat, which is why Discovery Place Nature's Fort Wild is a much-needed alternative. Surrounded by a 100-year-old forest next door to Freedom Park, the obstacles, musical instruments, and activities in this area give your tyke safe access to nature. 1658 Sterling Rd.
---
Quick Workout
HSM Core
The program may be core-centric, but trust us, you'll feel it everywhere else, too. Challenging, 40-minute routines are built around the Megaformer, a specialized piece of fitness equipment designed to build strength and endurance, tone muscle, and increase flexibility. Upbeat coaches help you to modify each exercise for your fitness level and to stay motivated until the countdown clock hits zero. Keep the sweat towel they give you handy; you'll need it. Multiple locations.
---
Endurance Race
Tri Latta Sprint Triathlon
This mid-June event is ideal for a wide range of athletes, from the beginner on a bike found on Craigslist to the veteran warming up for an Ironman. Distances are manageable, and the race's setting, in Huntersville's Latta Plantation Nature Preserve, is far prettier than any field filled with mud, barbed wire, and burning tires.
---
Way to Recharge
Ritz-Carlton Spa
You need only book a single treatment to get a full day's access to the hotel's spa, relaxation room, 16-head "experience shower," salt vault, and sauna. 201 E. Trade St.
---
Underappreciated Fitness Facility
Mecklenburg County Aquatic Center
County residents can purchase inexpensive monthly or daily memberships to the recently renovated uptown aquatic center, which includes a gym, warm pool, and lap pool. Unless you plan to work out at peak hours in the early mornings or late afternoons, you'll rarely have to share a pool lane or exercise machine. 800 E. Martin Luther King Jr. Blvd.
---
Barbershop
Emerson Joseph
Billed as a grooming lounge, this uptown space oozes sophistication. Beyond solid haircuts—and the life-restoring hot face towel—the staff offers shoe shines, nail treatments, and spa services—everything a proper gentleman needs. 221 S. Tryon St.
---
Indoor Cycling Studio
CycleBar
It's not so much that CycleBar does things differently from other cycling studios—the staff simply does them consistently well. Equipment is well-cared for. Playlists are energizing and don't rely solely on Top 40 hits. Instructors are upbeat and positive, in a genuine way that other cycle franchises struggle to achieve. With team challenges, raffles, social events, happy hour rides, and more, CycleBar goes beyond workout studio to actively create a community around fitness. Multiple locations.
---
Dance Fitness
Twerk for Your Beer
If the title existed, Kara Vasseur would be named Charlotte's Twerker in Chief. She's led hundreds through her Twerk for Your Beer fitness class, teaching us all that working out and having fun aren't mutually exclusive. With a soundtrack of hip-hop and club favorites, Vasseur teaches with a smile and an appropriate amount of sass. Follow @twerkforyourbeer on Instagram for upcoming events.
---
Rainy Day Sanctuary
Discovery Place Kids
Each room of Discovery Place's Huntersville location is a different world for its young visitors—a doctor's office, a restaurant kitchen, an engineering lab, or a race car. The exhibitions activate new areas of a child's imagination, making this an escape from bad weather unlike any other in the area. 105 Gilead Rd., Huntersville.
---
Park Attraction
The Jungle Gym at First Ward Park
First Ward Park was already packed with water features, exercise stations, and a pristine turf last year when the Southminster senior community donated a $100,000 jungle gym. Just try to walk by with your kids on a sunny day without them attempting to scale it. 301 E. 7th St.