2018 BOB Awards: Play
The Best of Beer, Wine, Nightlife, Cocktails, and Going Out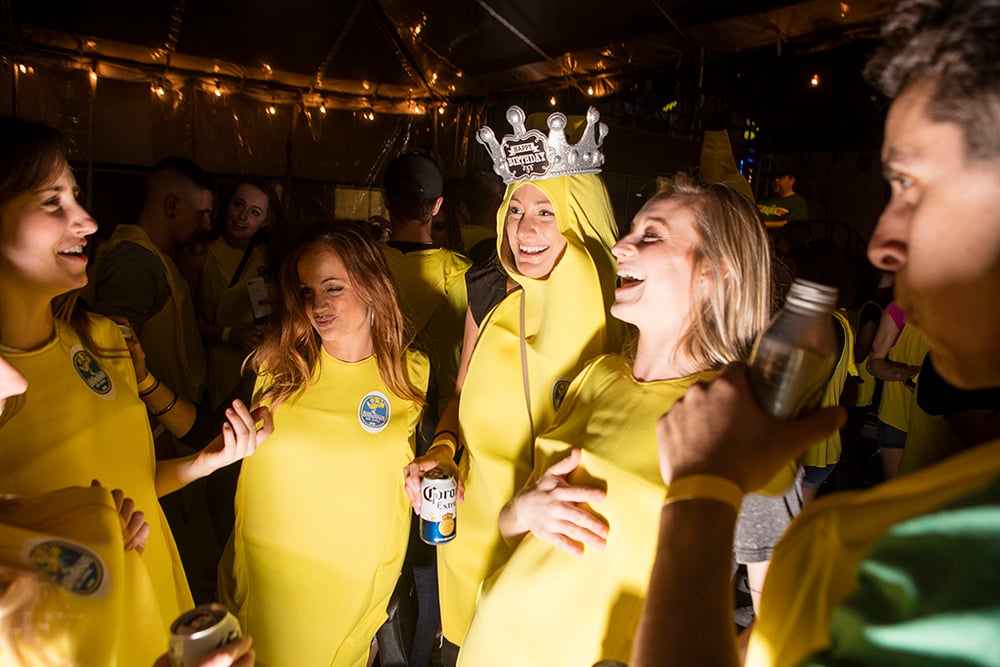 People Watching
Banana Bar Crawl
So maybe slipping into a banana suit once a year isn't your jam, but watching others parade around uptown, bouncing between bars, a wave of yellow taking over the streets for the annual bar crawl in February, just may be. Watch a banana ride the bull at Whisky River, breakdance at Rooftop 210, or slouch over a plate of pancakes at the RedEye Diner. You'll never look at the common fruit the same way again.
---
Spot to Take You Back to the Roaring '20s
Dot Dot Dot
Speakeasies are making an ironic resurgence—now they're threatened not by law enforcement sniffing out booze smugglers, but by becoming too popular. Dot Dot Dot is, perhaps, the best example of what it means to be a successful interpretation of a speakeasy—post-Prohibition, of course. 4237 Park Rd., Ste. B.
---
No-Frills Bar
Smokey Joe's Cafe
Whether you sit out front in the porch swing or inside on a stool in this unabashedly dive-y dive bar, you'll never get an impression that you're anything but welcome just as you are. Order the Champagne of beers, Miller High Life, or a Pabst Blue Ribbon tallboy. There's nothing special about this place, which, somehow, makes it altogether special. 510 Briar Creek Rd.
---
Place for Pup Parents
Lucky Dog Bark & Brew
You know that look, the one when you put on your coat and grab your keys and pat your pup on the head to say goodbye; the one from the window as you pull your car out of the driveway? That look doesn't have to guilt you into spending your Friday nights at home anymore. Grab your best friend and your adult human friends, and head to this dog-friendly bar for craft beer, cocktails, or wine while your pup zooms around you. New to town? There's no easier way to make friends than following your dog's lead. Multiple locations.
---
Cooking Class
Chef Alyssa's Kitchen
With occasional guest chefs and a rotating menu of creative, locally sourced dishes, Chef Alyssa's Kitchen has continued to draw in kitchen-hero hopefuls since it opened in 2012. The cooking class is the most well-known in Charlotte for good reason—participants are allowed to BYOB as well as enjoy their culinary creations with fresh faces and familiar ones alike in this collaborative date-night hotspot. 2104 South Blvd.
---
Brewery
Olde Mecklenburg Brewery
Over the last 12 months, OMB's beers won medals at the Great American Beer Festival (bronze, Hornet's Nest Hefeweizen) and European Beer Star (gold, Fat Boy Baltic Porter). Only two other breweries in the United States pulled off a similar double-continent championship. Locals flock to the brauhaus and biergarten on a daily basis, and with continued expansion (hello, Charlotte Douglas airport and Cornelius), Olde Mecklenburg remains tops among local craft beer. 4150 Yancey Rd.
---
New Brewery
Resident Culture
Head brewer Chris Tropeano's crisp and juicy IPAs are all the rage and sell out quickly, but his lagers and pilsners are must-tries, as well. Resident Culture, in Plaza Midwood, has already canned eight beers in six months, and demand is so high that the brewery ordered additional equipment to expand brewing. 2101 Central Ave.
---
Beer
Heist's Cataclysm
This Russian Imperial Stout series continues to set the bar higher and higher, highlighted by last February's release, which was brewed with Ugandan and Madagascan vanilla beans, then aged in a mix of Whistle Pig Rye and Jefferson's rye whiskey barrels. The result was a well-balanced beer full of flavor and smoothness. That beer has been sold out for some time, and it looks like it won't be until 2019 when Cataclysm IV makes its debut. But trust us, it'll be worth the wait. 2909 N. Davidson St., Ste. 200.
---
Year-Round IPA
Legion's Juicy Jay
It's time to give Legion head brewer Alexa Long the recognition she deserves. This beer has been on point consistently since Legion opened in December 2015. Juicy Jay has become a go-to IPA across craft beer bars and bottle shops in Charlotte, thanks to its dynamic tropical and citrus notes. We can only hope this beer will be canned. If so, watch for long lines to form outside Legion's door in Plaza Midwood. 1906 Commonwealth Ave.
---
Reason to Venture Outside of the City for Beer
The DreamChaser's Brewery
The DreamChaser's Brewery, in what once was Waxhaw's volunteer fire department, is now sounding alarms for Charlotte craft beer drinkers to come south. The DreamChaser's started slowly upon opening in May 2016, but everything changed once the brewery released Yard Breather. Assistant brewer Tom Savage first introduced this hazy IPA as a small batch, and it quickly became the brewery's most popular beer, with cans following close behind. 115 E. North Main St., Waxhaw.
---
Craft Beer Experience
Salud
Is it a bottle shop? Brewery? Restaurant? The answer is "all of the above," as Salud has created a small empire in its NoDa building which includes Salud Beer Shop, Trade & Lore coffee shop, Salud Cerveceria, and a soon-to-open restaurant with a wood-fired brick oven. Pick from a selection of cans and bottles downstairs while enjoying local and national beers among Salud's 12 taps, then head upstairs for one of Cerveceria's in-house beers. 3306 B/C N. Davidson St.
---
Beer Festival
Brawley's Black & Blue
Michael Brawley could sell three times the number of tickets to his festival of rare beers and bluegrass music, but chooses not to—and the fortunate 250 or so patrons to this intimate event appreciate that every year. Shane Icenhour works hard throughout the year to help curate a spectacular tap list that prompts people to drive from surrounding cities just to attend. Last year, Black & Blue operated inside Visulite Theatre and grew to include outside space, too, making an already top-notch festival even more enjoyable.
---
Sour Beers
Wooden Robot
Head brewer Dan Wade continues to impress with the magic he creates from Wooden Robot's foeders. Highlights include Swirl It!, a strawberry vanilla sour that left mouths dancing long after the beer was finished. In 2017, Wooden Robot also introduced its Réserve Series, including bottles of Dorée, a golden sour aged in chardonnay barrels, and Cérises, a cherry sour aged in red wine barrels. Both sold out in less than three hours, showing Charlotte can't get enough of this brewery's sour sensations. 1440 S. Tryon St., Ste. 110.
---
Bowling Alley
10 Park Lanes
Rainy days are made better with places such as 10 Park Lanes, an upscale bowling alley that reminds us that fun doesn't have to be complicated. The kitchen serves flatbreads, salads, and barbecue, while the bar keeps 32 craft beers on tap. If you can sneak in some daytime fun during the week, you'll save big at just $6 per game or $17 for two games and a lunch. Don't forget your socks. 1700 Montford Dr.
---
Fireplace
Fahrenheit
Uptown's spot for the best views is a restaurant of many talents. One perk sometimes overlooked, though, is its fireplace. Sure, Chef Rocco Whalen's pimiento cheese nachos can win over any pimiento-hater in the city, and the views from the 21st-floor restaurant are exceptional, but this sophisticated and pricey place has a laid-back side, too. Cozy up next to the sleek, linear fireplace outside to find it. 222 S. Caldwell St.
---
Bartender to Trust
Brian Lorusso, Dogwood Southern Table & Bar
Sure, you could order from the menu, but when the guy behind the counter is this talented, why would you? Lorusso is a whiz with flavor profiles. Tell him what you'd normally drink, and watch him go to work. 4905 Ashley Park Ln.
---
Bloody Mary
Boudreaux's
Nobody else knows just how you like your bloody mary. At Boudreaux's brunch, select your vodka—Tito's and Absolut Peppar are among the options—and you'll get a glass of vodka on the rocks. Add the house mix—one of the best in town—and your favorite hot sauce and garnishes, and enjoy a creation made to your taste. 501 E. 36th St., 704-331-9898, boudreauxsnoda.com
---
Spot to Meet Over a Pint
Craft Growler Shop and Tasting Room
More than a few magazine stories have been planned or edited at the picnic tables on the patio here. The laid-back and friendly staff, rotating selection of beers and ciders, and a crock full of boiled peanuts make conversation easy. We recommend it for a meeting spot because it's where we go for ours. 1320 S. Church St., Ste. 100.
---
Local Spirit
Rúa
Great Wagon Road Distilling Company.