2018 BOB Awards: Shop
The Best of Style and Shopping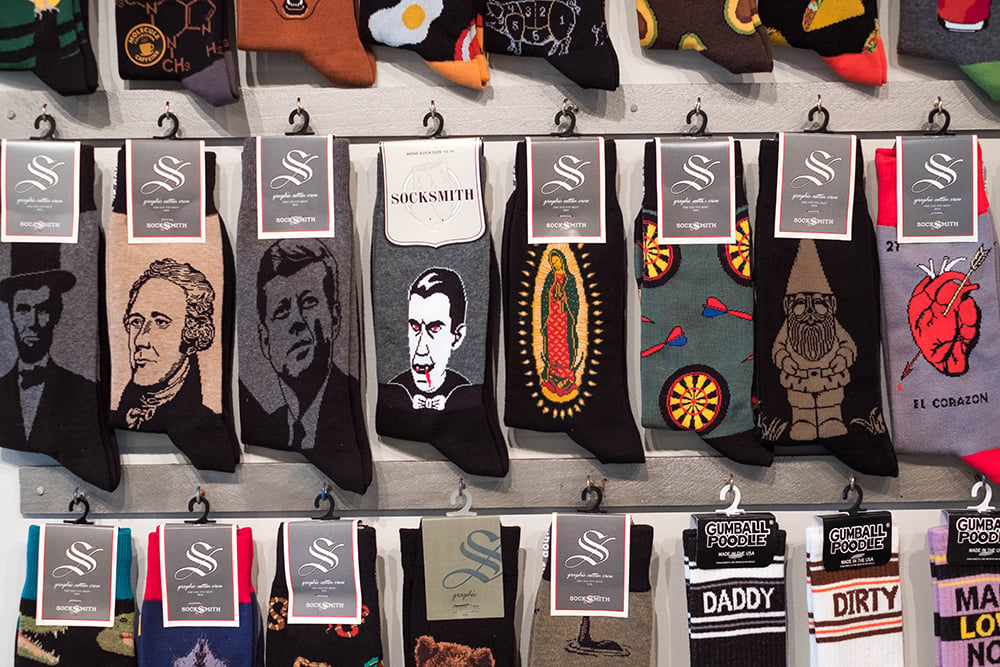 Place for Last-Minute Gift and a Card
CLTCH
Cards with Freddie Mercury's face and "YAS QUEEN" on the front? Yes, please. You can find a gift for any hip friend here, from cufflinks and novelty socks for guys to candles and statement pieces for your coolest gal pals. Many of the items for sale here come from local artisans, and much of it is one-of-a-kind, just like the person you're shopping for. 1512 Central Ave.
---
Running Store
Fleet Feet
A runner's paradise. The store has a 3-D foot-mapping system that surveys your feet and gives you instantaneous stats detailing your true shoe size, your arch needs, and other interesting feet facts. Then, the team helps fit you to your ideal sneaker while you shop around for sleek fitness gear. In addition, the store hosts the Huntersville Half Marathon and offers training programs. 16620 Cranlyn Rd., Ste. 100, Huntersville.
---
Book Store
Park Road Books
The shelves of this independent bookstore hold something for everyone and speak to the staff's ability to spot emerging regional talent. It makes full use of its small footprint, curating a selection that satisfies fiction lovers, history buffs, cookbook collectors, and young readers alike. At a time when books are just as easily purchased online, the shop's roster of visiting authors, special events, and reliable recommendations keeps it a worthwhile destination for bibliophiles of all ages. 4139 Park Rd.
---
Liquor Store
Southern Spirits
This South Carolina liquor store has a great selection and knowledgeable employees who are allowed to tell you what's best. The store's email "Boozeletter" keeps you up to date on what's new on the shelves, but get there quick when the words "Buffalo Trace" appear. A next door beer-and-wine shop makes this a convenient stop for all your boozy buys. 9989 Charlotte Hwy., Indian Land, S.C.
---
Place to Find Support Without Suffering
I.C. London
Going to a gala and dreading putting on that strapless bra you bought online? We still hate whoever invented the bra, but I.C. London's helpful staff will make sure you find the most comfortable fit possible in all sizes and styles. You'll walk in thinking you know your cup size, and walk out realizing you've been doing this wrong your whole post-puberty life. 4310 Sharon Rd., Ste. T13.
---
Shop for Natural Essentials
Gumbo Goods
If you've done a little too much reading about how deodorant, shampoo, lotion, or just about anything will kill you, shop here. This Plaza Midwood yoga shop, a partner to Okra Yoga, sells just about anything you need for a zen life, including essential oils, natural hygiene products, and fabulous leggings, many by local brands. 1916 Commonwealth Ave.
---
Pet Store
Four Dogs Pet Supplies
If you'd rather save a few bucks, go ahead and order your dog food online. But if you want answers to your paranoid pet parent questions—Does this have grain? Is this safe for a 100-pound dog?—shop at Four Dogs. The staff will be there for you and your pet, and when you're battling a pet's arthritis or allergies or the aftermath of dog versus skunk, you'll be battling together. 2630 N. Davidson St.
---
Store for a New Look
KK Bloom
Feeling like moto leggings and a graphic tee? You be your bad self. Looking for something soft and sophisticated? Get it, girl. If your wardrobe has multiple personalities, this is the place to shop for them all. KK Bloom's racks hold styles from funky to sleek, making it a go-to shop for any night out. The store's sales rack is a fantastic way to score an outfit on the cheap. 2823 Selwyn Ave., Ste. E.
---
Shop for Vintage Glassware
The Clearing House
You never know what you'll find at this little yellow bungalow-turned-shop on Central Avenue, but you can always count on glassware. Upgrade your bar cart with delicate Nick and Nora glasses, or host an old-school dinner party with cordial glasses and a decanter full of amaro. Let the new-to-you purchases dictate your cocktail menu. 701 Central Ave.
---
Place to Find Designer Fabric for Cheap
The Depot at Gibson Mill
The right throw pillow can make a room, but $300 for something your dog is going to claim isn't in everyone's budget. At The Depot in Concord, you can find rolls and rolls of high-end, designer fabrics for a fraction of the suggested price per yard. Find that statement design, then bring it home and sew your own throw pillow. Not only will you save the money, but you can show off your skills. 325 McGill Ave. NW, Concord.
---
Place to Spend Your Bonus Check
Taylor Richards & Conger
This SouthPark mainstay has dressed some of the city's most successful executives for more than three decades. Its roster of luxury designers—Brunello Cucinelli, Canali, Billy Reid—will set you back a few zeroes, but will also turn a few heads in the boardroom. 6907 Phillips Place Ct.
---
Wine Shop
Petit Philippe
Owners Mark Meissner and Casey Hickey carefully select wines primarily from France, California, and the Pacific Northwest. Their Myers Park store benefits from Mark's deep knowledge of wine and Casey's expertise with chocolate, which she makes in-house. 2820 Selwyn Ave., Ste. 160.
---
Place to Find a Statement Necklace
Twine & Twig
Sisters Elizabeth White and Jacquelyn Buckner combine natural elements such as antlers and shells with beads and tassels to create stunning jewelry. Each piece is handmade in the duo's South End studio.
---
Sales Staffs
Capitol, Poole Shop, and Tabor
On your first visit to one of Laura Vinroot Poole's upscale stores—Capitol and Poole Shop for women, and Tabor for men—expect warm, attentive service from the sales staff. On your second visit, expect them to know your name. By the time you're a regular, shopping trips are an excuse to catch up with friends. Multiple locations.
---
Outfitter
Jesse Brown's Outdoors
Adventurers gearing up for excursions to far-flung places from Alaska to Patagonia stop at Jesse Brown's to gear up. But the staff here shines when working with novices, from Boy Scouts prepping for their first overnight campout to families who want to experience the outdoors in a state park for a weekend. 4732 Sharon Rd., Ste. 2M.
---
Bike Shop
Queen City Bicycles
The crew at this South End shop, which is conveniently located around the corner from the Rail Trail, is knowledgeable—without condescension—about new products and repairs to your existing bike. Best of all, they won't try to upsell you on a product you don't need. 128 E. Park Ave.
---
Hardware for Your Home and Body
Addison Weeks
Bold cuffs, necklaces, and earrings adorned with gemstones make a statement when you walk into a room. And, thanks to a line of home decor items such as vases and trays, your room can make a statement, too. 2222 Hawkins St.