2018 Charlotteans of the Year: Alvin C. Jacobs, Jr. and Dave Butler
Behind a camera lens, Jacobs and Butler show a different side of the city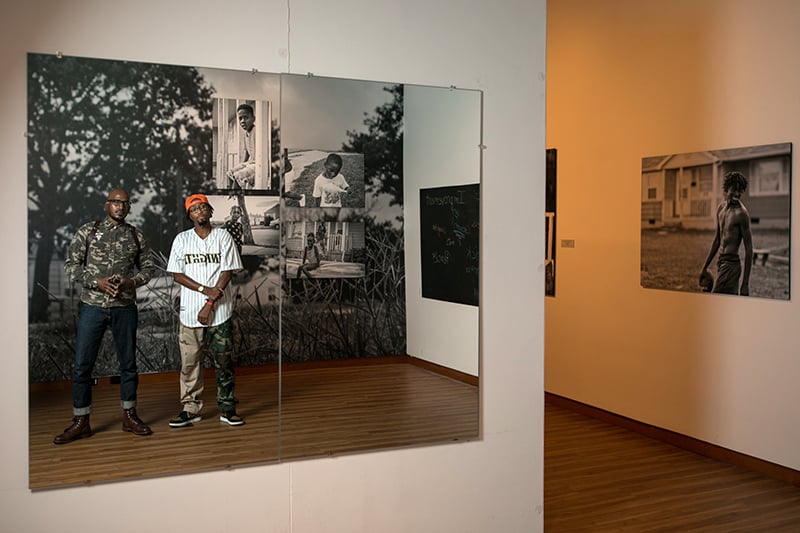 ALVIN
One weekend, early this past summer, photographer Alvin Jacobs had a scheduling conflict.
He'd already spent several weeks in the Brookhill neighborhood, walking around without a camera to try to earn trust from people who had no reason to trust him—or anyone else, for that matter. Since Brookhill's founding along South Tryon Street in 1951, residents have heard plenty of stories about the value of their homes, their community, their lives. But very few outsiders ever seemed to give a damn what they thought.
Here, though, was Jacobs, a purposeful 44-year-old with a piercing stare and a portfolio that includes images from places like Ferguson and Baltimore and Charlottesville, asking to document their lives in black-and-white photographs. The idea was timely and poignant: The 500 or so people who rent these postwar, single-story homes reside on 36 valuable acres near South End, where glassy one-bedroom apartments go for upwards of $1,800 a month.
Jacobs grew up in Rockford, Illinois, and lived in Dallas, Oakland, and West Palm Beach before settling in Charlotte in 2012. He doesn't take his profession or his place in this moment in Charlotte's history lightly. He's a deep thinker whose work is part-photojournalism, part-historical documentation, part-activism—but all art. He doesn't believe he's doing his job if his audience doesn't squirm a bit.
But as he began to collect the 30 images that eventually made up Welcome to Brookhill, the popular exhibit that opened at the Harvey Gantt Center for Arts + Culture in September, Jacobs set out to make a profound statement by showing the ordinary—smiles and tears from regular folks leading regular lives.
"It's really about the people," Jacobs says. "You blame (them for) a lack of education or a lack of hard work, and all the things that we offer to individuals of privilege by default: They earned this, but the individuals who are most likely of color deserve to be where they are. But nothing could be further from the truth."
Life calls even the most devoted documentarians away sometimes, and one weekend in early June, Jacobs had a graduation to attend. Brookhill had a big community cookout that weekend. He needed someone to go on his behalf, to spend the day and take photos and simply represent.
He called a friend, a young photographer and artist who reminds him of himself.
DAVE
Dave Butler is 27 and grew up in Steele Creek. His father was David Butler—a beloved teacher who was killed in a fire in January 1997, and whose name is now on a high school near Matthews. Dave was only five when his dad died, but he's reminded of him constantly.
"I'll be doing something random, getting new insurance on my car or at urgent care, and someone's like, 'Your name's what? Are you related to … ?'" he says. "And I'm like, 'Yeah, that's my dad.' I've had grown men cry and say, 'Wow, you look just like him.' Or, 'Your dad changed my life.'"
Butler went to Victory Christian Center School, then Winston-Salem State University, where he was the student body president and graduated with a business degree in 2013. His first job out of school was as a supply-chain analyst for Coca-Cola, but after "banging my head against the cubicle there for a year-and-a-half," he quit and went out on his own. He took up photography, started a website (davehaswingz.com), picked up some design work, and founded a creative consulting business—among about a half-dozen other things. He's a connector in Charlotte's arts scene, particularly among black artists, someone who kept showing up everywhere and became liked by everyone. He says that all he could ever ask is for people to say of him is "maybe he's half of what his dad was."
When Jacobs asked him to attend the Brookhill event, Butler said yes without hesitating. He spent the weekend there, smelling the grills and listening to the conversations and snapping photos as the residents signed a banner that read "Welcome to Brookhill." He saw a community he'd passed by his whole life from a different perspective. He called Jacobs that night.
"I was like, 'I get it now,'" Butler says. "'This is why it makes sense.'"
Soon, Jacobs asked Butler to design the exhibit.
ALVIN + DAVE + CHARLOTTE
The Charlotte native arranged the Illinois native's photos in a way that didn't just tell the story of a community—it serves this Southern city a bitter spoonful of its tear-this-down-and-call-it-progress medicine.
One photo in particular stands out to Butler; it's of a man named DeVaris Lockett. At a glance, it looks like a nice portrait: The man's chin up high, his neighborhood behind him, and the Duke Energy skyscraper rising in the distance beyond that. It's a powerful photo on its own. But the extended label adds another layer: Lockett is positioned on the exact spot where his home once stood.
"He has the ability to capture what's real," Butler says of Jacobs, "but you have to read beyond just what it is."
For Jacobs, Brookhill is an extension of the work he did during the 2016 Keith Scott protests, which figures prominently in the Levine Museum of the New South exhibit K(no)w Justice, K(no)w Peace.
"Art should make people uncomfortable," Jacobs says. "If everyone's like, 'Hey this is great; this is amazing,' I don't know. (Artists) should be coming at your neck at times."
For Butler, Brookhill is another step in the growth of his hometown's arts community. The biggest need artists here have, he says, is space and room to work. Not a task force or a government-pressed initiative to tell artists what to create, but places and freedom to do it.
"If Charlotte would stop trying so hard to make the things they want to see, instead of uncovering them, we'd be in a better place," Butler says. "Build a studio or a venue, and get out of the way."
What he's talking about, in the larger sense, is trust. It's what he built with Jacobs. It's what Jacobs built with Brookhill's residents. And it's what Butler and Jacobs built with James Ford, who assisted on the exhibit with data and interviews. Ford, the 2014 North Carolina Teacher of the Year, is now a member of the State Board of Education. He was also this magazine's first Charlottean of the Year. Five years later, Jacobs and Butler join him.
But for all three, no award matters more than the reception from the people closest to the work. One thousand people came through Welcome to Brookhill on opening night in September. Among them were several residents from Brookhill, who wandered around with wide smiles as they looked at their reflections in black-and-white photographs.
"When the 'hood is like, 'Yo, you're good,' or when the streets are like, 'You know what? Thank you,'" Jacobs says, "that's priceless."