2018 Charlotteans of the Year: Cathy Bessant
In the city's largest industry, it's her grit that keeps her on top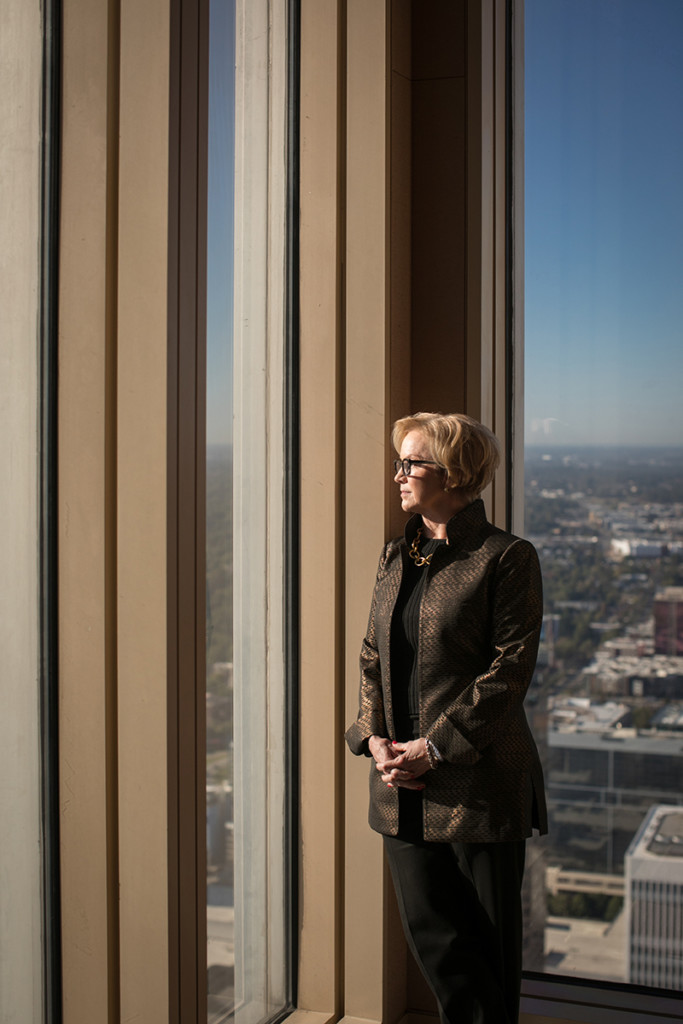 ARMED WITH a Venti Americano and her Fitbit, Cathy Bessant is prepped for a day of meetings and conference calls with employees and partners around the globe. She tells me she often rises before 5, and by 10 a.m., she's usually logged well over 10,000 steps.
Her office sits on one of the top floors of the tallest building in the state of North Carolina, but its 60 stories hardly compare to Mt. Kilimanjaro at just over 19,000 feet. And Bessant would know—she's climbed both. In August, she reached the summit of the highest mountain in Africa, which she did with a group of 30 business students from her alma mater, the University
of Michigan.
Still, she insists she's not a thrill-seeker by nature. "I have a defined fear of edges, so the idea that I would be someplace with 1,000 feet of edges … Scared would be an understatement," she laughs. "But I do like a challenge, and I knew this one was dependent on preparation and diligence."
You might say she's been training for that trip her whole life. The 58-year-old has spent the last three decades on a steady ascent in a number of leadership roles with Bank of America. Today she serves as chief operations and technology officer, a job in which she's responsible for the security and privacy of the bank's systems and accounts. So it probably shouldn't have surprised me that she already knew a few details about my background when we sat down to chat. This is a woman who can tap into a person's digital footprint.
Bessant's credentials are a bit easier to come by. This mother of two manages 95,000 employees in more than 35 countries—roughly half of the bank's workforce. She sits on the executive board of the Lesbian, Gay, Bisexual and Transgender Pride Council, and chairs the advisory committee for the North Tryon Vision Plan. In 2018, she received the Distinguished Service Award from UNC Charlotte, and Bank of America was named the number one company for women in technology by the Anita Borg Institute for Women in Technology, thanks in part to her work. She was also named the number one OUTstanding LGBT + Ally Executive by Financial Times, as well as American Banker's Most Powerful Woman in Banking for two years in a row.
What my Google search didn't reveal, however, was her deep-seated grit; Bessant approaches her business and civic work with the same level of commitment she employed while hiking Mt. Kilimanjaro. "Whatever it takes to be prepared for the day, I've done before I come into the office," she says. "One of the things I love about my job is the high propensity for fires that need to be put out. But I'm mindful of how I structure my day, and I line it up to what my priorities are. You can be very good at fighting fires, but not at moving things forward."
One of those priorities continues to be the North Tryon Vision Plan. "It's an opportunity to sync up real estate, programming, and education to create a rich cultural life," she says of the project, which will include the development of a two-block, 6.8-acre site at 7th and Tryon Street in uptown. "This year, my focus was on two major issues: parking and affordable housing. They're not glitzy, but it will not be an afterthought. It's at the heart of everything we think about."
Bessant is a self-proclaimed fixer and builder, so she's drawn to causes that need relentless champions. She's also "flat out fierce" when it comes to her family—her sister is a lesbian—and her advocacy for LGBTQ rights is a testament to that. "The support structure of the LGBTQ community is a recent social change, and that work needs pioneers." But her commitment to diversity goes even deeper. "It's why I've taken on executive sponsorship of our disability advocacy network. Everyone is touched by a disability, either themselves or with someone they know or love. I think these are two forms of diversity that are really challenging, and I want to engage personally. In my discipline, technology is a huge part of the answer, so my work lines up with my passion."
For this reason, she remains instrumental in advancing technologies like artificial intelligence (AI) in a way that prevents bias in the algorithms her team develops. To avoid geographical bias, for example, they create a model that ensures the bank's lending activity for mortgages isn't biased based on a customer's zip code. "If an algorithm is written by a human with bias, all we've done is speed up the opportunity for bias," she explains. "It's about being responsible with the power of data."
In Bessant's view, there is no room for failure here. "I'm highly competitive, and I like being in charge," she says. "But I want to drive for impact, not because I want the title."
For someone who isn't motivated by titles, the Most Powerful Woman in Banking certainly wears one pretty well.
Hear our #discussCLT Podcast episode with Bessant here.