2018 Charlotteans of the Year: CATS CEO John Lewis
As the Blue Line glides north, he drives our transit forward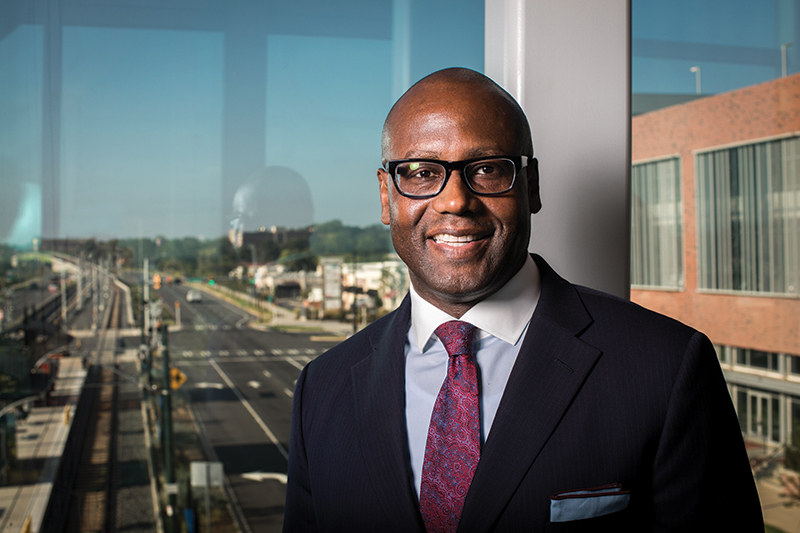 PACKED WITH AN ASSORTMENT of eager passengers—among them, several 20-something students—the interior of a light rail car roared with applause as it left UNC Charlotte's campus on the morning of March 16. The LYNX Blue Line Extension's opening was the culmination of four years of construction, and for Charlotte Area Transit System CEO John Lewis, it's another step in a much larger story. Just this year, CATS opened the BLE, began construction to add 11 stops to the Gold Line streetcar, and broke ground with a "ceremonial nail driving" for the Gateway Station. That's the new hub in uptown's Third Ward that will bring together local and Greyhound buses, Amtrak, and a possible Lake Norman commuter rail, better connecting us to Raleigh, Atlanta, and beyond.
Lewis says this is part of a narrative "decades and decades" in the making. "I'm here at the right time," he says, sitting in his ninth-floor office in the Mecklenburg Government Center, "when a lot of long and hard work has already been done. And I get to play in that candy store."
Yet, major and often-overlooked advancements have also been made for Charlotte's bus system, and that charge is distinctly Lewis, underscored by the city's own reckoning with its economic mobility issues. "These are all really big projects," Lewis says. "But at the foundation of that is our bus service. We're going to move 28,000 on the Blue Line and Gold Line. But 45,000 people are going to be moved by bus. We redesigned our system, and people are now saying their commute is being cut by 20 or 30 minutes. We've got to make sure that the bus is continuing to meet people's needs."
It's personal for Lewis, whose grandmother never learned to drive, and for the entirety of her life, depended on Baltimore's buses. He laughs when he recalls her ability to relate every route in the Maryland Transit Administration system. "As I got into my public career, I then realized that this was her only means for self-sufficiency," Lewis says. "That opened the world to her."
As for everything else in the works, Lewis sees the city on the other side of conversations weighing the worth of these new connections for Charlotteans. "We're no longer having the conversation of, 'Should we do this?' 'Can we do this?' It's, 'When are we going to do this?' Even as the conversation around the Gold Line dissipated, the question became, 'What do we think the economic development impact is going to be?' There's an air of 'We can do this' now."
Hear our #discussCLT Podcast episode with Lewis here.