2018 Charlotteans of the Year: Sil Ganzó of ourBRIDGE
The work of welcome requires creative thinking, willing hands, and dino nuggets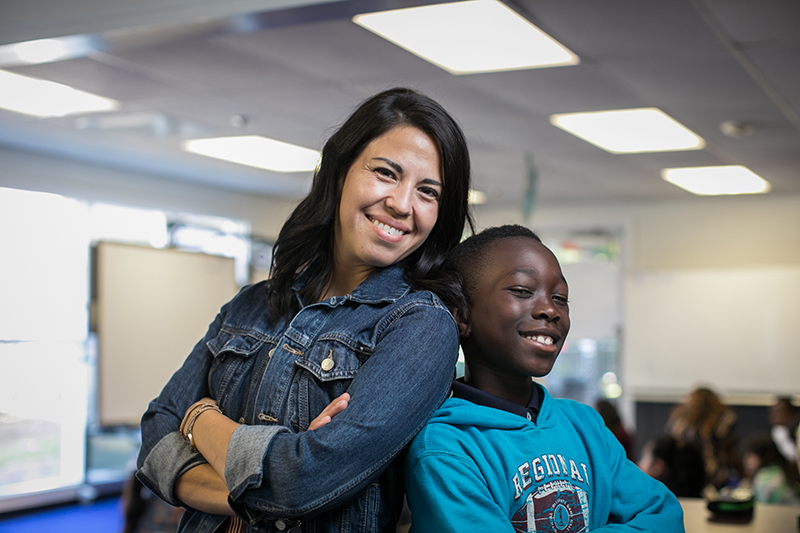 CARS RUMBLE over Central Avenue's potholes and whiz past Deli St.'s porch, as Sil Ganzó speaks of her first few years working with the local refugee and immigrant community in an after-school program a few blocks west on Pecan Avenue.
Ganzó and her staff would transport children to and from the center, traveling through the east Charlotte neighborhoods of Eastcrest, Wembley, and Oak Park. "It was like the Flintstones van," she says, smiling. "The van would just stop, and we would have to push it. And the kids thought it was hilarious."
The after-school program, owned by a for-profit tutoring company, had slashed expenses and cut salaries. Ganzó had only 20 cents for each student's meal per day, but with dinosaur-shaped chicken nuggets and donated day-old muffins from Panera, she made do.
When the program shuttered in the summer of 2014, the children's families wept. There were no other secular support programs available for immigrant and refugee families. "So I turned to the computer and typed in 'how to start a nonprofit in North Carolina.' That's how it all started," she says.
ourBRIDGE for Kids opened in September 2014—with enough in grant funding to splurge on pizza every once in a while—as more than an after-school program: "It's a holistic support system for the kids, for the families, for their communities." With a staff of 17, ourBRIDGE offers more than homework help. The staff will take the children to Harris Teeter to show them how to navigate a grocery store, or serve as liaisons between parents and CMS teachers to help with language or cultural barriers.
"Ninety days is not enough," Ganzó says, referring to North Carolina's limit of support for refugee families. "It's hard." And Ganzó knows the challenges immigrants face; she moved here alone in 2003 as a 20-year-old from Argentina.
Ganzó and ourBRIDGE strive to ensure that refugees and immigrants feel proud of their cultures and proud of their differences, even while adapting to U.S. society. "We have an accent, and that's nothing to be ashamed of," she says.
Flags are all over the colorful walls in ourBRIDGE's new facility in east Charlotte, a building within the campus of the Aldersgate Senior Living Community that's rented out for a mere $1 a year. There's a flag for every culture represented by students and families in the program—children from more than 20 different countries enroll each year.
This year, the Trump administration passed a zero-tolerance immigration policy and as part of that policy (which the president later reversed), many children were separated from their parents after crossing the border. But according to Ganzó, conditions have always been poor. "Many of our kids have shared about the cages they were in long before it was in the news," she says. "I couldn't believe it was happening, but now it makes sense… It's been happening forever."
The zero-tolerance policy brought an uptick in volunteers wanting to get involved with ourBRIDGE. "The awareness is there; now, how can we (create) action? By voting. By persuading the mayor to take more action for our families," she continues, listing steps she wishes the city would take, ending with, "Taking ICE off the street."
"Community-based organizations are doing a lot to help the families, but we cannot help (these families) not fear authority," she adds. "We can tell them…to call the police, but what if they call them, and then they go to jail, and it's my fault? I will never say that anymore. I used to. I'm not now."
This year, Ganzó has seen many successes with ourBRIDGE—a new curriculum that better assists English-language learners, a full calendar year in a facility that better fits the program's needs, and a growing pool of able volunteers.
But challenges still abound. ourBRIDGE is largely funded by a federal grant through the 21st Century Community Learning Center, a resource President Trump has earmarked for elimination. But even if the organization has to slash its food budget back to donated muffins and dino nuggets, Ganzó will persist in helping immigrants and refugees feel welcome in a city that, she feels, isn't as hospitable as the South tends to claim.
"I don't think it will ever be a sanctuary city," she says. "Charlotte isn't even a welcoming city yet. We have a long way to go."