2019 BOB Awards: Explore
The Best of Arts, Culture, and Entertainment in Charlotte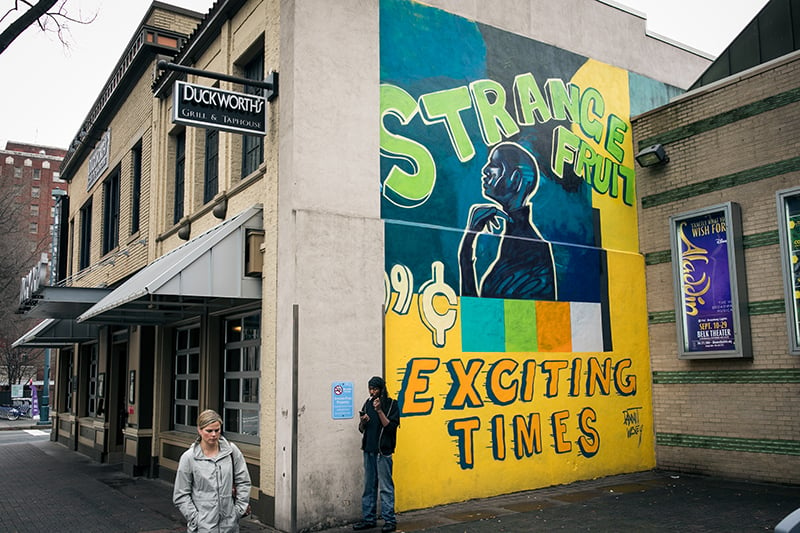 ARTS FESTIVAL
Talking Walls
The citywide mural festival, featuring several members and associates of the mighty Southern Tiger Collective in NoDa, made parts of Charlotte feel like Miami's Wynwood neighborhood. What it left was nearly two-dozen massive works of art that help our growing city reflect its vibrant character.
---
MOVIE THEATER
Manor Theatre
You can have your blockbusters and reclining seats in your fancy theaters. We'll be at The Manor, happily munching popcorn, as people have here for more than 70 years. This theater is the best one left for cinephiles (RIP, indie Park Terrace), showing films that offer surprises in a building that doesn't need to. 609 Providence Rd., 844-462-7342.
---
ARTIST TO WATCH
HNin Nie
Vietnam-born, west side-raised illustrator HNin Nie first garnered a reputation in town for her gorgeous video work. In recent years, she has turned to full-time illustration and gallery work under the "Post-Feels" banner with her Negative Nancy character. At Goodyear Arts, she's become a star of recent residency rounds with her introspective, humorous, and bold paintings and sculptures.
---
POP-UP ART SHOW
The Art Salon
This pop-up gallery is held twice a year in homes around Myers Park, and the two-day exhibition includes work by established and up-and-coming artists from across the southeast. The prices aren't over-the-top—mostly close to the $1,000 mark, with some as low as $65—and there's no charge for admission. The home setting makes it less intimidating than some galleries, so it's a great place to start a collection.
---
WAY TO BE A TOURIST IN YOUR OWN CITY
Funny Bus
It may look like just a party on wheels, and a buzz is all but guaranteed after the BYOB bus tour, but you'll also learn about the city's history on a Funny Bus ride. The long red bus weaves through uptown, South End, NoDa, and Plaza Midwood and offers equal parts drinking games and fun facts.
---
COMEBACK STORY
Queen City Nerve
When Creative Loafing's publisher laid off its staff in October and stated plans to go digital (CL has since reemerged with a new monthly product), the small staff regrouped and launched Queen City Nerve. Now in its sixth month, the paper has beat the odds in a marketplace in where more alternative weeklies are closing than opening.
---
WAY TO HAVE TOUGH CONVERSATIONS
Bridging the Difference
Civic leaders in Charlotte love to hold meetings and talk. But Bridging the Difference, an ongoing discussion series that the Charlotte-Mecklenburg Police Department commenced in October, invites people to converse more openly, in preparation for the 2020 Republican National Convention, about contentious local issues and how they've battled "the system." Various locations.
---
ACOUSTICS
McGlohon Theater
It was the sanctuary of First Baptist Church, which explains why a natural hush pervades the stained glass-festooned McGlohon Theater when it's empty. When it's not, sound waves fill (but don't overpower) the 730-seat venue at Spirit Square; whether the act is one person with an acoustic guitar or an electrified band, your ears pick up every note. 345 N. College St., 704-372-1000.
---
UNDERAPPRECIATED CULTURAL MAINSTAY
The Jazz Room @ Stage Door Theater
Every month for the last decade, contemporary jazz artists have taken the modest stage at the Jazz Arts Initiative's Jazz Room and poured out their own interpretations of music by the greats: Ellington, Monk, Mingus, Hancock, etc. The entrance is a dark door that gives little indication that it leads anywhere. But behind it lies some of the best music made in this city. 155 N. College St., 704-334-3900.
---
OUT-OF-THE-BOX MUSEUM
Carolinas Aviation Museum
This museum covers a century of aviation history, but the highlight is an Airbus A320 from a flight that was supposed to land in Charlotte but instead ditched with no loss of life—"The Miracle on the Hudson." A decade after the successful emergency landing, this exhibit is a must-see. 4672 First Flight Dr., 704-997-3770.
---
CONCERT VENUE
Snug Harbor
Snug is a home for many: hip-hop artists, global genres, touring indie-rockers, dance DJs, and hundreds of hand-stamped visitors each week. Its month-long residency program shows an investment in local music rare in this city. 1228 Gordon St., snugrock.com
---
ARTS PARTNERSHIP
Queens University + Actor's Theatre of Charlotte
Actor's Theatre is now finishing its first full season as the resident company of Queens University, and is currently prepping its take on Broadway fave Fun Home. The collaboration is mutually beneficial: Actor's Theatre gets institutional and lasting support as Queens students get experience behind-the-scenes with a working theater company. atcharlotte.org
---
RESIDENCY PROJECT
The Roll-Up
Jessica Moss is the curator/art world dynamo behind The Roll Up. These community redevelopment projects, with a sister site in Pittsburgh, allow artists to both work in and become part of vulnerable neighborhoods. Residents engage in public dialogues and collaborate with locals on their new bodies of work. East Baltimore's $HAN Wallace is the current resident, occupying The Roll-Up's space in Camp Greene, which was recently renovated by minority-owned businesses.
---
MUSICIAN
Cyanca
On "New Phone, Who Dis?" Cyanca establishes herself as an R&B voice to watch—and not just in the local sphere. The hip-hop-infused tune breezily bounces through its four-minute run time, the performer's striking voice weaving in and out the instrumentation. It's time to buy your Cyanca stock. soundcloud.com/cyancais
---
PICNIC WITH A VIEW
The Airport Overlook
Charlotte Douglas International Airport is one of the few airports in the country that has a public overlook. Watch planes take off and land, all with a view of the city skyline. Bring the family (and binoculars) for a picnic lunch. 4355 Airport Overlook Dr.
---
HOME TOUR
Mad About Modern
Mid-century modern is having a moment, and fans can get their design fix—and some architectural voyeurism—at the Mad About Modern home tour. For the last seven years, this self-guided tour has featured private homes in Barclay Downs, Foxcroft, and more. The tour supports the Charlotte Museum of History and its mission to preserve these historic homes.
---
DANCE EVENT
Ladyfest
Ladyfest, once titled "Women's Showcase," began in 2015 as a project from North Carolina dancer-choreographers Sarah Ingel and Caitlyn Swett. As the dance world is still patriarchal in leadership, this female-focused event showcases women making waves in both performance and choreography.
---
EMAIL TO LAND IN YOUR INBOX
The Biscuit
Inventive subject lines and witty emails wake you up with all things Charlotte—including the up-and-up on the Queen City's creative happenings, news, latest talent, and rising ideas.
VOTERS' CHOICE
Radio Show
Charlotte Talks on WFAE
---
Local Podcast
Amplifier on WFAE
---
Weather Forecaster
Brad Panovich
---
Local TV News Team
WBTV
---
Reporter
Joe Bruno
---
Networking Group
Charlotte Millennial Art Program
---
Beer Festival
South End Hops Fest
---
Wine Event
South End Wine Festival
---
Holiday Event
Small Business Saturday
---
Public Art
Magnolia Emporium
---
Pop-Up Event
Girl Tribe Pop-Up
---
Athlete
Cam Newton
---
Museum
Mint Museum UPTOWN
---
Art Gallery
Elder Gallery of Contemporary Art
---
Non-Profit Event
Girls on the Run 5K
---
Live Performance Venue
The Evening Muse
---
Performing Theatre Group
Charlotte Ballet
---
Twitter Feed
@CLTFashionPlate
---
Instagram Account
@magnoliaemporium
---
Weekend Activity
US National Whitewater Center
---
Author
Tommy Tomlinson