2019 Charlotteans of the Year: Birdsong Brewing Company
Birdsong Brewing was Charlotte's first brewery to employ solar power. It's steadily paying off for owners Chris and Tara Goulet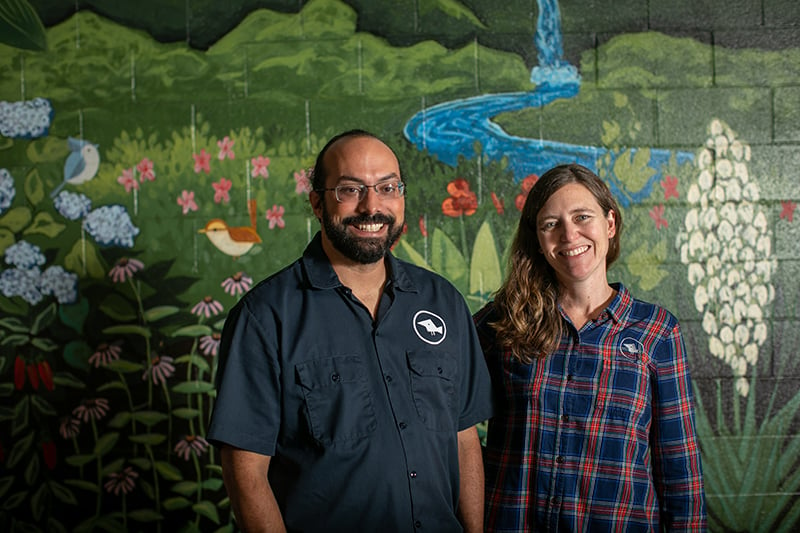 IN THE GRAVEL PARKING LOT of Birdsong Brewing, I stand on my tiptoes and crane my neck to see if I can spot the solar panels on the roof. No luck. Co-owner Chris Goulet calls it a "miniature power plant" on North Davidson Street, but most taproom visitors won't even notice. "There's 220 panels up there," he explains, "but you have to stand on the other side of the street to see them."
The project's most noticeable development is Birdsong's Sunshine Gose beer. The tart, German-style wheat ale, inspired by what powers the panels, has notes of citrus from locally distilled lemon oil. Birdsong hosted a party for its release on April 21, 2018, Earth Day.
Like the panels on their 30-barrel brew house and taproom, Chris and his wife, Tara, won't draw attention to their conservation efforts—unless you ask. Even then, they won't pressure you to embrace solar power or shame you if you don't compost or recycle. "We just want to get people thinking about it," Chris says.
Birdsong was one of Charlotte's first breweries. It opened in 2011, when the city's brewery culture was in its infancy. Its team, which has grown to 38 people in eight years, experiments with new yeast strains, local malts, and seasonal fruits to create IPAs, lagers, and stouts. Each week, Birdsong releases a small batch on THURSty THURSdays to test out the latest brew.
On this Thursday afternoon in early September, as "Stacy's Mom" echoes through the taproom, servers in band T-shirts and ripped jeans bob their heads to the pop song, struggling to recall who sings it. (Shazam informs us it's Fountains of Wayne.)
"Our go-to is Paradise City," Tara tells me. "It has that 'mouth feel,' where the malt balances the hops." She and Chris credit this brew for allowing them to move forward with their solar panels. "We first talked to someone (about solar panels) in 2012, back when we were totally broke," Chris recalls. But after they released Paradise City in April 2017, "we saw really high sales, so we used the windfall from that to do it."
The Goulets hired Renewable Energy Design (RED) Group, outside Winston-Salem, to install their custom, 75-kilowatt system. Permitting took 10 months, but the installation took only a week, and the system went live in January 2018. The project cost $170,000—adjusted for a federal tax credit and reduced property taxes for which the brewery qualifies—but the Goulets say the panels generate about 50 percent of the brewery's power needs, saving them roughly $15,000 a year. Over the next 25 years, the system is on track to produce $315,000 worth of electricity.
I ask the Goulets, who have been married for 10 years, why they made such a hefty investment when they knew the payback could take six to eight years. "It's sunny so much in Charlotte, it made sense to me," Chris says with a smile. But he understands why so many service industry businesses don't use them: "If you don't own your building, you won't break even when your lease is up in two or three years."
In Asheville, Highland Brewing, New Belgium Brewing, and Sierra Nevada Brewing use solar energy, so I ask the Goulets if they think Charlotte will ever catch up. "Eventually, it's got to happen," Tara says.
"As a society, we're way behind the eight ball," Chris adds. "We live in a world with finite resources, and 90 percent of sustainability is knowing what's important to do and what's not."
For them, this means using aluminum cans instead of bottles, because they're "infinitely recyclable." Eighty percent of their production is draft beer, which minimizes throwaway packaging. They donate the brewery's spent grain and peanut shells to farmers, and each year they organize a cleanup of a portion of nearby Little Sugar Creek Greenway. But they don't brag about that, either.
On their patio, one lone solar panel with a red-and-white Birdsong decal hangs next to the door. It's not functional; it's just there to get you to think about it. A small tablet on an interior wall displays the brewery's solar data from that day. (There's a link on its website with this information, too.)
If you look hard, you can spot little signs of the Goulets' work everywhere. Not that they'd ever tell you that. "We're not saving the world," Chris says with a shrug. "But we can set an example."
TAYLOR BOWLER is lifestyle editor of this magazine.