2019 Charlotteans of the Year: Charlotte Observer Veterans
Nine journalists. Combined, more than three centuries of newspaper experience in Charlotte. When they left the Observer in February, an era walked out the door with them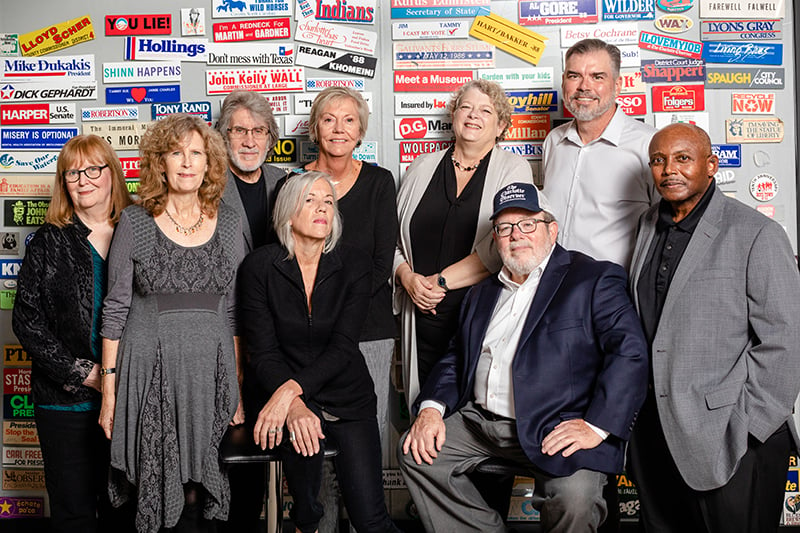 Nine veteran Observer newsroom staffers took early retirement starting March 1  (top, from left to right):
Jane McAlister Pope, night news editor, former deputy editorial page editor
Years at the paper: 37
Ann Doss Helms, reporter (K-12 education)
Years at the paper: 32
Gary Schwab  (husband of Helen), investigations editor, former sports editor
Years at the paper: 36
Helen Schwab  (wife of Gary), arts and culture editor, former restaurant critic
Years at the paper: 37
Diedra Laird, photographer
Years at the paper: 38
Kathleen Purvis, feature writer (food)
Years at the paper: 34
Tim Funk, reporter (religion, politics)
Years at the paper: 34
Mike Persinger, sports editor
Years at the paper:31
Harry Pickett, deputy sports editor
Years at the paper: 32
---
IN THE OLD DAYS, the glass wall of bumper stickers accumulated over decades and election cycles occupied an honored spot in the Opinion office, where Ed Williams and his team chose which issues warranted each day's editorial commentary from The Charlotte Observer and what words the team would employ. Today, a glance at the wall summons a mongrel pack of slogans from across the years to snap at your heels. "President Carter! Stop the American Seal Slaughter!" "Jesse—Helms, That Is!" "If Knox Wins … You Lose!"
The last one refers to Eddie Knox, whose first year as Charlotte's mayor was 40 years ago, which in turn provides a clue to the glass wall's present-day location: an alcove on the second floor of the Charlotte Museum of History. The museum claimed it when the old Observer building was razed nearly four years ago to make way for the Legacy Union complex, under construction and anchored by a planned 33-story Bank of America office tower. That's Charlotte's future. On this Monday night in September, the people who chronicled its past make their way to the second floor of the history museum, ex-colleague by ex-colleague, for one more meeting.
"Heeeey!" Ann Doss Helms, the longtime education beat reporter who's moved to WFAE, glimpses retired photographer Diedra Laird ambling toward the six or seven who've already gathered near the bumper stickers. "There's somebody who looks happy and glowing!" Laird shot photos at the paper for 38 years, and she does look relaxed, tanned; the veterans, a waggish bunch, refer to former staffers' post-newspaper rejuvenation as "Buyout Botox."
This magazine has asked the nine to meet at the museum because the bumper sticker wall seems like the most appropriate place to take a group photo. The museum, usually closed on Mondays, is kind enough to open just for us. The group assembles in front of the wall. "I'm glad they got it out of there," Helms quips, "didn't break it or anything." They tease each other about their dismal senses of fashion; newsroom employees have always prided themselves on dressing like unmade beds.
"I brought a black jacket," says Jane McAlister Pope, a 37-year vet. "I can put it on as necessary."
"You look lovely," Tim Funk, who covered politics and religion, tells Kathleen Purvis, who wrote about food and this evening wears a black blouse above black slacks.
"So do you," Purvis tells Funk, who's wearing an Observer trucker hat.
The photoshoot takes about 45 minutes. Some of us have informal plans to gather afterward at a nearby bar. But these are people who haven't seen each other in a while, and they're busy with shared memories and "what are you up to these days?" sessions, and it proves difficult to tear them away from each other.
***
DAILY NEWSPAPERS were once the sun in the solar system of American media, communities' ink-on-paper town squares where citizens consumed local, national, and world news, clipped coupons, and looked for apartments and used cars in the classifieds. Starting a dozen or so years ago, web-based publications and platforms began to siphon away advertising revenue from papers' traditional sources. A few papers have shut down entirely. Most have hung on as hybrid print-online publications that often occupy smaller spaces with drastically smaller staffs: The Observer had about 250 newsroom staffers in 2007. As of September, it employed 38.
Buyouts and layoffs began in 2008 (I accepted a buyout myself that fall). Every departure hurt. But on February 1 of this year, employees at the Observer and seven other papers in the Carolinas received an email from their parent company, McClatchy, that announced an especially deep cut: early retirement packages offered to 450 of the company's roughly 5,000 employees, part of what its CEO described as a new commitment to a "more agile, more efficient" digital product.
The nine longtime newsroom staffers who accepted the offer and left at the end of the month were, in one sense, just more beads on the string. But people throughout town seemed to grasp that this round of departures was different. All nine had worked at the Observer for at least three decades, a few for close to four. Some, like Helms, Funk, and Purvis, had bylines familiar to any Charlotte-area reader; others did critical editing and other work behind them. The nine of them had worked at the paper for a combined 311 years. ("Jesus," Funk remarked when I told the group at the museum. "That's longer than the United States.") All had seen Charlotte develop from a sleepy textile city to the host of national political conventions and two professional sports franchises. What did the paper, and the city, lose when they left?
***
THE GOING-AWAY PARTY, held at Unknown Brewery on March 1, was, Pope tells me, "like a wake and a graduation all in one," equal parts funny, nostalgic, and elegiac. When the time came, about 50 people formed a circle in back near the brewing tanks and, pints in hand, told stories: about that job candidate whose interview had been scheduled for September 11, 2001; about manic nights on deadline and snafus on assignment. The group was about evenly divided among those leaving, those staying, and those who'd already left—united by their time logged in a diminished industry.
"I was just so lucky to be a part of that," Helms tells me when we meet for lunch in September at an Asian restaurant near the WFAE offices in University City. "When I'd go talk to classes, especially in these last few years, they'd introduce me, and they used to ask students, 'How many of your parents get the newspaper?' That got super-depressing. I started joking, 'Your teacher actually invited me here so you can tell your grandkids that you saw a newspaper reporter, and it'll be like saying you saw a dinosaur!' … It never stopped being fun on a lot of levels, and I just count myself super-lucky to get to start fresh and try it again in a different way."
Still, they can't shake the sense that something more than livelihoods has evaporated. They believed—and still do—that they provided a genuine public service. All nine kicked off their journalism careers in the glorious decade or so after Watergate, when "newspaper reporter" struck a lot of young people as the coolest and most meaningful thing they could do with their lives. They weren't wrong, exactly. But the shine began to wear off in the 1980s and '90s, and the internet ushered in an age when junk often sold better than information.
"So many people now think, 'I don't need that,' and if somebody reports something I don't like, I can just go find a blogger who tells me what I want to hear. It's really scary," Helms says. "Almost all of our social compacts are falling apart—all the rules that we thought we had, the ways we related to each other, and newspapers are a part of that. I'm not sure that is a coincidence. Something new is emerging, and I don't think I'll live to see the resolution of it."
***
YOU NEEDN'T WRING YOUR HANDS for them. Everyone's doing pretty well. Helms, 60, has her radio job, doing more or less what she did before. Pope, 63, works as a caregiver for the elderly and helps her son raise his two young children. Purvis, 60, began planting the seeds of a new career as a freelance food writer for Garden and Gun, Southern Living, Our State, and this magazine, among others, before she even left the paper. "I'm basically a hired gun, baby," she tells me. "Where do you want me to shoot?"
Mike Persinger, 56, the Observer's executive sports editor since 2001 and a sports staffer since 1988, landed a job as content director for EveryIncome, a Washington, D.C.-based financial technology firm—through, he notes with satisfaction, a former sports staffer he'd hired in 1995 to help cover the inaugural season of the Carolina Panthers. The connection reinforces one of the things Persinger is proudest of. One of his first assignments after he joined the Observer from the Palm Beach Post in Florida was a special section on the launch of the NBA's Charlotte Hornets, the franchise that brought professional sports to the region. "We wrote the first draft of history for pro sports in the Carolinas—the chase for an NFL franchise, two Super Bowls," he tells me. "I was part of a golden era of sports in Charlotte."
The era doesn't seem to be over—the Panthers have a new owner, and the Hornets, while not dominating the league, at least are the Hornets again—but the era when the Observer set the standard for coverage of it may be. National outlets like ESPN and The Athletic, which recently hired away both of the paper's Panthers beat writers, are investing in local team coverage, which erodes the stature of local publications. Still, Persinger says, he didn't think he'd ever leave the Observer. "When I walked out the door, I hadn't updated my resume in 30 years," he says. "It just never occurred to me that it would ever be the right thing for me to do. Until it was."
The practical considerations turned him. Persinger says he quickly realized that, at his age, leaving the paper represented "the last, best chance to re-pot myself in life," like a house plant. He in no way regrets the decision, but it's taking some time to adjust; after 30-plus years in newspapers, his internal clock still tells him when it's time to prepare the pages.
On September 8, the Panthers lost their season opener to the Los Angeles Rams at Bank of America Stadium. The game ended at about 4:15 p.m., right when, back at the paper, Persinger's workday would really begin. This year, he didn't have to do anything. He was a horse at the starting gate of a cancelled race. "I went and worked in the yard," he tells me. "I couldn't just watch the 4 o'clock game, or the night game. I needed a way to release the energy." He expects the feeling to lessen with time, although he knows there may not be enough for him or any of his ex-colleagues to get past it, not fully, not forever.
Greg Lacour is senior editor of this magazine.