2019 Charlotteans of the Year: Jennifer Sudul Edwards, The Mint Museum's Chief Curator
This year, the renowned arts 'connector' nabbed Charlotte's biggest curatorial job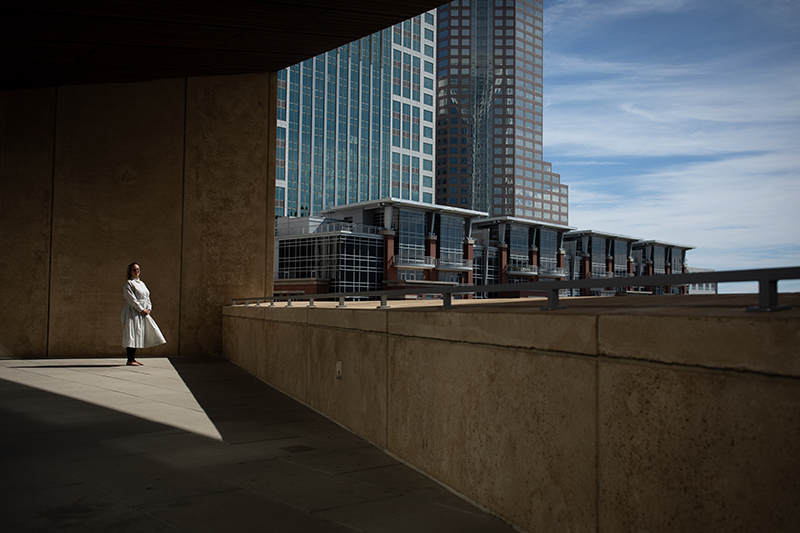 BEFORE THE JUNE ANNOUNCEMENT, 2019 had already been a busy year for Jennifer Sudul Edwards. She was working on a major exhibition at the Annenberg Space for Photography in Los Angeles, which opened in September; chairing the board of the always-active residency/gallery space Goodyear Arts at Camp North End; and finishing SOCO Gallery's show in Myers Park.
Then a press release hit inboxes on an ordinary Tuesday afternoon: Sudul Edwards, the former curator of the Bechtler Museum of Modern Art, would take the top curatorial spot across the street at the Mint Museum—Charlotte's highest-trafficked art museum and the state's oldest.
OK. So we do have to get into it a little bit. Ten months before the Mint announcement, Charlotte's bustling cultural sector was rocked by the news that Sudul Edwards and the Bechtler had "parted ways," the cryptic phrase both parties used. The circumstances surrounding her departure are still mysterious. (The scoop even came to Charlotte magazine via an anonymous, temporary email address that self-destructed after its message was read.) For the vast network of Charlotte gallerists, artists, and collectors that forged relationships with Sudul Edwards, there was an even bigger question than what had already transpired: the future.
"There was, for a while, a potential that Charlotte was going to lose her," says Amy Herman, co-founder of Goodyear Arts. "So just in a selfish, talent-retention sense, I'm excited to see her continue to work here in particular. Also, as a friend. But now, it's great to see her curate all of these shows here and outside of Charlotte."
In her role as chief curator, Sudul Edwards inherits the city's biggest art network, its largest art museum staff, and its most diverse collection of art and artifacts. She sees her role partially as facilitating the work of longtime curators Annie Carlano and Jonathan Stuhlman, both of whom she calls "brilliant." In this role, she'll help make their visions come to fruition, continue to push the museum's programming, organize new acquisitions with the several ancillary groups connected to the museum, help fundraising efforts, and represent the Mint in the community at events and openings, where you've likely already seen her with her husband, writer Gavin Edwards, and their two sons.
Like her interests, it's a "broad" job. "And it's a broad collection," she says as we walk through a gallery in Mint Museum Uptown. "It's contemporary, it's acquiring (new works), it's thinking about a museum that can grow and serve a community, which is also what I've always wanted to do."
As I sit in Sudul Edwards's office at the Mint's uptown location, we talk little of past jobs and projects—aside from a work of art created by a robot that hangs feet away from her desk. Hoss Haley's "Drawing Machine" was a contemporary highlight of Celebrating Jean Tinguely and Santana, one of many lauded exhibitions Sudul Edwards curated during her time at the Bechtler. Haley's inclusion is an example of this curator's trademark: pairing recent works with art historical pieces to assemble a lush, inviting picture of a seemingly endless and living art world. I ask her what her known sensibilities and specialities mean for the now—and the immense potential of her role at the Mint.
"In a role like this, it's not so helpful on zeroing down on what your speciality is, but what your philosophy is," Sudul Edwards says. "I do have specialties, but I also have broad interests … The reason I'm interested in art is because I'm interested in visual literacy, because it relates to how we look at our position in time. When you're no longer focused on one area of art, it's using art for a greater goal instead of European Modernism or 15th-century Venetian."
The Mint is 83 years old, but some of the work both inside and outside its walls feels as fresh as any other museum's in town. In 2010, a new, 145,000-square-foot uptown location, part of the Levine Center for the Arts, became its primary branch. This summer, the Mint joined NoDa upstart Southern Tiger Collective for a "mural slam" between local artists called "Battle Walls."
Sudul Edwards has always integrated local artists into not just events but museum exhibitions; it's one of the pillars of her approach to curation. Will she do the same at the Mint? "Oh, yes," she says. "In a museum collection, you have to be relatable to your community." Local art is just as important to Mint President and CEO Todd Herman, who joined the museum in 2018, she adds. "From the beginning of our conversations, we talked about continuing to make the Mint central to Charlotte's cultural landscape, with all its diversity and disciplines. We want the Mint to become a nexus for all of that cultural creativity here."
ANDY SMITH is the digital content director for this magazine.