2019 Charlotteans of the Year: Robert Dawkins of Action NC
In the tumult of battleground Charlotte, the activist keeps it real by keeping his head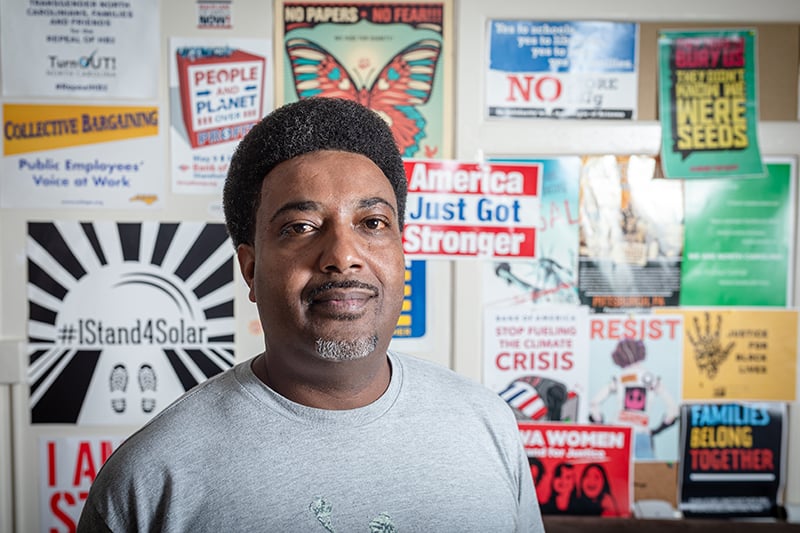 I MEET ROBERT DAWKINS at Noble Smoke, the new Jim Noble-owned barbecue restaurant on the west side, in the middle of a historically black but rapidly gentrifying part of town. People tend to enjoy Noble's food but not necessarily his politics—openly gay City Council member LaWana Mayfield announced a couple of years back that she wouldn't eat at Noble Smoke, in her district, because he opposed the city's 2015 nondiscrimination ordinance. I imagine the location, too, might compel Dawkins, a 51-year-old black man and perhaps Charlotte's most influential activist, to share a few choice thoughts about matters like injustice, the displacement of minorities from their homes, and the co-opting of black culture for white profit.
He does. As is typical with Dawkins, it's not what I expect.
"Oh, I love Chef Noble," Dawkins, already salivating over the brisket, remarks as we take our table in a packed dining room. "These people that you see behind these counters? Most of them have records. Most of them are from our poor neighborhoods. When I find businesspeople like this, man, I try my best to spend as much time as I can supporting them."
You see where he's coming from. Dawkins works as the political director of Action NC, a progressive community organization with offices in Charlotte and Durham. His job mainly involves forming coalitions of neighborhood leaders and volunteers to solve issues common to poor communities—affordable housing shortages, lack of access to health care and job opportunities, mistreatment by law enforcement—through political action.
Dawkins loves to dive into the details of public policy—not a given for a community activist. He'll take to the streets with a sign, sure, and get in front of a camera if that helps the cause. But he prefers to lower his shoulder and do the tough, detailed, gradual work of collaborating with—and pressuring—people in power to use it to benefit poor and working-class people. He's best known in Charlotte as the leader of SAFE Coalition NC, an Action NC police accountability effort that has successfully pushed the city to adopt stricter standards for members of the Citizens Review Board, a civilian body that investigates citizen complaints against the Charlotte-Mecklenburg Police Department, and worked with the board and CMPD to hone stricter department standards on officers' use of lethal force.
Community activists and law enforcement are usually adversaries—in Charlotte, especially since the 2016 police shooting death of Keith Lamont Scott and the demonstrations that followed. CMPD Chief Kerr Putney says he sees Dawkins as a community asset, if not exactly an ally. "There are a handful (of activists) who have done fantastic work—work, not just going out there and engaging in rhetoric—and he rises to the top of that list," Putney says. "He's a responsible activist. We'll never always agree. But I respect what he stands for. You can count on him to be a voice of reason in very emotional times."
Praise from law enforcement can be a kiss of Judas for an activist. There's an age-old tug-of-war among groups that lack power about how to obtain or defuse it: should we work within the system or burn it all down and build a new one? Dawkins prefers the former, which draws accusations of reviled "respectability politics" from his more radical colleagues—"I take some shit," he says—and reflects his own history.
The Spartanburg native graduated from the University of South Carolina in 1992 with a political science degree, then moved to Charlotte in 1996 for better job prospects. He volunteered for the Mecklenburg County Democratic Party while he worked as a banquet server and manager in uptown hotels. ("I worked the service sector," he says with a touch of pride—which helps explain his fondness for Noble and his lack of opposition to the Republican National Convention in 2020, which he argues will employ people who need the jobs.) While he worked events, he met prominent local Democrats like then-City Council members Malachi Greene and Susan Burgess, who introduced him to other community leaders. Dawkins spent a few years as an organizer for the now-defunct national community action group ACORN and the Durham-based progressive organization Democracy North Carolina before he joined Action NC in 2015.
With Action NC, he's helped found other coalitions, including the immigrant activist organization Comunidad Colectiva and the Housing Justice Coalition, which advocates for Charlotteans displaced by gentrification or stuck in substandard housing. Dawkins' founding partner in the housing coalition is Bree Newsome Bass, a prominent North Carolina activist who found fame in 2015 when she scaled a flagpole to take down a Confederate flag at the South Carolina state capitol.
Bass tells me she respects Dawkins and happily works with him on housing issues—but prefers a less institutional approach in her own activism. "I would describe Robert as a reformer. He comes out of the ACORN-type community organizing background," says Bass, 34, a former Charlotte resident who lives in Raleigh. "While I appreciate that, I also kind of view those institutions as a wall … as part of the problem."
The conflict will probably never go away. It's far more important to Dawkins that activists agree on the destination, even if they differ on which road to take. For the immediate future, he says, he wants to keep working on police reform and, especially, pressure the city to reveal the details of extra police equipment it intends to buy in preparation for the RNC with $50 million in federal security grant money. (Putney has said that publicizing those purchases in advance would undermine CMPD's ability to protect the city during the convention.) If that means marching in the streets, he'll do that. If it means working with the chief of police, he'll do that, too.
"My eye is still on working with other people on that long-term change," he tells me as the server at Noble Smoke, a woman of color, clears the plates. "A lot of people who are organizing want to cure cancer. I want to cure cancer, too. But somebody's got to run the chemo machine."