2019 Charlotteans of the Year: Yola the Dog
Beloved Park Road Books—and its staff dog, Yola—offer a familiar wag in a changing city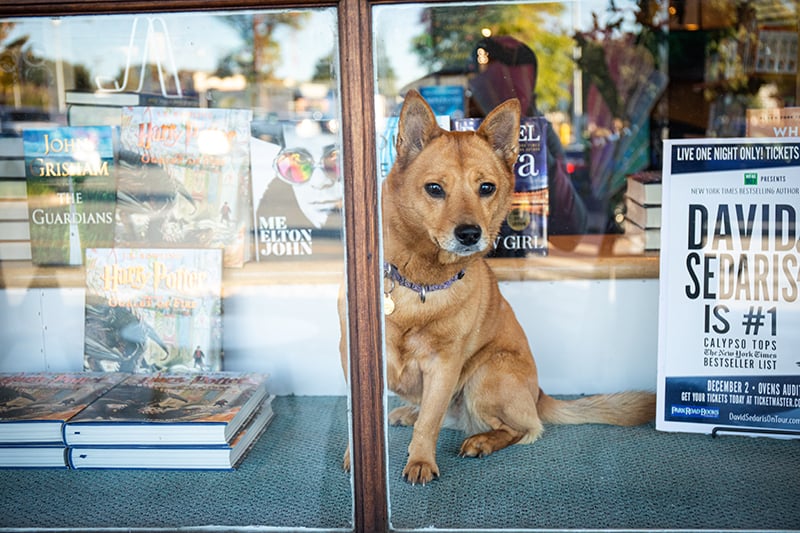 YOLA'S NAPPING IN THE BACK OFFICE  when a page comes over the intercom. Help's needed up front.
When the staff at Park Road Books pages the back office, they typically need owner Sally Brewster, not her dog. But don't tell that to Yola, who responds to these calls as Bruce Wayne responds to the Bat-Signal.
The small, brown canine leaps to work. She trots the length of the store, with little barks that announce her arrival and a tail that wags upright like the wave of a queen. All around her, faces look up from the pages of books, peer around the corners of shelves, and brighten as Yola passes. She finds a group of shoppers by the cash register—surely the ones in need—and lies on her back to present her belly. This none-too-subtle hint proves effective, and several sets of hands rub her belly at once. People who stood near each other silently now laugh with each other. It was an important call after all.
Behind her is Brewster, laughing and shaking her head at the familiar sight. To walk behind Yola is to witness a 25-pound dog charm an entire store of customers, many of whom greet her by name.
Customers are here for the books, sure. They're here for the community vibe, absolutely. But many don't disguise their other reason for choosing this store: They're here for Yola. Some customers will express their displeasure if they come and Yola's not working. (Yola's hours are now posted on the front door.) Sometimes customers call and ask if Yola can work a little late that day, just long enough for them to come by for a hello and a little love.
***
YOLA BECAME A REGULAR HERE shortly after joining the Brewster home in 2009. She was a five-month-old puppy from Gaston County's animal shelter. Brewster never cared to do a DNA test to learn Yola's breed mix. It's more fun to guess, she says. Her guesses sound more interesting than any official breed anyway: Small Brown Dog Variety, Mecklenburg Hound.
Yola arrived to Park Road Books during a difficult time for bookstores. In the early 2000s, Amazon's discounted book prices began to undercut the competition. Media Play declared bankruptcy, and all four of its Charlotte locations closed in 2006. The recession landed in 2008, and big-name stores fell in steady succession. In 2010, Joseph-Beth Booksellers in SouthPark Mall closed. In 2011, it was the Borders in Morrocroft. In 2013, Books-A-Million closed in Cotswold.
Customers feared that the death knell would ring next for Park Road Books, a beloved bookstore since 1977. The store's sales plummeted in 2009 and 2010. Brewster gave up her salary to keep the business afloat and insisted that Park Road Books pay for employees' health insurance. "I really believe in giving health insurance to employees. My husband and I could live and eat frugally, but if you broke your leg, you couldn't save money by skipping the doctor," Brewster says. "If a bookstore can do it, why can't other companies?"
As major names fell, could the little business doing the right thing survive the big crash?
Charlotteans shopped like activists to save local stores, Brewster remembers. If their activism led them here, the shop's customer service encouraged them to return. Readers had grown disenchanted with algorithm suggestions. "The bloom was off the rose with Amazon by then," Brewster says. Here, shoppers could talk to booksellers who read obsessively and thrived on nailing recommendations. They could wander aisles in a quiet store or strike up conversations with other readers. And, of course, shoppers could visit Yola. It's not unusual to see a customer balance a stack of books on one arm to pet Yola with a free hand, or plop down in an aisle to sit with her. During a time of uncertainty, this store became a little community and a happy refuge.
When customers met Yola, some asked if they could bring their pets, too. Of course, replied Brewster, who keeps four types of dog biscuits at the front desk. Dogs aren't the only animal visitors, however. One customer brought a cat on a leash. One children's book author brought chickens to her reading. And one little girl, holding a stuffed turtle, asked if her tortoise, Sheldon, could shop, too. Brewster said yes, assuming the girl meant her stuffed animal. The little girl beamed, ran out of the shop, and returned with an actual tortoise—Sheldon!—who kept her company as she chose a book. Sheldon became a repeat customer. This is the kind of shop Brewster wants. Bring us your tortoise, your dogs, your cat on a leash yearning to roam free.
It's not just that the community supports the store, however; the store supports the community. Park Road Books is the big stop for local authors to promote their books and for the readers who cherish them. This is where four book clubs gather on couches each month. Each December, a Christmas tree stands at the front window, full of slips of paper from local at-risk students who ask for books as presents. Around that tree, it's not uncommon to see shoppers wipe away stray tears and embark on impromptu shopping sprees, slips in hand.
"People are behind screens now all the time. It's sort of sad," Brewster says. "I think we really do crave togetherness, and this is a place you can be together."
***
YOLA'S 11 NOW. Since she first scampered down the aisles of Park Road Books, other bookstores have melted away, and renovations have transformed the shopping center around it. This store, however, hasn't changed a bit.
Each year, as the city loses more local gems to national chains, focus shifts to those places that Charlotte can't lose and remain Charlotte. Park Road Books is one. That's true for many reasons, including Yola. There's something about this little dog—the one who takes her job as a day brightener so seriously, the one whom customers ask for by name, and the one who can make an entire store stop for a moment (paws, if you will) to look up and smile. Moments like these don't happen in the big chain stores. They certainly don't happen when people sit alone and shop online. These everyday moments of community belong in locally owned shops that persist when everything else changes.
Customers don't pet Yola just to make Yola happy, of course. They know who's getting the better deal. Yola seems to understand this. She enjoys her pets and attention, and if someone has the magic touch, she'll flash her little white teeth into a smile. Then she trots off. She's got other customers to help.
Jen Tota McGivney is a writer in Charlotte. Reach her at jennifer.mcgivney@gmail.com or on Twitter: @jen_mcgivney.