2020 Charlottean of the Year: Molly Grantham
While 2020 continued to flatten us, the anchor, author, and mom made working parents feel seen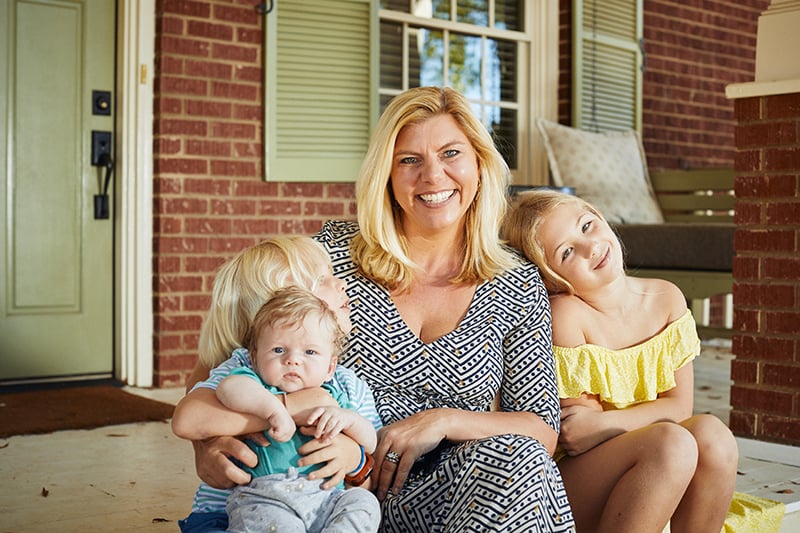 As anchor of the 5:30 and 11 p.m. broadcasts on WBTV, Molly Grantham is used to reporting the news. The 43-year-old mother of three is not accustomed to being the news. But that's what happened to her family in July when they became the subjects of a story she couldn't have scripted.
Grantham had just given birth to her son Hobie when she; her husband, Wes; her 9-year-old daughter, Parker; and her 6-year-old son, Hutch, all contracted the coronavirus. Each had different symptoms. Parker had a sore throat and fever. Hutch had fever and a runny nose. Wes was lethargic and lost his sense of taste and smell. The County Health Department said 10-day-old Hobie was "the youngest person tested in Mecklenburg County" and the "youngest presumptively positive case." Molly had body aches and pneumonia as she stayed up all night to watch Hobie's chest rise and fall. "I was checking his breathing every hour just looking to see which way his rib cage was moving," she says. "The doctor told me, if it moved a certain way, to take him to the ER."
Once her family had recovered after two weeks in isolation, she shared the experience in a detailed Facebook post that national news outlets like CNN and People magazine picked up. Parents from all over the country read her story in disbelief and reposted it on social media as a warning to anyone who had begun to relax their social distancing rules at home or believed children were immune to COVID. At press time, the post had been shared more than 65,000 times. "I was really surprised when it went viral because we had just lived it," she says. "What we went through with COVID—it is almost indescribable, but when you're in the middle of it, living it, it doesn't seem as crazy as when you get some distance and look back."
Grantham has lived her professional life on camera in Charlotte since 2003, when she joined WBTV as an investigative reporter. She launched #MollysKids (a segment that highlights area kids facing extraordinary medical challenges) and is a spokeswoman for Susan G. Komen Charlotte. She's also captain of Team Molly, her Race For the Cure team, where she's helped raise a million dollars each year for breast cancer research. But it's her weekly Facebook posts about her struggles as a working mother that endear her to more than 140,000 followers.
In 2017, Grantham wrote her first book, Small Victories: The Off-Camera Life of An On-Camera Mom, an extension of the raw Facebook posts she shared while on maternity leave with her second child. "I missed me," she says. "I missed work. I loved my two kids but wanted adult conversation and felt trapped inside as the moving world outside kept going. I was, quite honestly, posting to save my own sanity."
This year she published her second book, The Juggle Is Real, while the rest of us baked banana bread and Marie Kondoed our drawers. She calls it a serial memoir that will serve as a scrapbook for her kids. "Let's face it, life is insane," she says. "Too many surprises. Nothing predictable. This year alone, we've dealt with coronavirus, an unexpected third pregnancy, and now home school."
Now she's learning to juggle in pandemic mode, and she continues to share her experiences on social media with a humor and candor that makes working parents feel seen. "Nothing is standard," she says. "Nothing is what you know that normally applies to parenting and work. You have to figure out what makes sense that day. I can't plan anything—nobody can plan anything. There's no structure. I am Type A, but I have an adaptability about me and can be very laid back, especially on parenting. I think news plays a role in that because any day you start can go to hell in three hours, and everything is blown up."
But, of course, any parent can relate to that.
MICHELLE BOUDIN is a reporter for NBC Charlotte and a frequent contributor to this magazine.