22 Hours Between Press Conferences, Three Dead
After another round of murders in an increasingly violent year in Charlotte, CMPD and chief Kerr Putney search for answers in an 11-year-old task force report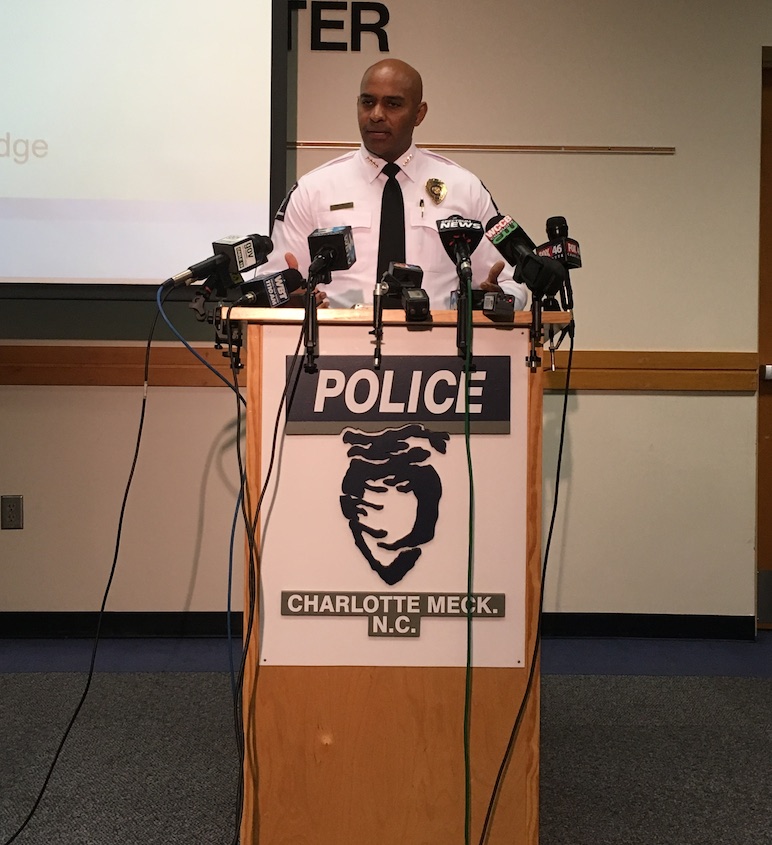 FACING A ROW of television cameras and flanked by three CMPD homicide detectives, Nicholas Finch held a picture of his brother, Zach.
As his hands shook and his voice cracked, Nicholas described his 21-year-old brother, a pitcher on scholarship at the University of the Cumberlands in Kentucky. Zach was visiting his parents, who moved to Charlotte from south Florida two years ago, when he was shot and killed Sunday afternoon at an apartment complex in west Charlotte.
"I know it sounds cliché to say he was a good kid, but he really was," Nicholas said. "The kid didn't have an enemy in the world."
Investigators wouldn't say much about the case, but they suggested Zach might have been meeting someone to buy a phone or computer off an online sales app.
The Arbor Glen complex, between West Boulevard and Clanton Road, is a sprawling community of well-maintained units with bicycles and toys scattered on patios. Farmer Street, where the shooting happened, smelled like freshly cut grass.
A small playground, blue paint reflecting the June sunshine, was empty as detectives briefed the press on Tuesday. Residents watched from the shade of an oak tree across the street. A woman pushed a toddler in a stroller as another child walked alongside.
"This happened at 1:30 in the afternoon on a Sunday," homicide Sgt. Susan Manassah said. "There's windows, there's parks, there's kids playing. People are outside. We know that somebody has some information."
Zach was the 43rd person murdered in Charlotte so far this year—a surge in violent deaths that has police concerned as we head into the summer.
"It's senseless, the number of homicides this year," Manassah said. "Zachary could be anybody. It can happen to anyone and it needs to stop."
---
ON WEDNESDAY MORNING, Chief Kerr Putney stood behind a lecturn filled with broadcast microphones. CMPD had planned this media briefing one day after the one with Zach's family. Putney wanted to talk about the department's strategy to combat violent crime this summer. In the 22 hours between the press conferences, three more people were shot to death in Charlotte, bringing this year's total number of homicides to 46.
There were 68 murders last year.
Putney was quick to point out that 34 of this year's victims knew their killer. "These are not random acts," he said. "These are volatile outbursts of people grabbing guns to settle minor disputes." Statistically, the rate of homicides per 100,000 people is much lower than its peak in the early 1990s. Nonetheless, CMPD will put extra officers in problem areas, increase bike and foot patrols in high-traffic neighborhoods, and target repeat offenders.
Putney also mentioned a 2005 city task force, created in response to 85 murders that year—the most in the city since 1995. Like the current spate of violence, the previous spikes disproportionately affected young, black men.
The task force members delivered 13 recommendations at the end of their work a year later. They range from feel-good suggestions such as increasing community awareness of homicides to meaningful proposals to increase conflict resolution and prevention programs in schools. Unsurprisingly, the panel noted the need for more economic opportunity.
"The lack of job opportunities is one of the reasons that young people turn to illegal activity," the report read. "Under-employment is one of the key causative factors for violence."
It also called for stricter penalties for all crimes committed with a gun, making prescient observations that apply to this year's wave of murders:
Handguns are the weapon in the majority of Charlotte homicides
The availability of guns is one of the reasons that homicides, where the motive is classified as an argument, are increasing
Guns are part of the youthful definition of manhood
Guns are seen by many as the conflict resolution method of choice
That jibes with Putney's assessment of 2017 homicides—34 of the 46 killings so far this year involved a gun, and about half of the victims were between ages 18 and 34.
"None of this is beyond what we can overcome, but it's pretty daunting," Putney said. "We should have learned in 2005 from what we learned in '95. But here we are again."
ADAM RHEW is associate editor of this magazine. Reach him via email at adam.rhew@charlottemagazine.com or follow him on Twitter: @AdamRhew