25 Ways to Get Fit
(Without Ever Stepping Foot in the Gym)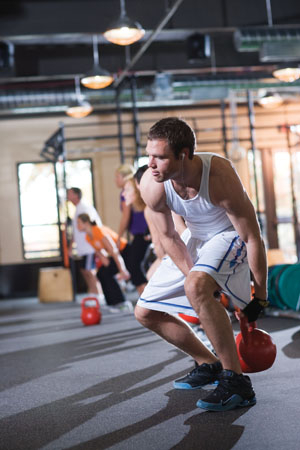 We know you're probably upset with yourself for drinking too much eggnog and eating too many helpings of Aunt Betty's famous stuffing. But instead of wallowing in those extra five pounds of leftover holiday lovin', we sought out the twenty-five best ways — sans the elliptical or treadmill -— to lose weight and tone up long before Memorial Day and summer weather come around. Whether you're more inclined to dance or sprint your way to a better bod, we're giving you options — a lot of them — to get fit this winter
1. CrossFit
Imagine a workout that combines martial arts and strength conditioning with military-style combat training and high-intensity cardio. It exists, we promise, and it's called CrossFit. (The Canadian Forces, Royal Danish Life Guards, and hundreds of law-enforcement agencies train using CrossFit.) Don't expect ordinary jumping jacks and crunches here, though. Coach Andy Hendel— a former NFL player and college coach — motivates you to do some serious work and, in turn, shed some serious weight. High-intensity circuit training addresses areas of strength and endurance—in other words, you'll be breathing so hard and your quads will feel so heavy you won't wonder why you're feeling more toned and in shape after a few weeks. $125 per month, 9535 Monroe Rd., Ste. 100, 704-519-6693, crossfitcharlotte.com
Want More? Ultimate CrossFit, 210 Rampart St., Unit F, 704-650-5956, ultimatecrossfit.com CrossFit Steele Creek, 2102 Cambridge Beltway Dr., Ste. D1, 704-714-7775, crossfitsteelecreek
Did You Know?
Participants in a Journal of Sports Medicine and Physical Fitness study who worked with a trainer over a four-month period lost nearly four times more weight than participants who just received advice on training.
2. Tai Chi
When it comes to tai chi, "going with the flow" isn't as easy as you might think. Instructor Rob Bruce, who's certified in tai chi by the International Golden Flower Tai Chi School, leads a beginner-friendly course on Tuesday nights at the hip Evolution Gym, focusing on basic poses, concepts, and movements. And while a session won't feel like a rigorous ride on the elliptical, after seventy-five minutes of focus, balance, and control, your shoulders and core will feel just as worked and energized. $7 per class (nonmembers), 2102 South Blvd., 704-332-6691, evolutioncharlotte.com
Want More? Tai chi, The Peaceful Dragon, 12610 Steele Creek Rd., 704-504-8866, thepeacefuldragon.com Tai chi for beginners, The Bindu, 11138-C Treynorth Dr., Cornelius, 704-237-3635, thebindu.com Tai chi, Lake Norman Tai Chi Center, 16645 Birkdale Commons Pkwy., Huntersville, 704-900-3005, lakenormantaichi.com
3. Velocity Adult Fitness
Expect to leave this adults-only bootcamp-like class with seriously fatigued muscles. After all, once you've completed a combination of strength (think squats and shoulder presses) and agility exercises for an hour, you'll find that your heart is pumping and your glutes are crying — loudly. Workouts change each class so that you (and your body) never get bored. $150 (unlimited, five days a week), Velocity Sports Performance, 10345 Nations Ford Rd., Ste. C, 704-588-1770, velocitysp.com/charlotte
Want More? Xtreme Boot Camp (uptown), locations vary, 888-679-4770, xtbootcamp.com Operation Boot Camp, Charlotte Martial Arts Academy, 2228 Hawkins St.; Bailey Road Park, Cornelius, 888-734-8669, operationbootcamp.com
4. Personal Training
While doing lunges and squats down the length of the studio at Fitness Together, your legs will burn. And while punching the padded hands of your personal trainer, your arms will start to fatigue and you'll realize two things: a personal-training session is a great investment and tomorrow is going to be painful. FT trainers also offer diet analysis so you can easily stick with your diet and exercise routine. $50-$65 per session, locations vary, fitnesstogethercharlotte.com
Want More? Ciarla Fitness Inc., 15640 John J. Delaney Dr., 704-341-3676; 4735 Sharon Rd., 704-367-3445, ciarlafitness.com
5. Outdoor Fitness
Want to learn to scuba dive? Feeling up for a hike through McDowell Nature Preserve? Or how about a high-energy paintball war? Those are just a few of the many activities you can try via Charlotte Outdoor Adventures. As the largest and most active outdoor sport and social organization in the Carolinas, CHOA gets you outside — but you'll probably be having too much fun to stop and smell the roses. There's an event scheduled almost every day of the month, and it's a great way to get your physical fitness in while making new friends. During cold months, look for activities such as nature hikes, ski trips, kickboxing classes, indoor tennis, and volleyball, and year-round there is no shortage of happy hours and social mixers put on by the group. $95.95 for six months or $129.95 for one year, 704-759-6891, choa.com
Want More? Outdoor Club South, charlotte.outdoorclubsouth.com Charlotte Lady Hikers, charlotteladyhikers.com The Carolina Berg Wanderers, carolinabergs.com
6. Bollywood Dance (First Timer)
Testing out Millennium Studio's Bollywood dance class seemed like a safe bet for a dance rookie like myself. (After all, I stuck around for the Slumdog Millionaire credits.) By the time professionally trained Indian dance instructor Anu Shenoy started to blare Bollywood tunes from her boom box, I felt pretty confident. With just an hour minutes to whip us slumdogs into shape, Shenoy wasted no time. After learning a few basic steps and motions, it was time to actually make our hands move in sync with our feet. Panting, I leapt from side to side, trying to transition my "flower" hands to "deer's head" hands above my head, watching in frustration as Shenoy effortlessly glided across the studio. A metal folding chair appeared out of thin air behind me. And as the startled class turned to see what the enormous crash was, all I wished was that I could run the credits on this unlikely tale. —A. M. $10, locations vary, check website for details, 704-323-7421, millenniumcharlotte.com
7. Deep Stretch Yoga
Drop your shoes on the rug by the door, breathe deeply, and stretch out atop blankets and mats in this dimly lit, heated basement studio. You'll be relaxed before you can say "om." This hour-and-a-half class, which is for all levels, leads you through deep breathing and into slow, deep stretches. Designed to open your mind and body, it's the perfect way to relax after a long day, stretch out tight muscles, and increase your flexibility. $15 (mat rentals are $2), Yoga One, 1111 Central Ave., 704-332-9911
Want More? Warm, deep stretch, NoDa Yoga, 908 E. Thirty-Fifth St., nodayoga.com Deep stretch, Laughing Buddha, 720 Governor Morrison St., 704-362-3311, laughingbuddhanc.com
Did You Know?
Overweight women who biked outside or in a gym for two to three hours a week were 46 percent less likely to gain weight over time than noncyclists, according to a study in the Archives of Internal Medicine.
8. Fusion Yoga
This class may begin and end with calming quotes from the instructor and deep, relaxing stretches, but for seventy-five minutes in the middle you're working out — hard. Fusion combines vinyasa/flow (moving seamlessly through different yoga poses) with weights to strengthen your core. Taught by the studio's energetic owner, Dawn Hinshaw, Fusion is the studio's signature class, typically drawing fifteen women who encourage each other throughout the class. $15 per class, Laughing Buddha Yoga, 720 Governor Morrison St., Ste. E-140, 704-3623311, laughingbuddhanc.com
Want More? With its unique combination of vinyasa, core strengthening, and deep stretch, this class is unlike anything else you'll find in the city.
9. Whitewater Rafting
You can quench your wave-riding thirst just twenty minutes from uptown. With three levels to choose from just about anyone can traverse the courses of class II-IV rapids. The ninety minutes you spend on the man-made river will leave you with fatigued biceps and shoulders from paddling your way out of a whirlpool. $49 adults, U.S. National Whitewater Center, 5000 Whitewater Center Pkwy., 704-391-3900, usnwc.org
Want More? Though not necessarily close, make the trip to West Virginia where rafting on the Gauley River is considered one of the best in the country. nps.gov/gari
10. Beginner Ballet
If you've got visions of malnourished prima donnas dancing in your head, you've got the wrong idea. In this class, dance vocabulary (i.e., "gran plié") is taught with an eye to the beginner. It also teaches good stretching habits for daily life — especially following your first classes when you'll definitely feel some soreness in your overworked muscles. $16 per class, Patricia McBride & JeanPierre Bonnefoux Center for Dance, 701 N. Tryon St., 704-372-3900, ncdance.org
Want More? Open Door Studios, 1318 Central Ave., 704576-5034, opendoorstudios.com Carolina Dance Capital, 12210 Copper Way, Ste. 228-230, weirdancin.net
11. Boxing
At Contenders Boxing Gyms, owner/coach Joe Mayer trains everyone from legitimate fighters to everyday people looking for a challenging workout. The three, three-minute rounds of jump roping will leave you winded — and that's just the warm-up. You might have illusions of jumping into the ring and sparring, but that's a long ways away as Mayer teaches you the basics first. Shadow boxing and mirror boxing is where you'll begin to throw your punches and learn how to bend and step when throwing jabs. And when you make it over to the speed bag, you'll learn just how easy Hilary Swank made it look in Million Dollar Baby. Six sessions for $125, Contenders Gym, 1405 Tyvola Rd., 704-527-8624; Contenders Lake Norman, 9835 Northcross Center Ct., Huntersville, 704-488-2141; contendersboxing.com
Want More? Dyme Boxing & Fitness, 588 Griffith Rd., 704-336-9323, dymeboxing.com Ultimate Gym, 401 E. Thirty-Fifth St., 704333-0071, ultimate-gym.com Revolution Park Sports Academy, 1225 Remount Rd., 704-432-4963, charmeck.org (search "Revolution")
12. Beyond Barre
There isn't a muscle in your body that is exempt from this hour-long group class — in fact, chances are that every single muscle will be pushed to its limit as you use hand weights, yoga stretches, and the ballet barre for this cardio-meets-sculpting workout. Owners/ instructors Liz Hilliard and Clary Hilliard Gray are a mother-daughter team armed with inspirational abs and a contagious enthusiasm for their classes. Each class, which is set to upbeat music, has around twenty participants, all devotees of the workout, who swear it's given them the leaner muscles, better posture, and flatter abs it promises. $25 per class, Hilliard Studio Method, 530 Brandywine Rd., 704-236-3377, hilliardstudiomethod.com
Want More? Pure Barre at Pure Barre, 603 Providence Rd., 980-329-4640, purebarre.com Absolute Core Barre at Absolute Pilates, 6817 Fairview Rd., 704-442-8600, absolute-pilates.com
13. Ice Skating
For a fun workout, complete with gloves and mittens (and a Dorothy Hamill–like skirt, if you wish), hit the ice at Pineville Ice House for a thirty-minute adult beginner ice skating class. You may fall on your rear end before you master your balance, but you'll be skating laps in no time. Which also means you're one step closer to a professional ice skater's gorgeous gams. $104 for eight weeks, free skate rentals and public skates on class days, Pineville Ice House, 400 Towne Centre Blvd., Pineville, 704-889-9000, pinevilleice.com
Want More? Skating School, Extreme Ice Center, 4705 Indian Trail-Fairview Rd., Indian Trail, 704-882-1830, xicenter.com
14. Muay Thai
At Ultimate Gym's muay thai class, you'll learn how to kick, punch, and jab using Thai boxing's "science of the eight limbs." Kicks will stimulate your glutes, while punches, jabs, and hooks will exhaust your shoulders. It's a relaxed martial art, but it's powerful enough to offer a fat-blasting and muscletoning workout. $15 per class, Ultimate Gym, 401 E. ThirtyFifth St., 704-333-0071, ultimate-gym.com
Want More? Black Belt USA, 11915-A N. Tryon St., 704-595-1945, blackbeltusa.net Dick Harrell Martial Arts, 210 Rampart St., Ste. D, 704-619-2024, dick-harrell.com
15. Flag Football
Charlotte Sports Center, an 80,000-squarefoot indoor sports facility, is a Mecca for adult sports leagues. Flag football is so popular that leagues — seven-game season plus playoffs — are offered in spring, summer, fall, and twice in winter. With a forty-foottall ceiling and state-of-the-art turf, you can pretend you're playing in the Georgia Dome. $599 per team, Charlotte Sports Center, 8626 Hankins Rd., 704-597-7311, charlottesportscenter.com
Want More? Queen City Flag Football League, 704-210-2268, qcffl.net Turf Burn Sports, 704-909-6114, turfburnsports.com National Flag Football League of Charlotte, meetup.com/NationalFlagfootballOfCharlotte
Did You Know?
In a study by the George Washington University School of Public Health and Health Services, participants who walked their dogs regularly reported fewer hours of sitting per day, lower BMI, lower tobacco use, fewer chronic conditions and depression symptoms, and greater social support.
16. Power Dance (First Timer)
"Are you ready to be tortured?" said one frequent classgoer to another as they changed into their dance sneakers and began to stretch. I was already mentally coming up with excuses for my editor as to why I bailed when the radiant instructor, Tara Winston-Conrad, breezed into the sunny studio. A fast-paced mix of jazz dance, weight training, Pilates-style muscle isolation, and a Rockette's finale kick line, Power Dance is a full-body workout that will challenge even the most gym-addicted fitness fanatics and inspire even the most aerobically averse (ahem, me). Two installments of choreography (ranging from easy to moderate) are interspersed with weight-training intervals using five-pound hand weights. After one last water break, all the choreography is put together and performed back to back with a breathless series of high kicks in between. Finally, yoga floor mats are rolled out for intense ab, glute, and hamstring work followed by a series of active stretches. Based on the general unwillingness of my body to move properly the next day, I can vouch that this is a full-tilt workout for all muscle groups. Based on the fact that I can't wait to go back, I can also vouch that it is a lot of fun. —J. G. $15 per class, NC Dance Theatre, Patricia McBride & JeanPierre Bonnefoux Center for Dance, 701 N. Tryon St., 704-372-3900, ncdance.org
17. Pilates Equipment Class
At SouthPark's ABsolute Pilates studio, you receive tailored instructions from certified teachers in STOTT Pilates, practiced by fit celebs like Sharon Stone, Ellen DeGeneres, and Sting. Sure, maybe you've taken a Pilates class at your local gym, but with STOTT Pilates, you'll improve more than your core muscles. Instructors teach you to focus on your body's natural alignment and engage your mind in every move you make while on the various pieces of equipment, like the spring-powered Reformer and the Cadillac. So after the workout you can expect not only supertoned tris and quads but also a clear mind. $350 for ten group sessions, ABsolute Pilates, 6817 Fairview Rd., 704-442-8600, absolute-pilates.com
Want More? Mat classes, 8th Street Studio, 1940 E. Eighth St., 704-965-2252, 8thstreetstudio.com
18. Indoor Rock Climbing
Hoisting your way up one of the fifty climbing stations at Inner Peaks will put your arms and core through the ringer, but there's nothing like peering over your shoulder once you reach the top of a twentyfive-foot climbing wall to get your heart racing. A $27 day pass at this indoor rockclimbing facility gets you a harness and shoe rental, a fifteen-minute belay lesson from a staff member (i.e., how to work the ropes so that neither you or your partner plummet), and, of course, the whole day to play mountain man. Don't forget to bring a trustworthy belay partner, too. $27 for a day pass, Inner Peaks, 9535 Monroe Rd., Ste. 170, 704-844-6677, innerpeaks.com
Want More? Belay class, U.S. National Whitewater Center, 5000 Whitewater Center Pkwy., 704-391-3900, usnwc.org. Climbing wall, Venture, 9201 University City Blvd., 704-687-2486, venture.uncc.edu Climbing wall, West Cabarrus YMCA, 5325 Langford Ave., 704-795-9622, cannonymca.org At Inner Peaks, expect to climb your way to a more fit physique. A $27 day pass allows you to play mountain man all day long.
19. Boot Camp
What we love about boot camp is the variety in the drills as well as how participants are held accountable for their success. No one wants to be the only one in the class who hasn't gotten a little faster, a bit stronger, and a tad slimmer after a month. For thirty days, four to five times a week, plan on getting your butt kicked by Operation Boot Camp instructors, who offer different 45to 50-minute, full-body workouts, which result in leaner, more toned muscles and, yes, weight loss. Expect instructors to push you — hard — to squeeze in one more mountain climber or run that last sprint faster. After all, you don't want to be the last one across the finish line. $225 for new members, 601 E. Park Ave., 888-734-8669, operationbootcamp.com
Want More? Asana Activewear Summer Bootcamp Series, 3920 Sharon Rd., Ste. B130, 704-366-8020 Uptown Adventure Boot Camp, Cordelia Park, North Davidson St. and Parkwood Ave., 704-3981182, uptownadventurebootcamp.com
20. Pole Dancing (First Timer)
When I graduated from college I thought that degree guaranteed my job description would never have to include pole dancing. Turns out I was wrong. I knew this assignment was going to place me out of my comfort zone as soon as I saw that stilettos and shorts were recommended for the class. I didn't realize just how far outside of that zone I'd be going until I was straddling a pole, rubbing my hands up and down it, and being told to "always keep your bottom out." This class surprised me, though — and not just because I discovered that I can position my body horizontally and circle a pole as I simultaneously slide down it. The biggest surprise came in how much fun I had while getting a great workout. The mix of hip-hop music, an excited instructor, and a series of new moves that come together to create a final routine made me want to return for more. It's not for the unadventurous, but you're not likely to find another class that lets you wear your favorite heels while you work out. —S. C. $10 for the Pole Sampler class, Vertical Tease, 2125 Southend Dr., Ste. 251, 704-910-1991
21. Ballroom Dancing
It's no mistake that all those C-list celebrities on Dancing with the Stars tend to drop a few pounds during filming — ballroom dancing is deceptively athletic, and the more you commit to it the better the slimdown effects. Metropolitan lets you choose any dance type you like — from a classic waltz to a rowdy rumba, a challenging quick step or a sexy salsa — before pairing you with a highly skilled instructor (many of whom have performed at the professional level). They'll teach you one on one, with a partner, or (if you're not quite ready to chacha solo) in a group class. Pick a high-energy dance style like jive, rumba, or salsa for instant cardio or choose a genre that relies on form and strength (like tango) for a slow muscle burn. $90 per private class or $10 per group class, weekly and special-occasion classes also available, Metropolitan Ballroom, 2935 Providence Rd., Ste. 200, 704-364-1871, metropolitan-ballroom.com
Want More? Piper Glen Ballroom, 6420 Rea Rd., 704-541-1611, piperglenballroom.com Fred Astaire, 2520 N. Sharon Amity Rd., 704-536-6070, fredastairecharlotte.com; 8610 Camfield St., 704-208-4228, fredastairesouthcharlotte.com Queen City Ballroom, 10403 Park Rd., Ste. 1, 704-541-5440, queencityballroom.com
22. Cardio Tennis
A traditional group tennis class goes like this: players line up at the baseline while the instructor feeds tennis balls one at a time, pausing to give students instruction on how to improve their shots. When the balls run out, everyone stops to gather balls and then repeats. Cardio Tennis breaks this boring cycle by keeping participants moving—fast—for a full hour. Instructors constantly feed balls while you run drills such as a baseline forehand, followed by a backhand volley, and then quickly sprint out of the way while the person behind you takes his turn. By the time you're back at the baseline it's your turn again, which also means you've not had a second to break, which also means your heart rate is sky high. Classes are intentionally kept small (six to seven per class) to ensure you're never resting too long. $18 per class, Trimp Tennis, Sardis Swim and Racquet Club, 75 Thermal Rd., 704-367-4980, trimptennis.com
Want More? Match Maker Tennis Clinics, 704-443-8668, matchmakertennis.com Midwood Tennis Academy Cardio Tennis, Veterans Park, 2136 Central Ave., midwoodtennisacademy.com, 704-491-1846
23. Kettlebell 360 (First Timer)
I've seen kettlebells lining the walls in gyms I've worked out at before, but I'd never trained with them until now. After just a twenty-minute workout I was exhausted and sore — but in that good, I-worked-my-ass-off way. Doing one of the primary techniques, I stood with my feet spread apart, back and knees slightly bent, chest out, as I gripped the sixteen-kilo kettlebell (thirty-five pounds) with both hands, my arms fully extended. And then the dancing began (that's not what it's called, but it's what it felt like). Thrusting my pelvis, I swung the kettlebell up and down, from between my legs to above my head. "Pop those hips!" the instructor yelled. I was almost feeling emasculated by the motions, but before that could happen the burn kicked in. I could feel it in my forearms, biceps, chest, back, legs, and glutes — that night and for days after. — J. H. Price $150 per one-month membership (includes unlimited classes), Metro Fitness Club, 2820 Selwyn Ave., Ste. 200, inside Tranquil Court, 704-365-6555, metrofitnessclub.com
24. Belly Dancing
With belly dancing, all that waist-defining core work is camouflaged brilliantly beneath a sassy hip scarf and some energetic choreography by instructor Iona Wilson. Every shimmy is set to upbeat Egyptian-style classical and pop music, and though you might think it's silly to tie a jingly hip scarf around your waist, you'll be envious of your classmates who have them. $15 per class, Lotus Bellydance, Ballantyne Hotel & Lodge, 10000 Ballantyne Commons Pkwy., 704-248-4000, lotus-studios.com
Want More? Belly dancing, Open Door Studios, 1318 Central Ave., 704-576-5034, opendoorstudios.com Belly dancing, Mid-East Dance, 540 Griffith Rd., 704-525-3606, magic-hips.com
25. Mountain Biking/Trail Riding
Learning to ride a bike is a rite of passage, but mountain biking takes the two-wheeled pastime to another level. As Charlotte's only women's mountain biking club, Dirt Divas celebrates the sport not only as an outdoor activity that requires coordination (and results in seriously fit, toned legs), but also the camaraderie that comes with biking as a group. From March through October, Dirt Divas hosts weekly rides at parks around the Charlotte area (think Lake Norman State Park, Anne Springs Close Greenway in Fort Mill, and the U.S. National Whitewater Center). $40 per calendar year, skills clinics and weekly rides free to the public, dirtdivas.net.
Want More? Tarheel Trail Blazers Group Rides, tarheeltrailblazers.com Carolina Bicycle Company Rides, 8914 Pineville Matthews Rd., 704-541-7420, carolinabicyclecompany.com