2nd Story Wood Company
The Harrisburg-based company creates beautiful furniture from reclaimed North Carolina wood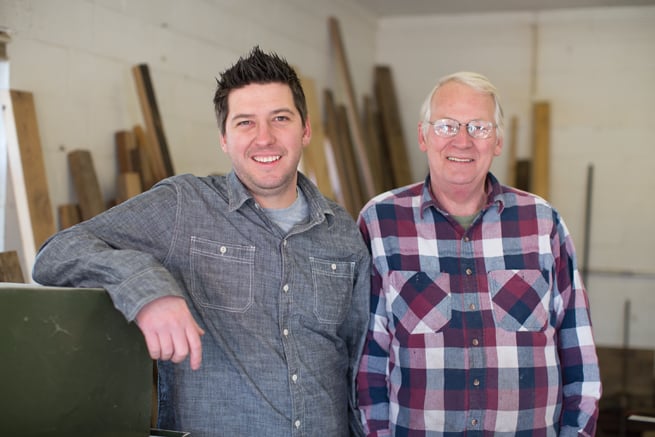 Scott Miller and his wife, Kendra, had long searched for the perfect dining table that would fit their budget, but they kept coming up short. Though they found several in local stores that fit the rustic-meets-modern aesthetic they were looking for, the price points were out of their range. "My father built us furniture in the past, so I thought maybe he could build us something instead [of buying a new one]," Miller says. Then he remembered: "They were tearing down an old house in the Belmont neighborhood that had all of this antique heart pine. I wondered if we could use this wood and make a table out of it."
Fast forward a year, and Miller and his father, Carl, launched 2nd Story Wood, offering their own creative and beautifully designed furniture built using reclaimed wood from throughout North Carolina. The name is a nod to Miller's and his wife's desire to fill their home with pieces that have a story behind the nails and hardware. "We try to stick with reclaimed wood because that's where the second story comes in," Miller says. "The first story [is] that this wood was in this old mill and workers walked and worked on these floors and now it's in your home and a piece of furniture … So it has a lot more meaning."
Where do you find the wood for your furniture? All of the wood is from North Carolina, and all of it is reclaimed. We work with a contact … who moves and demos old houses, so he has access to a lot of great wood. I've connected with people who [have] really old warehouses in the state. And we've recently connected with a reclaimed lumber company in Lenoir to get old lumber from barns torn down in the Appalachians.
Have you been able to source wood from Charlotte? There's an old water-and-textile mill near the Whitewater Center where we've claimed some wood. I also got some from houses and bungalows in Dilworth and Myers Park. But one of the most interesting stories is that we've made these great carts [for the home] with wood from the old cookie mill—Jack's Cookie Company—in the Belmont area.
What type of wood do you use in your pieces? We work with wormy chestnut and also with old barn wood, which is usually a mix between white and red oak. We also use barn siding, which usually has a more grayish color because it's been faded by the sun. These are in addition to the antique heart pine we use.
What is the reclaiming process like for an old piece of wood? We get the wood, and the process depends on the customer. First, we would de-nail it. If they want a smooth top we would plane it down, which takes a thin layer off, little by little. That's where you'd really see the lines of the wood and the color of the wood will be a lot brighter. If someone prefers an older look we still de-nail it, but then it's lightly sanded so it's smooth but looks as natural as possible. Then it's sealed with a clear coat.
How do you achieve that rustic-meets-modern look you've become known for? My father was a welder in the army, so when we wanted a rustic-meets-modern look for our first table, he welded the legs from metal tubing. Now the majority of our frames or legs are made of welded steel. It's old wood with a new look. It's more of a rustic look with the metal as well.
Where can someone see your furniture in Charlotte? We made a wine bar with a wood wall for the Whole Foods store in SouthPark. It's great because it's in Charlotte, our hometown. That piece was made of reclaimed oak barn wood, which was from New York because Whole Foods wanted it to match the rest of the wood in the store, which was from New York. We also made the cork-top tables for the seating area.