3 High Country Wineries Worth a Visit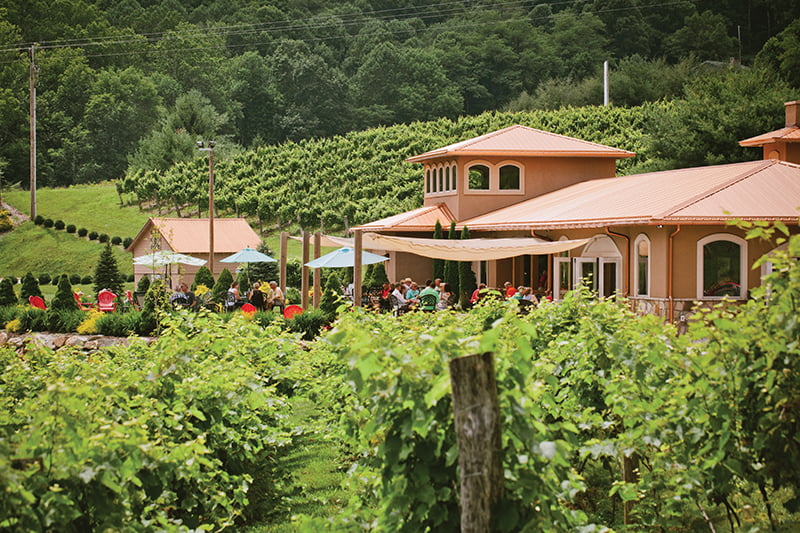 IT TOOK HIM 60 years. But at age 80, Jack Wiseman finally got his grapes.
Born along western North Carolina's North Toe River, just shy of the Tennessee line, Wiseman was raised among farmers and bootleggers, and learned early on the ways of both. But it was time spent with grapes in his grandmother's kitchen that he remembers the most.
"When I was a kid—eight years old—my grandmother taught me how to make wine," he says. "She used to say: Squash the grapes, add sugar, and let it work," he remembers, looking out today from the tasting room of his Linville Falls Winery, across 40 lush acres outside of the Pisgah National Forest. Though he still likes the simple life of the North Carolina mountains, about two hours away from Charlotte, his wine production is far from simple.
Wiseman was drafted in the early 1950s and trained as an Army infantryman and a medic during the Korean War. After his service, he made his way to Napa Valley, where his mother lived. He needed a job. "I was getting hungry," he says. "So I took a civil service exam and went to work on a shipyard, right beside Napa. It wasn't much back in those days. We would work five days and then, on the weekends, we would make wine." The winemaking was with new pals he had made at work—Italian and Portuguese immigrants who also knew a thing or two about grapes.
Ailing grandparents and the itch to get married drew Jack back east. And eventually work opportunities sent him to Charlotte. In 1962, while running a successful office-cleaning business based in Charlotte, Wiseman saved up the money to buy his first land and plant his first crop: Fraser Firs. Inspired by those he'd seen growing in Roan Mountain, Tennessee, Wiseman saw trees as a good investment—a good place to start.
Others doubted him, but his instincts were spot-on. Today, North Carolina cuts and distributes more than four million Christmas trees a year. He also understood that the High Country climate, elevation, and lush surroundings would let grapes thrive, so he planted them, as well. "We face southeast here, too, so we get all the direct sunlight," he says, pointing out over his tree farm's Big Red Barn to the high-rolling hills his vines call home.
A $7 tasting at Linville showcases his top producers: A smooth and fruity petit verdot; the estate-grown hybrid, Elevation, which combines marquette, foch, and noiret grapes into a bold blend; the popular house merlot; and the most prolific of Wiseman's grapes, Riesling.
Linville isn't the only winery in the High Country. After sharing a glass with Jack, who can usually be found in his tasting room, I make the quick trip over to Banner Elk for the High Country's first commercial winery, Banner Elk Winery & Villa, which opened in 2006. Pop in to the tasting room ($10 for a tasting) for a glass of the Chianti-style wine, which the owners grow in honor of their family's Italian roots. Sip it while on the veranda in a rocker overlooking the valley, mountains towering on all sides.
Grandfather Vineyard and Winery (tastings $6-$8) is also worth a visit. The inviting terrace is dotted with ferns and rockers and a timber-framed patio—its intricate beam work gives off a rustic vibe, as laid-back Adirondacks invite you to sit and sip a sweet rosé along the rocky rim of the Watauga River, along the fruitful land of Jack Wiseman's youth.
Linville Falls Winery
9557 Linville Falls Hwy.
Newland
828-765-1400
Banner Elk Winery & Villa
60 Deer Run Ln.
Banner Elk
828-898-9090
Grandfather Vineyard and Winery
225 Vineyard Ln.
Banner Elk
828-963-2400
STAY
Spend the night on site at Banner Elk Winery's Tuscan-inspired villa. The Bordeaux Suite's appropriately wine-colored walls give the otherwise rustic room a regal feel. A glance out the window reveals rows of grapes growing in the distance, plus the property's blueberry farm and trout pond.
DRINK
We recommend sampling the award-winning Banner Elk White or the winery's cabernet sauvignon. At Linville, try Elevation, a red blend. The NC Red Scholar at Grandfather Vineyard and Winery is created in collaboration with students at Appalachian State University.
EAT
Stop in to longstanding Stonewalls Restaurant, a Banner Elk staple since 1985. Opt for the slow-roasted, house-cut prime rib or baby back ribs, served doused in a spicy-sweet blueberry chipotle sauce. Steaks, pastas, and seafood entrees are also options. Don't pass up (but try not to fill up on) the salad bar, with more than 50 choices. 344 Shawneehaw Ave. S, Banner Elk, 828-898-5550.