3. Pineville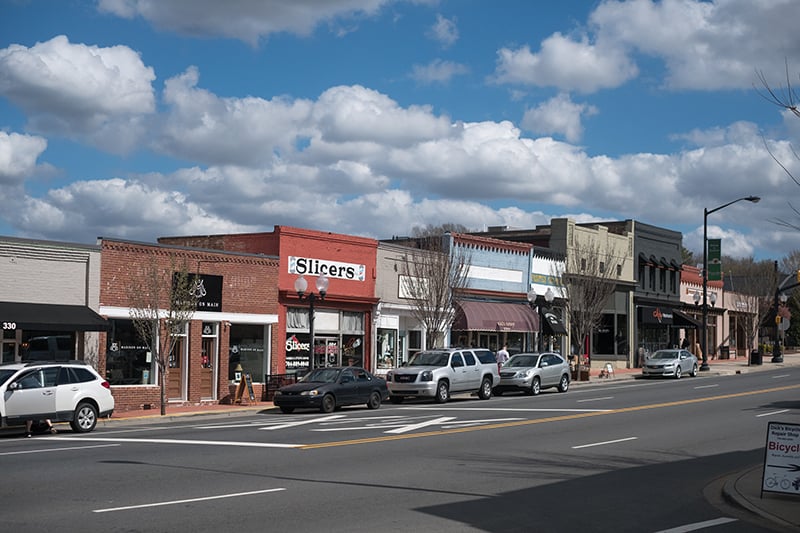 BEFORE THEY WALK to their after-school jobs, two teenage girls grab their backpacks and pause to take a selfie.
It's mid-afternoon on a Tuesday in downtown Pineville. The teens came from South Mecklenburg High a few miles away, past Carolina Place Mall, and across the blurry line between south Charlotte and this town of 8,066.
Pineville's population has more than doubled since 2000, and the size of its Latino community surged with that growth. About 15 percent of the town's residents are Hispanic—a far greater concentration than in most suburban communities, and slightly more than in Charlotte. On my way into town, I pass a Dominican hair salon and a Mexican grocery store.
I also notice the two teenagers, taking a picture with Pineville's quaint Main Street in the background. They look at their selfie, giggle something to each other in Spanish, and walk into a business with bilingual messages on the marquee to start their work shift. —Adam Rhew
Good to Know
James K. Polk, the 11th president of the United States, was born in Pineville. His birthplace is now a state historic site including cabins built like those at the time of his birth. Admission is free. 12031 Lancaster Hwy., 704-889-7145
Good to Eat
Flipside's Corner Grind is located in a historic Main Street storefront, serving hot and cold sandwiches as well as house-made soups and sides. You can't go wrong with a buttery lobster roll or a garlicky sausage-and-pepper grinder. 333 Main St., 704-835-1031
Good to Go
Pineville's "Rockin' & Reelin'" summer concert and movie series runs on select Fridays from May through September at Pineville Lake Park. Bring your own picnic or order from a handful of food trucks.
1000 Johnston Dr.
Click here to head back to our main map.
Click >> to read about Cornelius, our No. 4 suburb