3 Spots You'll Want to Instagram at Cantina 1511's New Uptown Location
The restaurant's third location is adapted for the uptown crowd, which means more picture-taking millennials.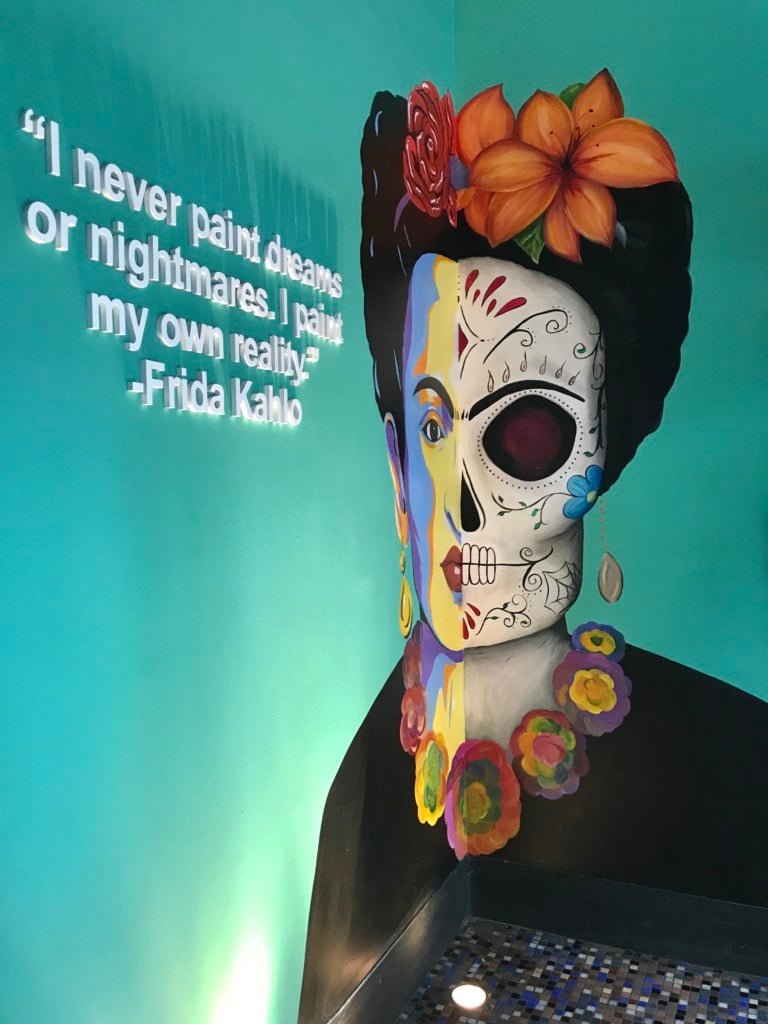 As the un-appointed voice of my generation, it's my duty to let my fellow millennials know when great Instagram opportunities arise. Especially when it comes to restaurants. Because if you didn't take a picture, did you really eat that taco and wear that outfit? Did you actually turn off Netflix and venture into the world if you didn't devise a clever tweet about it first? We're a generation of social proofers, and luckily for us, there's another dining establishment in the works that will be a safe haven for both phone-clenching millennials and busy city workers alike (yes, sometimes these worlds crossover, but only because not having a job is frowned upon in our society).
In about a week (pending building inspections), Cantina 1511 will open its third location at 206 College Street in the Hearst Tower where the popular Blue Restaurant & Bar once served up Mediterranean dishes to the city-slicking crowd. Sticking with the international theme, Cantina 1511's offerings will be the same affordable, sizeable Mexican options as the Park Road and Stonecrest locations, according to owner Dick Campbell.
"We have a lot more of your generation here in Uptown," Campbell says to me, in the first non-condescending mention I've ever encountered as a millennial.
"That's why we have it set up for more sharing—you'll be able to share the big plates as you all like to do." Campbell gestures to the large, sweeping booths curving through the middle of the restaurant, which create a communal vibe in the artistically vibrant restaurant. And, believe me when I say it: This place is artsy.
The interior, headed by local firm Designbar (and owner Monika Nessbach—see her industrial chic Dilworth condo here), infuses Charlotte's art scene into almost every corner. The bar, for example, will be a hand-painted history of tequila, starting at the left side with Aztec warriors and moving right to tell the story as bar space continues. And this brings us to our first Instagram opportunity…
IG Opportunity #1: A snap of your drink on the handpainted bar
With bright yellow seats bellying up to it and distressed teal, blue, and green painted shutters lining the bottom half, the bar is a playful focal point not to be missed. Local artists Rachael Evans and Caiden Withy were commissioned to paint the bartop, and I was lucky enough to catch Evans in action upon arrival.
But the live painting isn't only pre-open date.
Campbell says the plan is to commission another similar concept on the restaurant's empty wall lining the tables and booths.
"We want to do a mural of the history of Mexico along that wall," he says, "but the painting will be done while we're open so guests can experience the live painting."
The idea, he admits, was born in part from his old memories as a kid in the restaurant business, literally "watching paint dry."
"Hopefully it'll be more fun for people, though," he laughs, "if they have a margarita."
The next spot for prime photo-taking has already sparked interest from pedestrians peering through the restaurant's windows on College Street.
IG Opportunity #2: A selfie with Frida Kahlo
The entrance packs a big punch with a rendition of legendary Mexican painter Frida Kahlo's portrait stretching across the corner of the teal walls. Painted by Heidi Sinker, another local artist, the work is completed with a Kahlo quote next to the portrait.
Campbell says he believes Kahlo is a prevalent cultural figure in my generation. I assured him he was correct—we Gen-Yers love us some Frida.
Plus, as a self-proclaimed IG extraordinaire, I can attest to the natural light seeping in through the entrance windows as a beckoning call for well-lit selfies.
Just behind the entrance will be a take-out spot where business people can grab quick lunches on weekdays. Campbell says he wants to ensure the uptown location caters to the business lunch crowd because of the limited affordable options nearby. He wants to provide great value for the price—which will be accomplished if portion sizes stay in line with the other Cantina locations (Campbell says they will).
"I just walked down the street and bought a soda and beef jerky, and it was 12 dollars," he quips with disbelief. "Uptown needs a place like Cantina 1511."
Another thing Cantina will provide that seems to be missing in uptown is a street-level patio. Brimming with good-lighting galore, this indoor respite lining College Street features giant accordion windows that make it feel like you're sitting on an urban terrace without the blights of actual outdoor seating (like birds pecking at your food, rain ruining your hair, and bugs on your face—or is that just my unluckiness?).
IG Opportunity #3: A patio brunch group shot
The indoor/outdoor patio will give guests a greater connection to the city because it's on ground-level, a close-knit feeling with which rooftop bars can't compete.
The patio will mirror the interior's brightness with fun colors and multiple tables for seating, making the area a great spot to gather. Especially for brunch. Campbell says Cantina 1511 will be open for brunch until around 3 p.m. every day, and, yes, Sunday morning brunch (beginning at 10 a.m.) is a go thanks to the "Brunch Bill" that passed a few months ago.
Of course, the patio, Frida Kahlo, and the bar are only three of the most Instagrammable spots in the new uptown Cantina 1511.
The spirited interior has plenty of photo opportunities. There's the luchador agamograph, which changes at different angles and would make a killer Boomerang shot. There's also the "Eat, Drink, Salsa, Repeat" lettering on the back wall reminding diners of the important life principles. And let's not forget the wall of Kahlo quotes near the entrance portrait, full of inspiration. Then, there's the back private room complete with whimsical cactus wallpaper, catered to companies who want to use the room for meetings—a projector and pull-down screen are the spot's two main perks.
Lastly, and still to come, is the actual selfie wall planned out near the restrooms. Campbell showed a rendering of the space: a black wall with various yellow "accessories" painted on, such as a sombrero. For selfie magic, simply situate your head or body in line with the painted items, and voila—it's a photo station. As a female who has made many friends waiting in line for the bathroom, I can personally express my excitement for a new way to bond with strangers while doing the potty dance.
That's what dining out is all about, right? Enjoying great food in an Instagrammable atmosphere with plenty of kind faces to take selfies with?
Featuring alluring details for both millennials and corporate employees, Cantina 1511 is expected to bring a fresh vibe to the city's dining options.
Just don't forget your smartphone, because that would be a serious #PartyFoul, and nobody likes a party fouler.