3 Springtime Recipes from Chef Alyssa
Welcome the warmer weather with these elegant dishes that highlight spring produce and bright flavors.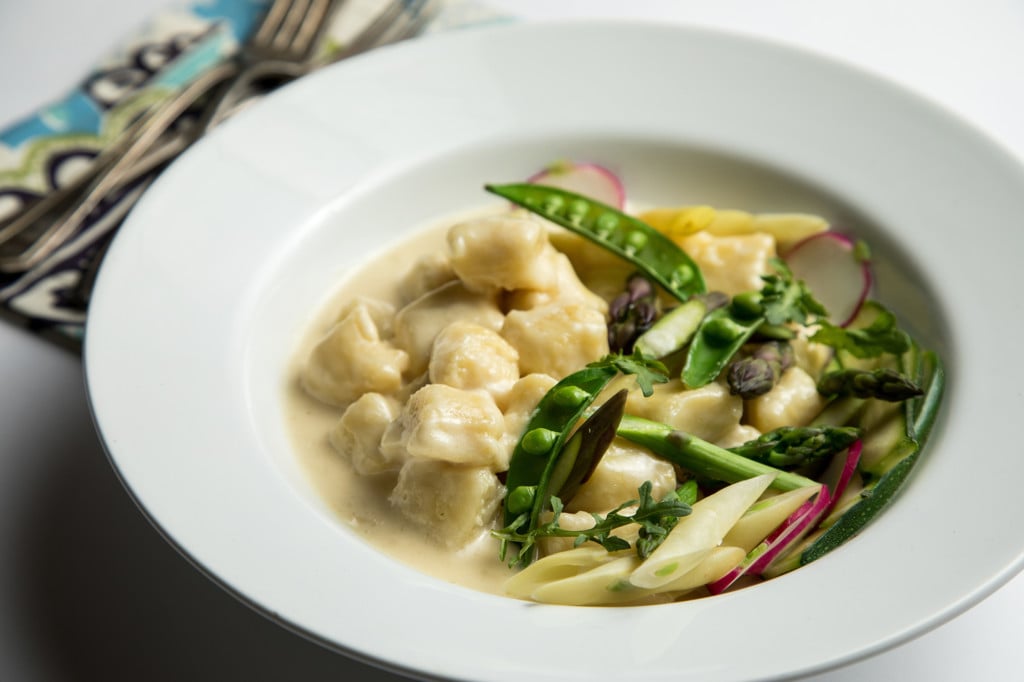 Gnocchi Primavera
Serves 4 to 6
Traditional potato gnocchi:
4 russet potatoes (a little over 2 pounds)
2 large egg yolks
15 grates of fresh nutmeg
Kosher salt and freshly cracked black pepper
2 cups (10 ounces) 00 flour (all-purpose flour can substitute)
1. Preheat oven to 400 degrees. Prick the potatoes with a fork and place straight onto the oven rack and roast until soft, about 45 minutes.
2. Remove and cut the potatoes in half lengthwise to let the steam escape. As soon as they are cool enough to handle, use a large spoon to scoop out the flesh. Discard the skins, place the still-warm potato into a food mill, and turn the crank. Mill the potatoes quickly; you don't want them to cool completely before you make the dough.
3. Using a scale, weigh out 2 pounds of the potato flesh and place in a large bowl.
4. Add the egg yolks, nutmeg, salt, and pepper, and mix well with a wooden spoon or your hands. Add 1½ cups (7½ ounces) of the flour and use your hands to fold and incorporate it gently into the dough. Take care not to over-mix or the dough will be heavy. Add additional flour a tablespoon at a time if the dough seems too wet. Shape it into a ball.
5. Turn the dough out onto a floured work surface and divide it into 4 pieces. Work with one piece at a time, shaping it into a short cylinder. Place the fingertips of both hands on top of the cylinder and roll back and forth, gently pushing the dough outward, keeping the thickness even. The end result should be 1 inch in diameter. Repeat with remaining dough pieces.
6. Using a knife, cut each log into 1-inch pieces.
7. Place the gnocchi on a floured sheet pan as finished. Keep them in a single layer on the pan; once it fills up, use another pan. Gnocci can be frozen on the sheet tray, placed into a plastic bag, and kept in the freezer to cook at another time.
Gnocchi primavera:
½ cup heavy cream
½ cup chicken stock
¼ cup grated fresh parmesan cheese
Salt and white pepper to taste
2 cups steamed sliced vegetables, such as zucchini, peas, yellow wax beans, radishes, or asparagus
1. Bring a large pot of salted water to a boil. Drop in the gnocchi and cook until they float to the top, about 7 minutes, then cook for 3 more minutes.
2. Meanwhile, combine the heavy cream and chicken stock in a large sauté pan. Season with salt and white pepper and cook on high to reduce by half. Once reduced, add the parmesan to melt.
3. Remove the gnocchi with a slotted spoon and place in the sauté pan with the cream sauce. Toss or stir gently to coat. Plate and top with spring vegetables.
---
Crispy Skin Chicken with Mushroom Sauce
Serves 4
4 airline chicken breasts (bone-in and skin-on)
2 tablespoons cooking oil
1 shallot, minced
4 cloves garlic, minced
¼ cup white miso paste
2 cups sliced mixed mushrooms, such as cremini, shitake, hen of the woods, or oyster
1 cup mushroom stock
2 tablespoons butter
Salt and black pepper to taste
1. Preheat oven to 375 degrees. Season the chicken with salt and pepper.
2. Heat cooking oil in a large cast iron skillet on medium. Before it gets too hot, add the chicken one piece at a time, skin-side down, leaving about 30 seconds between each piece so the temperature of the pan does not drop too low. Move the pieces around as they sear to keep them from sticking. Cook until the skin is golden brown, about 7 to 10 minutes.
3. When golden brown and almost fully crisp, remove the chicken and place on a pan, skin-side up. Bake until the chicken reaches an internal temperature of 160 degrees, about 12 to 15 minutes.
4. Meanwhile, add the minced shallots and garlic to the skillet and cook for about 1 minute to soften. Add the mushrooms and cook for 3 to 5 minutes.
5. Add the miso and mushroom stock, then let simmer to thicken. Adjust consistency with additional mushroom stock or water as needed. Season with salt and pepper.
6. When the sauce is thick enough, turn off the heat, add the butter, and swirl to incorporate.
7. Plate the mushroom sauce and top with crispy skin chicken.
---
Orange-Marinated Shrimp with Melted Spring Onions
Serves 4
2 oranges
1 ounce piece of fresh ginger
1½ tablespoons honey
¼ cup rice vinegar
¼ cup olive oil
1 pound shrimp (16/20 or 21/25), peeled and deveined
4 spring onions
2 to 4 tablespoons olive oil
3 tablespoons butter
½ teaspoon red pepper flakes
Salt to taste
1. In a large bowl, add the zest and juice of both oranges.
2. Peel the ginger, using a metal spoon to remove the skin. Over the bowl, grate the ginger using a microplane to yield at least one tablespoon of ginger.
3. Add the honey, vinegar, and olive oil. Whisk to combine.
4. Marinate the shrimp, refrigerated, in the sauce for 1 hour.
5. Meanwhile, preheat grill on high heat. Cut the onions in half lengthwise. Toss with olive oil to coat and season with salt. Place on the grill to char, turning once. When dark grill marks develop on both sides, remove onions from the grill and place in a sheet of aluminum foil. Cut up 2 tablespoons of the butter and add to the onions. Wrap to seal with the foil, then place the package back on the grill. Turn the heat to low and allow the onions to cook in the foil for 20 to 30 minutes.
6. When the shrimp is finished marinating, heat a sauté pan on medium high and add olive oil to cover. Remove the shrimp from the marinade and cook until pink, about 3 to 5 minutes. Season with salt. Remove shrimp from the pan and plate with the melted onions.
7. Strain the marinade back into the pan, then season with red pepper flakes and cook on high to reduce to a thick sauce.
8. Once thickened, remove from heat and add the last tablespoon of butter, swirling it in the pan to incorporate. Spoon the sauce over the shrimp and serve.