4 Brunch Spots in Charlotte with Bottomless Mimosas
Brunching on a budget? Get more booze for your buck at these Charlotte brunch spots serving bottomless mimosas.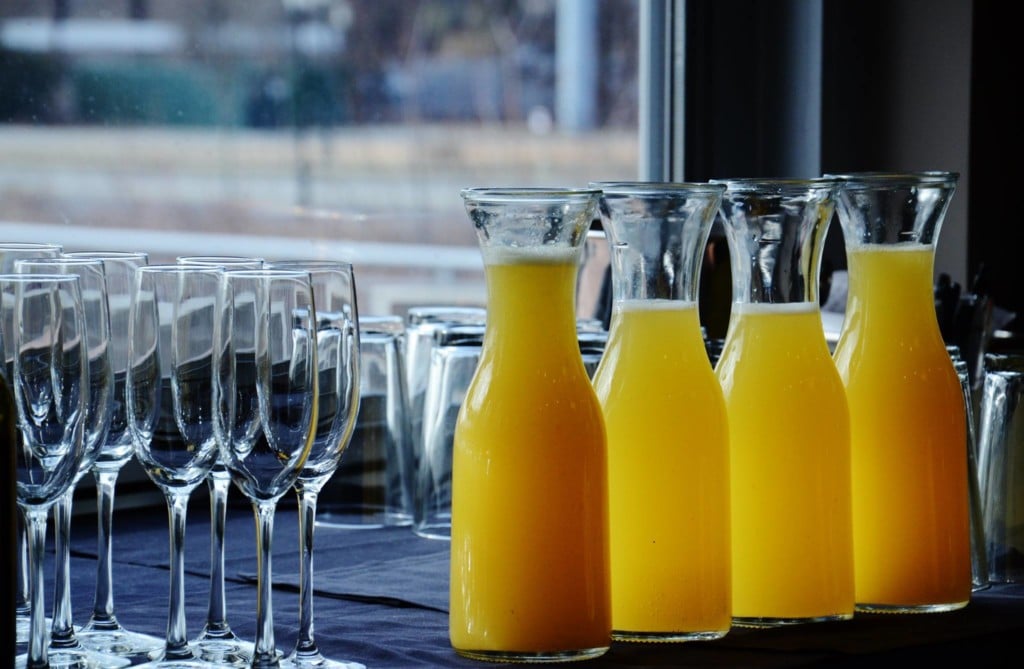 Brunch season is upon us, and thanks to Charlotte's "brunch bill" being passed last year, the millennials can now brunch in peace. Ah, what a relief. And here I thought we'd have to start paying full-price for some bubbly and OJ on a hazy Sunday morning. The hair of the dog tastes much better when it's affordable.
For those Charlotteans brunching on a budget, peek these spots serving up bottomless mimosas for one, solid price. Just remember: Day-drinking is a marathon, not a sprint. Pace yourself, even if you sprint marathons. The all-you-can-drink mentality might spark some friendly competition among your brunch—however, chugging your mimosas to "get your money's worth" is often frowned upon in classy dining establishments.
Best Brunch Spots in Charlotte with Bottomless Mimosas
1100 Metropolitan Avenue, Building E, Suite 100; 704-370-7755
Bottomless mimosa deal: If you love Bloody Marys more than mimosas, you'll like what Italian restaurant Vivace has to offer. As a bundled meal option, you can choose either the mimosa or Bloody Mary bar, plus two courses (one appetizer and one main plate), for $30. It's a pretty sexy deal considering the main plates are $16 and the appetizers are $8—all you need is one mimosa to make your money count. Brunch starts at 11 a.m. on Saturdays and 10 a.m. on Sundays, and service for the mimosa and Bloody Mary bar ends at 3:45 p.m, so don't shuffle in too late.
2909 N. Davidson Street, (704) 375-8260
Bottomless mimosa deal: Head to Heist if you like buffet-style brunch. Though the brunch food has received mixed reviews—it's still a new-ish addition to the brewery—this NoDa spot typically has very good food "for a brewery." Plus, with mimosa carafes for $15 a piece, the booze situation isn't too bleak. The food will cost you $19, but it's all-you-can-eat, and the price includes an entree you order through your server. Brunch is from 10 a.m. to 2:30 p.m. on weekends.
1212 Pecan Ave., 704-333-9197
Bottomless mimosa deal: One of Charlotte's best patios, The Peculiar Rabbit is a Plaza Midwood must thanks to its atmosphere and bottomless brunch—especially when you combine the two. You can order from a la carte menu or opt for the brunch buffet ($16.95). Bottomless mimosas are poured every Saturday for $25, and the fare is sure to help your Friday night hangover.
214 North College Street, 704-342-4222
Bottomless mimosa deal: An affordable, bottomless mimosa brunch in uptown? Could it be? Yes, yes it can. Meet Mert's if you haven't already—the soulful spot has all the fixin's for a savory and sweet Southern meal. Wash down those low-country grits with $17 "unlimited mimosas." There's only one catch: You can't share your unlimited mimosas. Darn. Guess you'll have to drink it all on your own.