4 Dips That Add a Twist to Tailgating
These big dippers are the main event at every game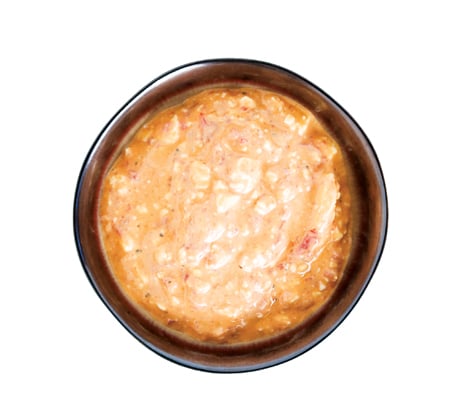 Add a yummy twist to your tailgate or game-watching party this fall with a scoop of one of these creamy dips. Created by local chefs, these four snacks are perfect for pairing with bread, chips, or crackers —and, of course, a win for the home team.
This dip's spicy kick is cut by the tangy, crumbled cheese.
1 ½ cups Greek yogurt
1 cup roasted red peppers, peeled
and chopped
½ cup of Sambal pepper
¼ cup of extra virgin olive oil
½ tablespoon of white pepper
2.5 pounds of domestic feta, crumbled
Combine all ingredients except for feta in a food processor and puree. Then fold and mix in the feta. Pairs well with pita chips or crackers.
A familiar favorite, this warm dip is best in big scoops on pita points.
1 cup cream cheese (room temperature)
1 cup chopped spinach
1 cup chopped artichoke hearts
(packed in water)
1 cup bechamel sauce (see recipe)
¾ cup grated Parmesan cheese
¾ cup cheddar-jack cheese
1 tablespoon roasted garlic paste
(or ½ tablespoon granulated garlic)
Kosher salt and coarse ground pepper to taste
1 ounce dry white wine
1 ounce half and half
1/2 tablespoon of olive oil

In a small stock pot or large sauce pan over medium-low heat, sauté spinach in olive oil until tender. Add cream cheese, bechamel, garlic paste, white wine, and half and half. Mix until well blended (no lumps) and warm. Raise heat to medium, add artichoke hearts and cheeses until melted, then salt and pepper to taste. Stir until bubbly, careful not to scald. Serve right from stove top or put mixture in casserole dish and bake at 325 degrees until bubbly. Pairs best with fresh pita points and tortilla chips.
Bechamel Sauce
4 tablespoons butter
4 tablespoons flour
2 cups milk
¼ teaspoon nutmeg
Salt and pepper to taste
Melt butter in a medium saucepan. Stir in flour with a wooden spoon. Cook for two minutes, stirring. Begin slowly adding milk, continuously stirring and continue to cook until just below the boiling point. The sauce should be thick. Remove the sauce from heat and stir in seasoning until completely combined. Allow to cool before adding to dip recipe.
Served warm and drizzled with olive oil, this decadent dip is perfect on a baguette.
½ cup extra-virgin olive oil
2 large onions, thinly sliced
10 garlic cloves, thinly sliced
1 teaspoon each finely chopped
fresh rosemary and thyme
1/4 teaspoon crushed red pepper
Kosher salt and freshly ground
pepper to taste
Two 15-ounce cans cannellini beans,
drained and rinsed
2 tablespoons chopped fresh parsley
1 cup water, chicken stock, or
vegetable broth
1/4 cup freshly grated pecorino
romano cheese
In a large saucepan, heat the olive oil until shimmering. Add the onions, and season with salt and pepper. Cover and cook over moderately high heat, stirring occasionally, until just softened, about 5 minutes. Uncover and cook over medium low heat, stirring occasionally, until the onions are very soft and lightly caramelized, about 15 minutes longer. Add garlic and cook for another 10 minutes or so. Stir in the beans, herbs, crushed red pepper, and liquid (water, chicken stock, or vegetable broth) and simmer for about 15 minutes. Mash about half the beans against the side of the pot with a wooden spoon or a potato masher. Reseason as needed with salt and pepper. Serve warm sprinkled with grated cheese and freshly ground black pepper. Serve with additional high quality cold pressed olive oil on the side to drizzle as desired. Pairs best with a warm toasty baguette.
Jalapeños and salsa add a hint of spice to this Southern dish, ideal for eating with crispy kettle chips.
1 cup pepperjack cheese, shredded
1 cup cheddar cheese, shredded
5 ½ ounces roasted red pepper, chopped
1 ¼ cup mayonnaise
1/2 pickled jalapeño, chopped
4 ounces cream cheese
¼ cup of medium heat salsa

Blend in food processor until smooth. Pairs best with kettle chips.