4 Fall Cocktails in Charlotte to Get You in the Seasonal Spirit
Celebrate autumn like an adult.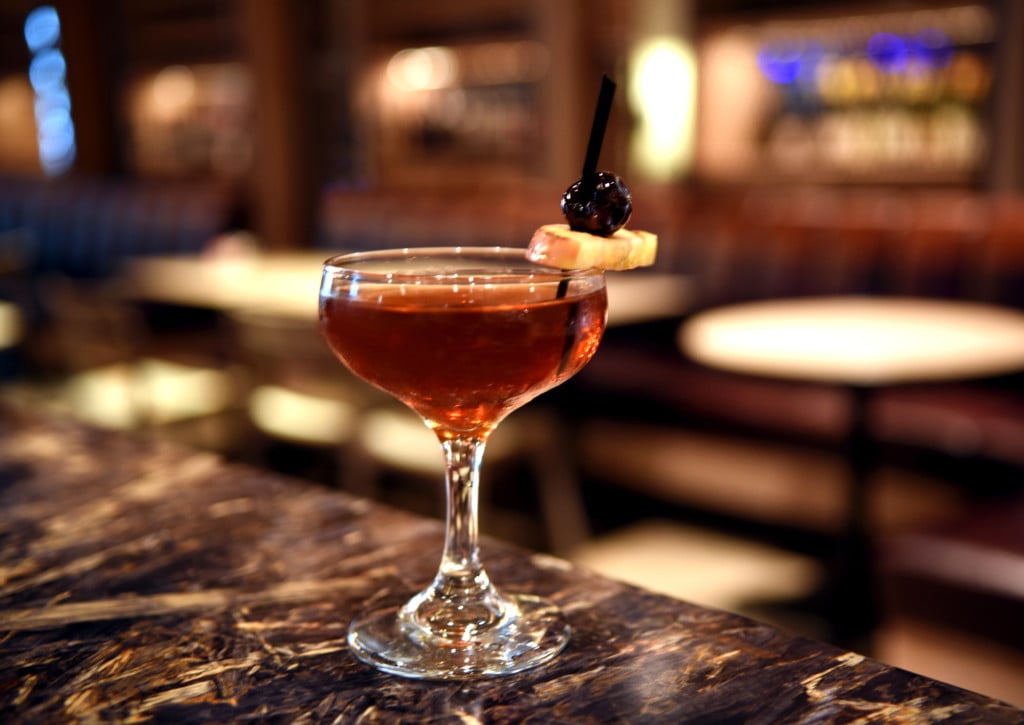 October is one of the prime autumn months that makes seasonal decorators and celebrators giddy with burnt-orange-hued joy. The crisp air, void of most humidity from summertime, is enough to make any Charlottean sigh with relief. Don't even get us started on how wonderful home Panthers games are this time of year. And now, we're about to give you four more reasons to enjoy fall.
One word: Cocktails.
It's time to trade in your frosé (that's frozen rosé for those of you in the back) for something a little more seasonally appropriate—something that bursts with the bold, earthy flavors of fall. Because if a delicious cocktail can't get you in the spirit of the season, what kind of animal are you? Check out these seasonal sips around the Queen City that are either freshly rolled out or coming very soon to a menu near you.

Pumpkin Ice and Everything Nice at Vivace
Why you'll love it: At the brief mention of this cocktail, Pumpkin Spice Latte addicts' ears perk up all over the world. They can smell pumpkin spice from miles away, and this sip is no exception. Made with pumpkin butter, espresso, caramel vodka, and Baileys, this decadent drink pulls out all the stops for the sugar-loving, coffee-drinking set, and it's bound to beat out the PSL because, duh—vodka. Oh, and it's adorned with a cinnamon and sugar rim because #FallYall.

Why you'll love it: Puns are always fun, and this drink's name pays homage to a few things: the pear taste, the restaurant's location, and the fact that the cocktail pairs well with a specific dish. Napa on Providence, located on Perrin Place, offers this pear- and apple-infused tequila drink for a fresh take on Charlotte's warmer fall days. Bartender and Cocktail Specialist Charlie Robinson says, "I was looking for an easy-drinking cocktail that still captured the feel of fall. This cocktail is incredibly refreshing but still has that fall spice, both of which go well with Charlotte's balmy fall weather." Served with Bold Rock Cider and finished with a sweet-and-salty, fall-spiced rim, the Pearrin also goes well with Executive Chef Ashley LaRose's grilled Hickory Nut Gap Pork Chop, which is served over house-made pumpkin gnocchi, duck fat-roasted brussels sprouts, and sautéed apples.

Why you'll love it: Order the Ruby Soho if you're still not ready to give up rosé. Anyone with a special place in their heart for vodka will be happy to hear Stoli is used in this refreshing libation. It's mixed in with Cocchi Rosa, a pretty pink aperitif wine with the fruitiness of sangria and the mouthfeel of a sweet vermouth. The cocktail is made extra special with ROCKSALT's own house-made basil lemonade to round out the flavors.

Stoke Manhattan at Stoke
Why you'll love it: Self-proclaimed Maker's Mark authorities, assemble. Sean Potter, Director of Eat & Drink at Stoke in uptown, is the 41st person to create his own Maker's Mark Private Select—he visited the Maker's Mark Distillery last winter to sample custom barrels of Makers 46 to prepare for his next task of creating Stoke's own unique barrel. In Stoke's barrel, Potter used four oak staves of Makers 46 for a base flavor, then added three roasted French Mocha staves, two seared French Cuvee staves, and one toasted French spice stave. Stoke's private bourbon barrel, with the custom staves added in, was aged an additional nine weeks after spending four years in Maker's Mark barrels without the staves.
The new-for-fall Stoke Manhattan features the private label bourbon, along with sweet vermouth, Angostura bitters, and rhubarb bitters. For an extra layer of flavor, the glass is infused with smoke before the cocktail is poured.