4 Things to Know About Sweet Lew's BBQ
New spot opens this week in the Belmont neighborhood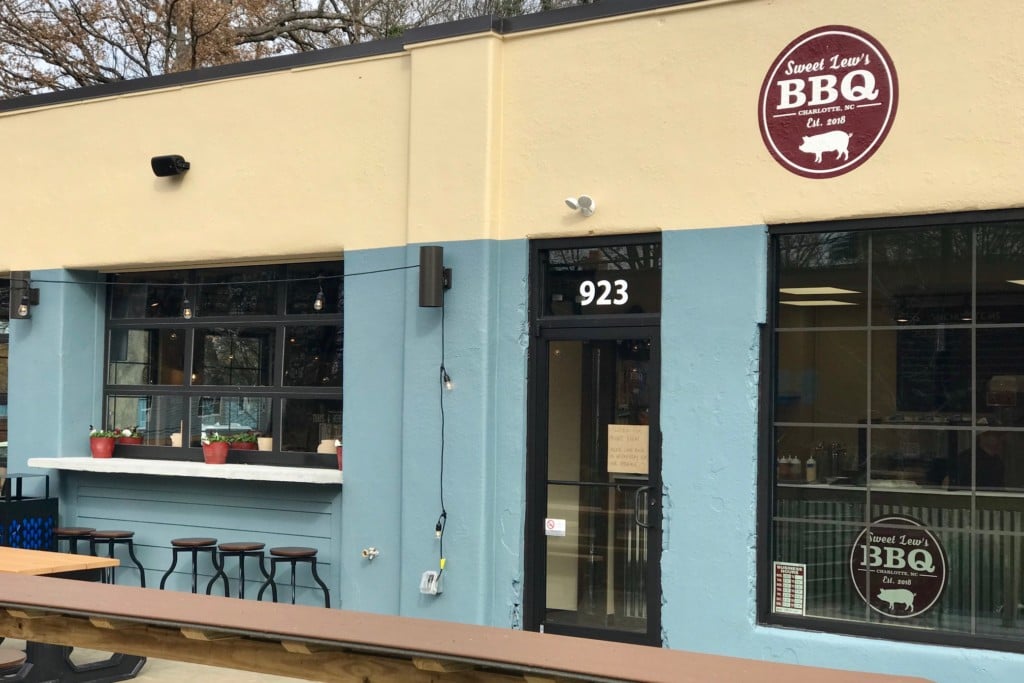 SWEET LEW'S is the authentic North Carolina barbecue joint that Charlotte's been missing. This week the smoke shack opens for business in the Belmont neighborhood, joining the ranks of Siggy's Good Food and Birdsong Brewing. Here are four things to know about the Belmont's newest restaurant tenant.
---
The space has a story. Located at 923 Belmont Avenue, the restaurant is actually an old service station that owners Lewis Donald (formerly of Reid's Fine Foods) and Laura Furman Grice flipped into a smoke shack. Inspired by the character of the building, they used an existing garage door as a portal to the patio, which is filled with picnic tables.
They're serious about smoking. You won't find any gas or electricity here. The 450 square foot smokehouse behind the restaurant houses a smoker that can hold up to 1000 pounds of meat. The smell of hickory, pecan, and peach woods hits you as soon as you enter the parking lot…and it will probably linger on your clothes long after you leave.
The approach is relaxed. Paper towel rolls sit on top of each table, and food comes out in disposable paper food trays with biodegradable utensils. The core menu is simple and straightforward—Lexington-style chopped and pulled pork, dry rubbed spare ribs, smoked chicken, and beef brisket, which you can pair with your choice of house-made sauces that include one vinegar-based, one tomato-based, one South Carolina-style mustard, and one mayonnaise-based. Sides are pretty standard too, with mac & cheese, collared greens, and baked beans in the daily rotation. Dessert is your choice of banana pudding or Oreo dirt pie. They'll also offer weekly specials such as fish fries on Friday and prime rib on Thursdays.
It's the real deal. The smoker is always on, so those meats that you order have been cooking all night. Expect a full rack of spare ribs ("We don't short anybody," Lewis says), smoked chicken that's been brined with a combination of dry rub and pickle juice, Carolina boiled potatoes, and true Southern boiled peanuts. And the barbecue-til-it-runs-out concept? All this means is that Sweet Lew's will stay open until that day's meats are gone. So hurry up and get your barbecue fix—they're officially open for business starting at 10:30 a.m. on December 5.