4 Things to Know About The Book of Mormon at Belk Theater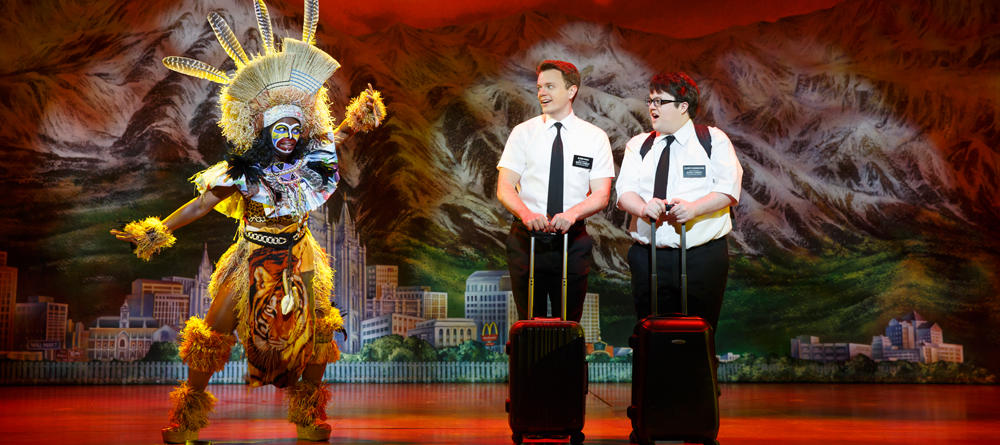 The Book of Mormon, the Broadway-born comedy-musical about two Mormon missionaries paired and sent to Uganda, is back in Charlotte. A touring production in December 2013 sold out its entire two-week run. Upon its return, here are four things to know about this latest tour:
1. THE CREATIVE TEAM
For the unfamiliar: The Book of Mormon is the brainchild of South Park creators Trey Parker and Matt Stone and Avenue Q co-creator Robert Lopez. Parker and Stone have said the story was born out of a lifelong fascination with the Mormon religion. Much of the music feels like a love letter to Broadway and classic film-musicals. Second-act song "I Believe" recalls The Sound of Music-esque "I Believe," while other tunes hint at an admiration for Bye Bye Birdie and even The Lion King (though that one is more parody). Choreography from co-director Casey Nicholaw adds to the classic stage fare. Lavish dance numbers shine against atypical backdrops like a Ugandan village and a dream version of hell.
2. THE CAST
The cast of this tour is the strongest Charlotte's seen yet. This is good news for both newcomers to The Book of Mormon and those considering a repeat visit into the world of Elder Price and Elder Cunningham. Ryan Bondy has the leading man chops for Price, but it's Cody Jamison Strand who shines brightest as Cunningham. Strand strays from emulating Josh Gad, who originated the role, and offers an evolved (and at times, stranger) version of the character he crafted when he had the role on Broadway. His budding semi-romance with female lead Candace Quarrels, as Nabulungi, makes for one of the narrative's best threads. And Quarrels, even when she's singing about irreverent and horrific subject matters, has the kind of voice that makes you wish she had three or four more solo tunes.
3. PARENTAL ADVISORY
Yeah, the language in The Book of Mormon is not for young ears. This was penned by Parker and Stone, after all. But it was originally enough of a concern that Tom Gabbard, president of Blumenthal Performing Arts, sent a letter to subscribers when the show first came to town, warning of "explicit language and irreverence." The group sent materials to let people know what they were about to watch, and offered an exchange for tickets to another show, if necessary. Still, the house has been packed. I overheard this during Wednesday's intermission, from a middle-aged theater-goer: "Boy, I think my son would REALLY like this one. Oh, boy, the language! Funny though."
4. THE SHOW
The Book of Mormon remains one of the funniest and most fun Broadway shows hitting the national circuit. First-timers will be surprised by its boldness and infectious melodies. Repeat viewers will notice a few things they didn't the first time around, like a background gag or a small change to a scene or moment. This is a production that proves irreverence is a worthwhile endeavor in musicals, even the second or third time around.
Get tickets for The Book of Mormon here.