4 Things to Know: Cherry Pie at Union Shop Studio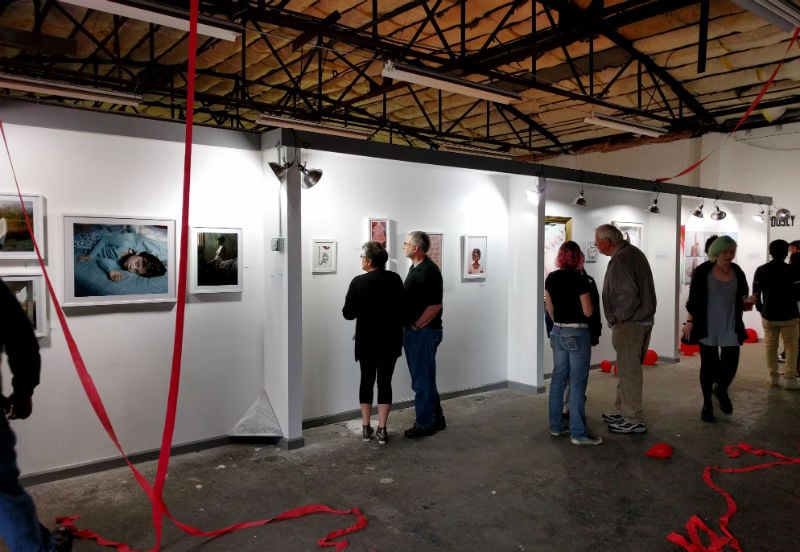 THROUGH MAY 1, Union Shop Studio hosts Cherry Pie, a feminist art show that features more than 30 artists from Charlotte and beyond. We recently spoke to the curators responsible for exhibition, which has its last public viewing on Thursday, 5:30 p.m. to 9 p.m. Below, check out four things you need to know:
1. The Curators. Before now, curator Grace Stott couldn't recall the last time she saw the subject of feminism thoroughly explored through an art exhibition in Charlotte. (She added that during her last semester at California Institute of the Arts, there were three feminist art exhibitions taking place.) In this show's early stages, she asked Melody Rood, a friend she met through a part-time job, to help curate an exhibition that explores feminism and womanhood through multiple angles. Rood brought an academic background in women's and gender studies to creating Cherry Pie. On the show's website, the curators say the goals are to build community, provide some alternative perspectives for viewers, and "to present the Queen City with the messy multifaceted feminism of today."
2. The Artists. There are artists in the show from Brooklyn and even Berlin, but most prominent is the presence of local artists. Stott says she was surprised by the amount of interest from the Charlotte art community. "I had no idea that anyone would care," Stott says. "And now I'm really excited to have powerful and amazing women be a part of this, like Amy Herman and Amy Bagwell. They are artists who are an inspiration to me in what they do here. I was amazed by what they did with [the Skyline Artists in Residence project]." (Read more about that project here.)
The full roster of Cherry Pie artists: Aimi Bouillon, Amanda Medina, Amber Bounds, Amy Bagwell, Amy Herman, Annique Delphine, April Marten, Brenna Quinn, Eden Mitsenmacher, Emily Braswell, Hannah Barnhardt, Helle Grondahl, Jennifer Weigel, Jessica Dolence, Joann Galarza Vega, Kaitlin Spellman, Katelyn Jurney, Katherine Kay, Kiki Farish, Lauren Johnson,Lis Luis, Mac Muskrat, Madeline Lippert, Margaret Strickland, Marissa Paternoster, Molly Wilbanks, Nicole Rhodes, Nicole Schoepflin, Philip Fore, Rebecca Henderson, Renee Cloud, Sarah Sickles, Sarah Slusarick, and Skye Schirmer.
3. The Theme. Though the exact origin of the name is fuzzy for Cherry Pie's organizers, Stott says she loves the array of connotations that can come with those two words. When the call was sent for a new feminist art show, the exhibit garnered dozens of applications. The final product has paintings, photography, multimedia, sculptures, installations, and more. One artist explores the women in her own family's history; others challenge the gender norms of 2016. The work of artists like Skye Schirmer is adorned with writing, with phrases like, "If you are consistently having dreams about getting stabbed in the womb, it might be time to accept that you are stressed, pregnant, or both," or, "Someone who doesn't love me went to a New Year's party and all I got was this UTI."
"I was most attracted to the pieces that took an unexpected approach to feminism," Stott says. "I hope all of these works would be unexpected. I hope it would challenge any assumptions of what a feminist art show would look like. I want the show to be like cherry pie."
4. The Venue. Union Shop kicked off its artist space in 2014, with 7,500 square feet for studios and 1,500 square feet for events. Stott inhabits one of the venue's studios (though she didn't include her own work with this show), so the space was a natural backdrop for Cherry Pie. The broader venue of Charlotte was also the right fit for this show, Stott says, as opposed to doing it in a place where these themes are often explored. "I think it's actually more important for this to happen in a Southern city," Stott says. "This kind of show isn't new in cities like New York or Los Angeles. It's vital to bring these kinds of ideas to a crowd it may challenge in some way."