4 Things to Know: DaDa Soiree at C3 Lab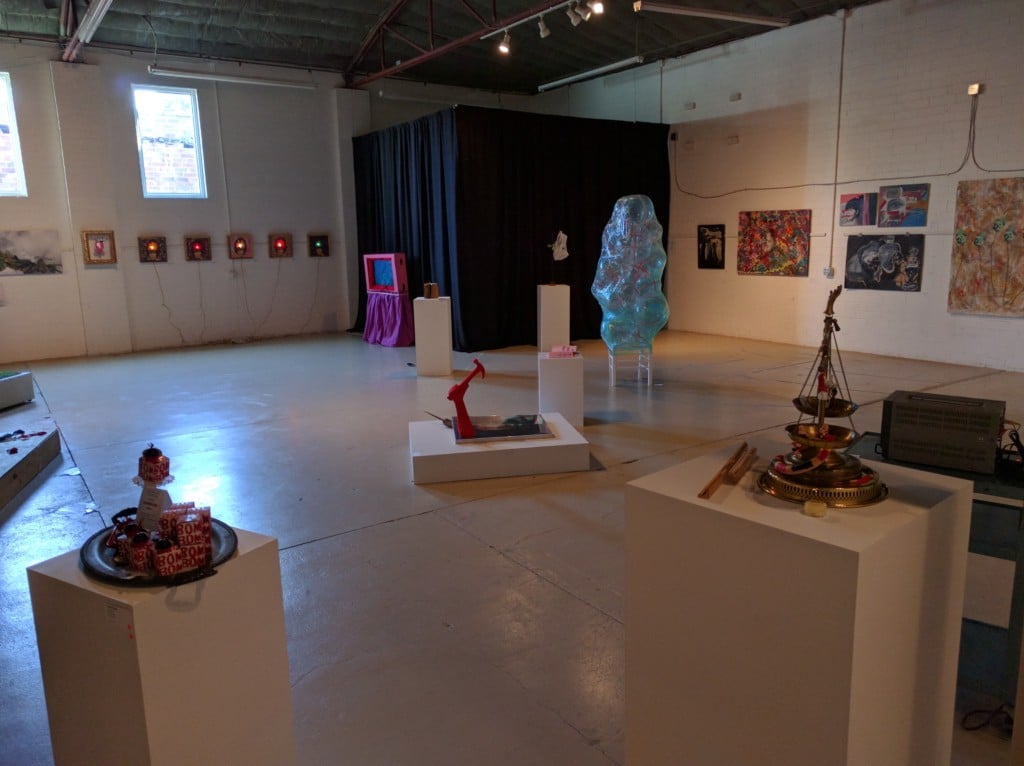 OCCUPYING A MASSIVE WING of C3 Lab in South End, DaDa Soiree: An Absurd Art Show runs through Sept. 16 at the creative-focused co-working space. The exhibition's official description says "this show is a platform for inclusion, questioning and celebration." Below, find four things to know about DaDa Soiree, from its early-20th century roots to its varied participants.
1. So what is Dada?
DaDa was both an artistic and literary movement that occurred on an international scale. Born out of tensions with the rise of nationalism and World War I, these artists created the movement to talk about the nature of art and to mock rampant materialism. Simply, it's art in conversation with itself. Participants during the era it inhabited included Hans Arp, Hannah Hoch, Francis Picabia, and Marcel Duchamp.
2. How was this C3 Lab show born?
DaDa Soiree is a partnership between C3 Lab, April Marten, and Amanda Medina, though it was born from a debate that took place during a Charlotte Arts Chat meeting about the nature of producing art. That monthly meet-up is held at C3 and is led by Marten.
C3 has hosted several arts events and exhibitions since opening last year. Co-founder Glen Nocik says the space was always envisioned as a home for an exhibition like Dada Soiree. "We are an art-based co-working space for creatives and artists," Nocik says. "We're passionate about artists. We felt that Charlotte needed a place for stuff like this. We're about community here."
3. Who participated in the show?
The work in this show spans mediums and continents. More than 80 submissions, representing painting, collage, mixed-media, film, sculpture, performance art, sonic art, and more, adorn C3's walls, floors, and a makeshift projection room, were accepted. An aggressive, guerilla-style campaign, with call-outs posted in spots across the city, garnered a majority of the responses. Organizers believe that artists gravitate toward tangible outreach, as opposed to relying solely on social media. "We're all craving the making of art," Marten says. "We didn't want to rely on the digital [to promote the show]. We wanted to give a nod to the Dadas, who didn't have that outlet."
And though most of the work was produced by artists who are now Charlotteans, this show took a different approach to nameplates for the pieces.
"We asked each artist, instead of putting Charlotte on your label, if they'd like to put their city of origin," Marten says. "Then we can create a conversation about where Charlotte comes from. It's such a big transplant city."
4. How can you see it?
C3 Lab has gallery hours during the day for this show. Check out the work during the timeslots of Monday through Friday, 11 a.m.-6:30 p.m. You can also make an appointment with Marten.