4 Things to Know: Fun Home at Knight Theater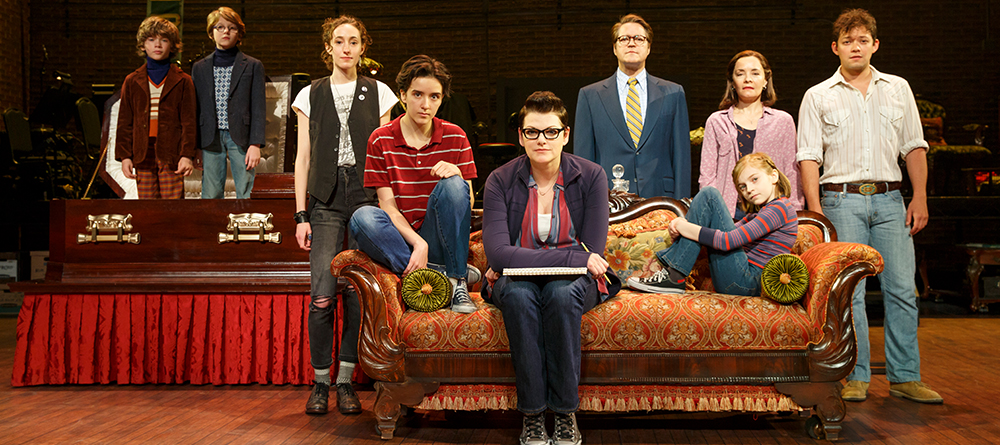 FUN HOME is here in Charlotte, but not for long. If you're considering checking out the show this weekend at Knight Theater, here are four things to know about the award-winning musical.
1. Our Hero.
Alison Bechdel's memoir follows her journey discovering her sexuality while exploring her complicated family life through the years. The real-life Bechdel originally wrote this memoir as a graphic novel, with Lisa Kron and Jeanine Tesori adapting the tale to this musical. The stage show integrates her occupation as a cartoonist in clever ways, yet the focus is on her relationship with her gay father, a blossoming college romance, and a survey of memories.
Fun Home is considered to be the first Broadway musical with a lesbian protagonist. We meet three version of Alison in the story: a 10-year-old "Small Allison," a college-aged "Medium Alison," and the current day adult that guides the journey.
Bonus fact: The real Alison is responsible for the so-called "Bechdel Test." In one of her 1985 comic strips, a character says she only sees films that satisfies this test: (1)It has to have at least two women in it, who (2) who talk to each other, about (3) something besides a man.
Fun Home does pass, by the way.
2. The Local Tie.
Northwest School of the Arts graduate Abby Corrigan, 19, returns home and portrays Medium Allison on this national tour. Corrigan gets some of the musical's most entertaining moments, as she finds belts out "Changing My Major" as an ode to fellow college student Joan and awkwardly works her way through realizing she's a lesbian. Corrigan's portrayal is both magnetic and earnest, capturing the aimlessness of Allison at 18.
While Corrigan was at NWSA, she acted alongside Eva Noblezada, a peer also known for making the leap from Charlotte to the world's biggest stages.
3. The Accolades.
The musical Fun Home was nominated for a dozen Tony Awards in 2015. It nabbed five, with "Best Musical" among them. It also won two Theatre World Awards, two Obie Awards, eight Drama Desk Awards, and its album was nominated for a Grammy. (It was also in the running for a 2014 Pulitzer Prize for Drama.)
Fun Home, the graphic novel, was won an Eisner Award, the most revered award in the comic book format. Bechdel herself was a 2014 recipient of the MacArthur "Genius" Award. Not bad.
4. The Details.
Fun Home runs through July 2 at the Knight Theater, with tickets running $29.50-$109.50. Times are Friday at 8 p.m., Saturday at 2 p.m. and 8 p.m., and Sunday at 1:30 p.m. and 7 p.m. Run time is around 1 hour and 40 minutes, with no intermission.