4 Things to Know: Newsies at Belk Theater (Aug. 9-14)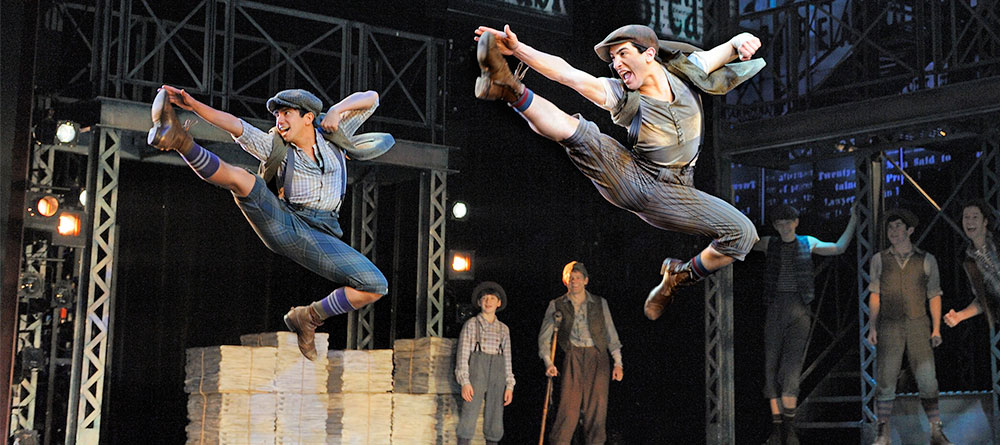 AFTER DEBUTING on Broadway in 2012, the Disney musical Newsies garnered a dedicated following, much like the 1992 cult film from which the show is derived. On opening night this week, several show-goers were decked out in the garbs of its titular newsboys, satchel and cap and all. So what's the big deal? Below, find four things to know about this show:
1. This is a show about history.
Newsies is based on the real-life 1899 Newsboys Strike in New York City. It was a two-week battle over wages for youth who hawked the papers of William Randolph Hearst and Joseph Pulitzer. The latter is an integral character in this story, and he's not the only historical figure who appears. But saying any more would ruin the surprise.
2. The songs are big and bold, but so are the spectacles.
If you've been an avid watcher of the Olympics this week, I'd advise you to see this show for some live, high-flying acrobatics from the cast of the Newsies. It doesn't seem possible to find so many young actors who can both sing, act, and dance like this, but this crew delivers. (It's also perplexing how we all buy that a bunch of rowdy, tough, morbidly oppressed teens express themselves via song and dance, but that's the magic of the theater.) The show nabbed Tony Awards for "Best Original Score" and "Best Choreography" in 2012.
Also, be sure to notice the production's use of video projected on large screens. The production uses this device to show what characters are writing or drawing, among other actions.
3. Speaking of the score, how are these songs so catchy?
Well, that would be the handiwork of composer Alan Menken and lyricist Jack Feldman. You already know Menken, even if you don't recognize his name. He's responsible for music in Disney films like The Little Mermaid, Beauty And The Beast, Aladdin, Pocahontas, Hercules, Enchanted, The Hunchback Of Notre Dame, and several others. Feldman's worked on films like Home Alone 2: Lost in New York, A Goofy Movie, and several Disney projects.
4. Time? Place? Duration? We're getting a sitter for this, man.
OK. Here are the details:
The show runs around 2 hours, 30 minutes, with an intermission. The venue is the Belk Theater, Charlotte's grandest stage and part of the Blumenthal Performing Arts Center in uptown. The show runs through the weekend, with showtimes Thursday, 7:30 p.m., Friday, 8 p.m., Saturday, 2 p.m. and 8 p.m., and Sunday, 1:30 p.m. and 7 p.m. Ticket info varies, and can be found here.