4 Things to Know: School of Rock at Ovens Auditorium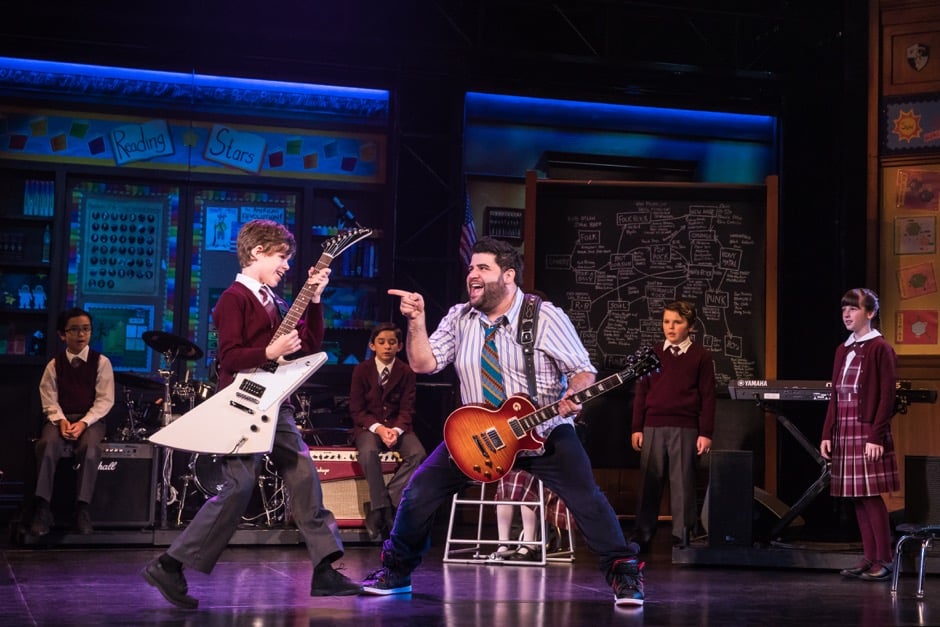 School of Rock is the latest major musical to make its way to a Charlotte stage, after success on Broadway and London's West End. Like all film adaptations, the production inspires questions: Is it like the movie? And just who is playing that music? Find out about the production, playing at Ovens Auditorium, below.
1. Yes, the kids are really playing those instruments. This fact about the show is so remarkable that an announcement is made before each performance that confirms it. Those ripping solos from guitarist Zack (Phoenix Schuman), drummer Freddy (Gilberto Moretti-Hamilton), bassist Katie (Theodora Silverman), and keyboardist Lawrence (Theo Mitchell-Penner) are played live by the kids in the band. Otherwise, the pit orchestra has its own rockers in tow that keep the energy up between performances from the band.
2. The show's creative team may surprise you. Broadway legend Andrew Lloyd Webber composed the music for the show. Julian Fellowes, illustrious and writer creator of Downton Abbey, wrote the book for the show. Glenn Slater, co-creator of Disney's Tangled as well as the Tony-winning musical versions of Sister Act and The Little Mermaid, serves as the production's lyricist.
3. That said, the musical is quite faithful to the Richard Linklater film. Rob Colletti is our Dewey Finn in this version, and his take on the Jack Black character is both faithful and even louder, which is likely the smart choice for theater-goers who loved the movie. You can expect a few of the most memorable tunes from the film here, as well, though the big-name creative team was able to cook up a few new, noteworthy songs to push the narrative along.
4. And here are the details. The show runs through Jan. 14 at Ovens Auditorium (Tue-Fri, 8 p.m., Sat, 2 p.m. and 8 p.m., and Sun, 1:30 p.m. and 7 p.m.) The show has a running time of 2.5 hours. It's recommended for ages 8 and up. Tickets here.