4 Things to Know: THE TAMING at Charlotte Art League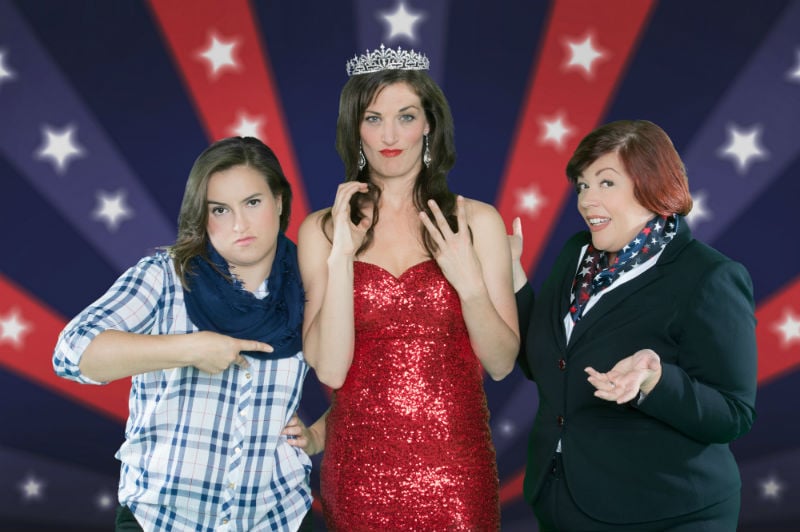 IT WAS ONLY last year when Donna Scott Productions first staged pop-up theater at Charlotte Art League, a South End space intended for visual art studios and exhibitions. In this piece from 2015, Scott recounts those first few shows in the nontraditional space. "I'd like to think think we're building a model," she said then. "I think sharing space is the way to go in the future. Because as Charlotte continues to grow and change, space is going to becoming only harder to find and afford."
We recently caught up with DSP, which just began an official residency in the space. The theater company tackles the comedy The Taming next. Below, find four facts about the production and this ongoing arts partnership.
1. This one's political, but don't expect it to be one-sided. Loosely based on Shakespeare's The Taming of the Shrew, the comedic story centers on a Miss America contestant with political ambitions. With a liberal blogger and conservative senator's aide in the mix, the narrative explores partisanship. Director and producer Tonya Bludsworth says the timing is right. "It seems like a particularly partisan election," Bludsworth says. "It seems very divided, even amongst the parties this year. This is a play that doesn't take sides, but it is a play that calls out extremists on both sides and how absurd it is when we push things to the extreme. And the play also calls out Southern stereotypes, which takes it further."
2. The cast calls for three female actors and explores gender norms. Producers Donna Scott and Glynnis O'Donoghue also perform in the story. Katherine Drew portrays the pageant contestant who drives the plot. Drew, a Charlotte-based actor with national film and commercial credits, was one of 15 who auditioned for the role. Bludsworth recalls reading the story ahead of the casting call: "When we sat down and read this one, this is it. It spoke to us. We all love comedies. And it definitely hits on the gender stereotypes that come with politics and everyday life. Even the lead character says, 'Don't make assumptions about me because I am a woman, particularly an attractive woman.' "
3. The partnership between DSP and CAL is mutually beneficial. For DSP, it's a dedicated space. And on the other side: "[Charlotte Arts League is] mostly dark at night," says Donna Scott, producer and The Taming cast member. "They're even closed when we rehearse. So shows are bringing people in to see their stuff when they would usually be closed. Last year, 97 pieces of art were purchased just during our shows."
4. The show also brings a new voice to Charlotte. Lauren Gunderson, an Atlanta-born playwright, is an often-performed, prolific voice in American theater. "But she's never been produced in Charlotte, for some reason," Bludsworth says. "She commonly writes about women in history and science. This particular play was written in 2013, so it's current. This is part of a trilogy that's usually based on Shakespeare. And she's Southern, so that brings an interesting element to the political part of it."
Glynnis O'Donoghue, a co-producer and performer in the play, noticed how that sensibility shined when they did an early read-through. "The thing I noticed is that when people laughed at a reading, it felt like this pressure-release valve," she says. "Because things have gotten so intense that people need to let it go and say, 'Oh, this is ridiculous.' People need that, I think, right now."
The Taming runs March 31-April 16 at Charlotte Art League. Go here for more details.