4 Ways to Say #ThankYouCLTArts This Week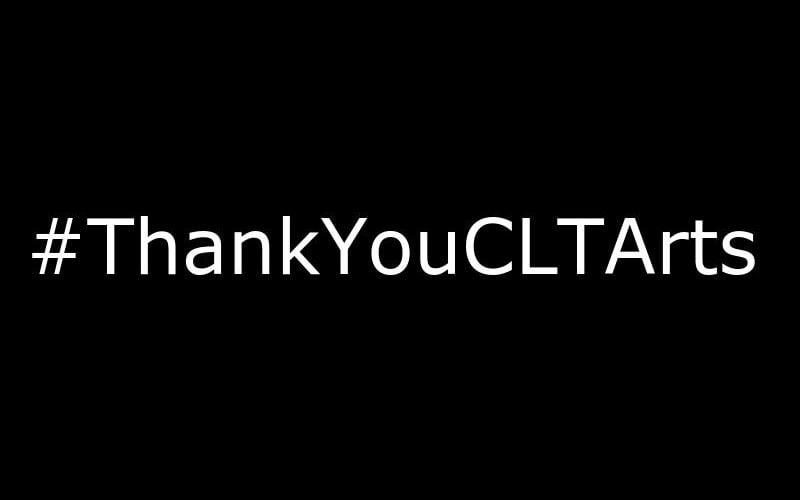 THIS WEEK, you'll hear the word "thanks" more than in any other seven-day span in 2015. The season brings it out of all of us. We'll hug our families a bit tighter and maybe put a scarf around the dog's neck for a few days. Hopefully, some of us will bring those feelings and acts of generosity out into the community.
It's also possible, in a few ways, to show gratitude toward Charlotte's arts community—an engine of vibrancy and culture in our city. Here, we take a look at how to do that. So if you Instagram or Tweet while engaging in any of these activities this week, throw in the hashtag #ThankYouCLTArts. And hey, thank you for reading. (See? It's easy.)
1. Go see a local show. This one is the biggest no-brainer of the bunch. Local artists are the ones who give our neighborhoods character. Our musicians keep the scene alive in a way that can't be sustained by touring shows. And in a broader sense, regional artists are responsible for shaping the character of a city.
Suggestions for music: CFS Folk Jubilee at Evening Muse (Wed., Nov 25); Patois Counselors at Snug Harbor (Wed., Nov 25)
For fine art: A Few of Our Favorite Things at Sozo Gallery; Descent of Man at Wedgewood Church; Anne Lemanski's Simulacra at McColl Center
2. Go see a national show. This may seem to run counter to the noble first suggestion. But in any arts ecosystem, you need both national and homegrown shows to populate your venues. And in a burgeoning fine art landscape, you need galleries that show work from artists outside of the city. Thankfully, there's plenty of both, despite being a holiday week.
Suggestions for music: The Wonder Years/Motion City Soundtrack at Amos' Southend (Mon., Nov. 23); Circa Survive at The Fillmore (Wed., Nov 25)
For theater: The Sound of Music at Belk Theater (Nov. 24-29)
For fine art: Spanish artist Xavier Guardans, Traveling Lights at SOCO Gallery; Brian Rutenberg, Camellia at Jerald Melberg Gallery
3. Donate to a nonprofit organization. You've seen that hashtag #GivingTuesdayCLT this month, I'm sure. There's never a bad time to give to nonprofit arts organizations, but with this cause, you can take part a city-wide effort to give to these participating groups (with arts-specific ones included below). The global day of giving is Dec. 1, but you don't have to wait until then. More info here.
For theater: On Q Performing Arts, Three Bone Theatre Inc., Actor's Theatre of Charlotte, Charlotte Ballet, Matthews Playhouse of the Performing Arts
For museums: Discovery Place, Levine Museum of the New South
For education: Behailu Academy, Community School of the Arts, Hip Hop University
For general awareness and support: Arts & Science Council
4. Buy art, in any form.