5 Bookshelf Styling Tips & Tricks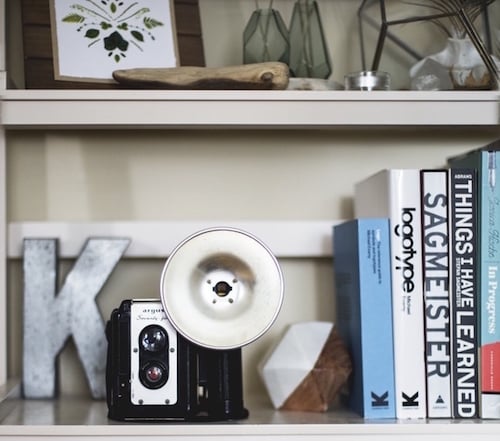 At first thought, styling a bookshelf seems easy. It's for books, right? Well, yes. But a bookcase looks much better when balanced with various other accessories besides just books. A new shelf or storage piece can be tempting for low-key hoarders to display all their books and knick-knacks, but remember that it takes some finesse (and restraint) to create a well-styled bookcase that's not too cluttered. Below are some of our favorite tips for styling a bookshelf to make it just as fashionable as it is functional.
Bookshelf Styling Tip 1: Stack books instead of standing them
Common sense tells you to stand up your books vertically, the normal way. But that's not the only way to showcase your favorite titles! If you stack books horizontally, you can create more dimension and interest. It's not uncommon to place a figurine or plant on top to bring the look together. Think of this as a new trick for displaying your favorite titles and trinkets.
Bookshelf Styling Tip 2: Showcase a cover
If there's one book you're especially proud to own, or it just has a gorgeous cover, don't sandwich it between the others. Instead, use it as a focal point and display it in the center of a shelf on a plate stand, with the cover facing straight out. The beautiful cover artwork will pop like it's hung on a gallery wall.
Bookshelf Styling Tip 3: Color-coordinate
A newer trend in the bookshelf styling scene is color-coding your books. Especially utilized by Type A people who love organization, color-coordinated books can be arranged in a few different ways. You can use the opportunity to play up a color scheme in the room. You can only display black or white books for a modern, monochromatic vibe. You can go by the rainbow's rules and arrange them in their usual spots according to the color wheel for a fun, bright display. Lastly, you can group all books of the same color into "blocks" on the shelves, not necessarily in rainbow order. There are a lot of possibilities for color-coordinating books, but no matter which approach you choose, you'll get a sleek result that feels less cluttered.
Bookshelf Styling Tip 4: Use collections wisely
Do you have a knack for holding onto every little bird figurine you come across? Love beachy accessories? Give your collections a place to show off on the bookshelf by sprinkling in the items in empty spaces and on top of stacked books. You'll avoid the bookcase looking cluttered because all the items are related to one another and go with a theme.
Bookshelf Styling Tip 5: Layer up
A good bookshelf stylist understands that these storage pieces come with plenty of dimensions to play with. Don't forget to take advantage of this! You can create some really gorgeous vignettes with your items. Keep in mind the heights, textures, and styles of items displayed on your bookshelf to create a balanced look. You can place some items in the forefront of the shelf, some in the background, and some on top of others. Some shelves don't even need books if you have horizontal accent accessories to add in, like driftwood or an antique jewelry box. Keeping a couple shelves book-free or lighter on books will make your bookshelf a lot more Insta-worthy—over-styling can be the death of pretty bookcases!
Styling a bookshelf isn't hard when you keep these tips in mind. Whatever you do, though, don't fall into the backwards-book styling trend—that trend can leave any day now.