5 Bug-Repellent Plants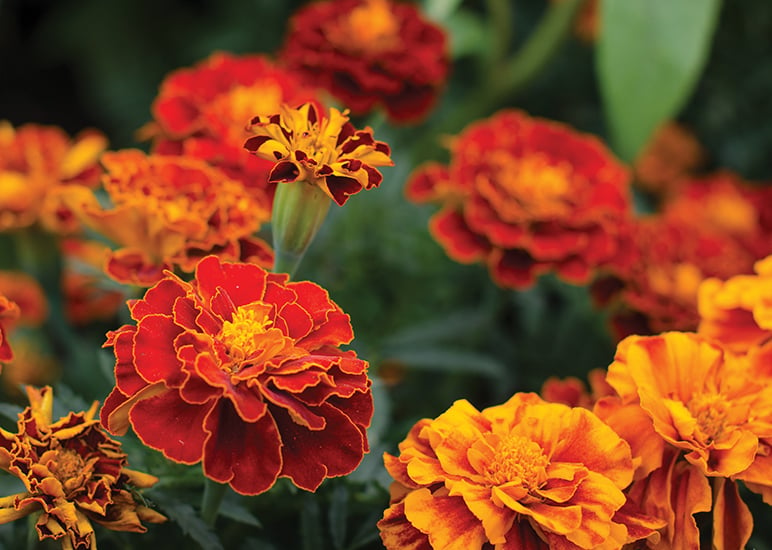 WORKING IN THE GARDEN can become a battle when pests and unwanted insects invade your treasured plots. Instead of heading for the nearest pesticide, try using plants as natural insect repellent. In addition to fending off buggy visitors, these plants pull their weight in the garden, adding aesthetic appeal and a boost to overall soil health.
Marigold
These golden beauties are notoriously odorous and offensive to a host of bugs. They put a substance into the soil that sufficiently minimizes nematodes, especially in flower beds. Planted around beans, they keep the Mexican bean beetles away. Interplant them with strawberries for an effective ally, and pair them with potatoes and tomatoes to shoo the whiteflies. Be aware: The odorless varieties will not perform the same duties.
---
Garlic
Credited with warding off vampires, garlic is the most widely used living repellent. It can be used as a spray or planted—without taking up valuable garden space. Scattered among vegetables, garlic will deter potato bugs, bean beetles, and stem borers. In grape arbors and fruit tree patches, it protects against aphids and mites without tampering with the flavor of its neighbors. Go for a decorative ring of Oriental garlic chives around rose bushes to enjoy the absence of pests and pretty clusters of white, starlike blossoms. Slightly less potent family members include leeks, chives, and shallots.
---
Pyrethrum
This perennial flower resembles a daisy and is lauded for its repellent qualities. It's even used as a commercial pesticide. The book Pyrethrum: The Natural Insecticide, tells a story of a woman in Dalmatia who threw a pile of pyrethrum in a corner after picking the flowers. Weeks later, the pile was surrounded by dead insects. Grow the plant in your garden, or sprinkle a dried pyrethrum powder over it. Feverfew performs similar duties.
---
Mint
Multiple members of the mint family are fierce protectors of brassicas, especially against aphids. Try planting spearmint, peppermint, or the ground-covering creeping Jenny. The creeping Jenny produces attractive purple flowers and its aroma deters insects. Know that mint spreads easily, re-establishing itself wherever it touches ground. If you don't want to assume mint patrol, try planting some in pots and place in the garden.
---
Tansy
Also known as bitter or yellow buttons, these tall herbs (growing up to five feet high) with clusters of orange-yellow flowers have a powerful scent. Use them in grape arbors and berry patches or plant a few to stand sentinel in the vegetable garden, or as a back border in a perennial garden.