5 Charlotte Rolls to try on National Sushi Day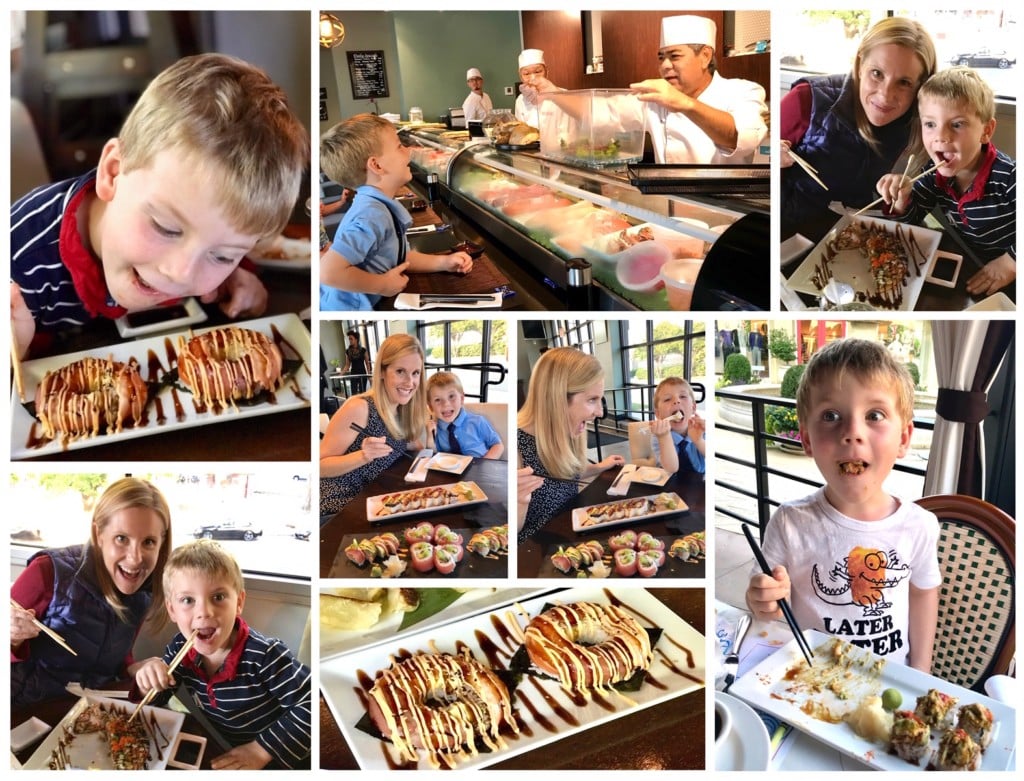 NOT TO BE confused with International Sushi Day on June 18, National Sushi Day is yet another fine occasion to feast on some of your favorite rolls. As if we needed a reason.
My 5-year-old has never met a sushi roll he didn't like. He mastered chopsticks at age two, and he requests sushi for dinner at least once a week. His favorite is a firecracker roll—the spicier, the better. And before you write this off as a humble brag, rest assured my 3-year-old eats about five things, and only recently opened her palette to grilled cheese. Spencer, however, delights in trying new foods. As an added bonus, he doesn't drink, so he's a much cheaper date than my husband.
In honor of National Sushi Day, we're sharing our roundup of the top sushi rolls in Charlotte.
YUME Bistro
1508 Mint St., Suite A, 980-858-5678
The flower-shaped Sakura sushi roll is the most instagrammable dish on Yume's menu, but we both agreed the Sora box sushi packs the most flavor. The Hi roll was another favorite, with baked scallop, avocado, crab, cucumber, and tobiko. We also recommend the avocado bomb, a crispy wonton bowl filled with deep fried avocado stuffed with spicy tuna and crabmeat. Fingers crossed this special becomes a regular on the menu.
Sushi Guru
1217 The Plaza, 980-256-4220
The SouthPark roll at the original Sushi Guru is an all time favorite, so we had to check out the menu at the new Plaza Midwood location. We'll definitely be back for the Fiery Central Avenue Roll, an eel and avocado roll topped with ahi tuna and drizzled with warm Kabayaki sauce. Some other fun items to try are the donut sushi, which you can customize with your preferred "filling," and the sashimi pizza, a toasted pita topped with edamame hummus, fresh slices of salmon or tuna, fish roe, sweet peppers, onions, scallions, and drizzled with wasabi aioli and eel sauce.
CO
4201 Park Road, Unit D, 980-237-4655
Eating sushi can be an expensive hobby, so we love going to CO for half price sushi on Thursday nights. The super crunch, the caterpillar, the spider, and the rainbow rolls are all solid. This sushi menu isn't the most imaginative, but it's consistently good when you're craving some old standbys.
Bricktop's
6401 Morrison Blvd., Ste. 1B, 704-364-6255
You can always count on a good steak or salad at Bricktop's, but we were pleasantly surprised to discover their sushi menu is excellent too. While it's not an extensive list, they definitely get the basics right. The firecracker roll is our go-to, and the dynamite and spicy tuna rolls are everything you would expect at a typical sushi bar.
O-Ku
2000 South Blvd., Ste. 510, 704-594-1922
This is a spot we save for special occasions because it's the most expensive sushi on our list. At $25, O-ku's hot & heavy roll is worth the splurge, though. The combination of tuna, lobster, avocado, spicy aioli, and sriracha is perfection, and it's filling enough for one person if you order it as your entree. The potato roll is another inventive pick, with tempura shrimp and avocado that comes wrapped in fried shoe-string potatoes.