5 Commercials That Are So Charlotte
Remember when your television required "rabbit ears" and weatherman Larry Sprinkle advertised a toilet bowl cleaner? Here's what you may have missed, or what you'll never forget, from the days when local ads were a part of the city's entertainment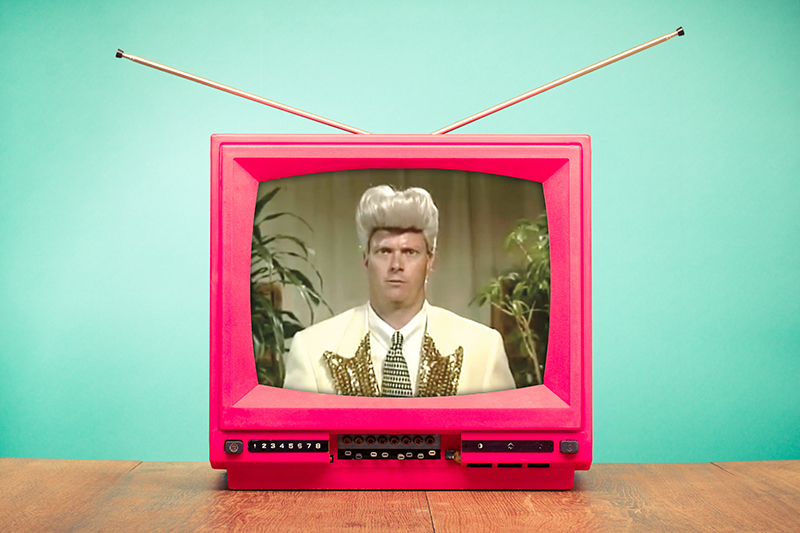 Apple Auto Sales
"I'M GONNA HEAL YOUR CREDIT!"
Why people love it: Nothing about this series of ads is politically correct. One episode, from 1997, starts with a man wearing an Elvis-style pompadour wig and a gold-spangled jacket, swinging a large stick that looks like a baseball bat. "Reverend Rob" resembles some of the televangelists Charlotteans know all too well, and his mission is to "stick it to the man" by selling used cars to people with credit problems. In another episode, the reverend—played by Apple owner Rob Christensen—slaps a man dressed as an old woman on the forehead before promising to "heal" her credit.
---
Furniture Factory Outlet World
"YOU. WILL. PAY. TOO. MUCH. WAXHAAAAW!"
Why people love it: The main character is a gray-haired gentleman squeezed into a Superman suit, explaining that if you buy furniture anywhere but in his store, "You. Will. Pay. Too. Much." And yes, the store is in Waxhaw.
---
Paramount Ford
"I-40, EXIT 113, VALDESE."
Why people love it: Where is Valdese, North Carolina? You have no reason to know about this little town between Hickory and Morganton, except that you probably do know, because of this commercial. There's a man, sitting on top of a cow, wearing a cowboy hat, surrounded by what appears to be his employees at the Ford dealership. When he reaches the word "Valdese," they all raise their arms in the air. If this were a European soccer match, they would be shouting, "Goal!"
---
Morris-Jenkins
"YOU'LL HAVE COOL AIR AT YOUR HOUSE TONIGHT."
Why people love it: Today, ads for this heating and air-conditioning company often feature Mr. Jenkins and Bobby having creepy, late-night conversations in a van. Those are fun, but the jingle from the older ads is unforgettable. Seriously, you can't forget it. "Late last night, I woke up sweating in my bed …" it begins. Now try to stop singing it. Just try.
---
Ty-D-Bol
"WITH TY-D-BOL, YOU'LL SCRUB LESS."
Why people love it: NBC Charlotte weatherman Larry Sprinkle has worked for the local television station for more than 30 years. But before that, he played The Ty-D-Bol Man in national ads for the toilet bowl cleaner. In this spot from 1982, a miniature Larry wears a Love Boat-style sailor's outfi t and talks about the product while standing on a toy boat that's floating in the tank of the toilet. That's our weatherman.
---
This article appears in the February 2016 issue of Charlotte Magazine
Did you like what you read here? Subscribe to Charlotte Magazine »
---