5 Facts About the Charlotte Contemporary Art Showcase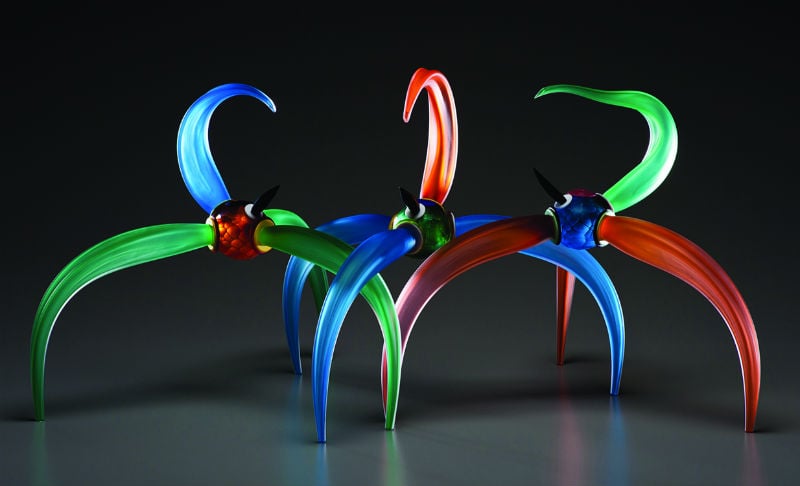 CHARLOTTE CONTEMPORARY is a new art, fashion, and design show that occupies the Park Expo Center for the entirety of the weekend (Oct. 16-18). As the show nears, we take a look at everything you need to know about it in five facts. We begin with what's offered.
1. Expect to see a lot of art—and variety of mediums represented. The show advertises as having "sculptural and functional art in glass, porcelain, wood, metal and mixed media," and furniture. And there are items to add to your wardrobe, too, rounding out the fashion aspect of the show. Bill Underwood, a co-producer and publicist, says it's designed to never get stale. "When you go from booth to booth at the show, you won't see the same thing twice," Underwood says. "There's something different with each artist."
2. This isn't a local showcase. More than 100 artists from more than 30 U.S. states are represented. Professionals like Cliff Lee, Randall Darwall, and Jennifer McCurdy have had works shown at the Smithsonian Art Museum and Metropolitan Museum of Art. Artists from North Carolina (and South Carolina) have a huge presence in the show, but in curating the showcase, it wasn't about playing regional favorites. "The overriding factor was the quality of their work," Underwood says. "The fact they are so talented is more about why they're here; North and South Carolina just happen to have some really, really wonderful artists."
3. The producers have done shows around the U.S., but they're making a local investment with Charlotte Contemporary. Some proceeds are going toward Mint Museum's NextGen Mint, a group that focuses on harnessing the talent and input of Charlotte teenagers to the museum. Nonprofit Behailu Academy, focusing on helping youth in art, academics, and community service, also receives funds from the show. And don't forget the The ArtStart MFA Scholarship, which is benefited from the show and helps pay an aspiring artist's tuition for art school."We've always believed you should give back to the community with each show," Underwood says. "All this was was just a natural fit for us. We want to look toward the future and bring in students to experience this." (The show is $7 for students with an ID.)
4. This isn't the first time a show like this has been attempted in Charlotte. The prestigious American Craft Council canceled its ongoing Charlotte show in 2009, leaving only a handful of ACC showcases alive in the national network of events. So why try again, only a few years later? "I wondered about that," Underwood says. "Months ago, I called the Charlotte Chamber of Commerce and talked to [former direct of research] Paul Hendershot. I asked, 'What can you tell me about Charlotte? How is the city different than it was in 2008' He started rattling off statistics and talked about how during the crash, the arts was one of the only industries that actually grew. There have been five new museums pop up in recent years. Hundreds of thousands of new people have come. Now, the market is right; the economy is right. The arts community is so vibrant here. And we just want to be part of it."
5. Here are the details for attending the show:
Price: $20 for adults, $7 for students with ID, and free for those 12 and under with a paid adult accompanying. Get tickets at the showcase's official website.
Hours: Fri, 10 a.m.-7 p.m., Sat, 10 a.m.-7 p.m., and Sun, 12 p.m.-5 p.m.
Address: 800 Briar Creek Rd.