5 Highlights of Amelie's Autumn Menu You Must Try
We did the dirty work and tasted a bunch of pastries (and maybe a salad) for you.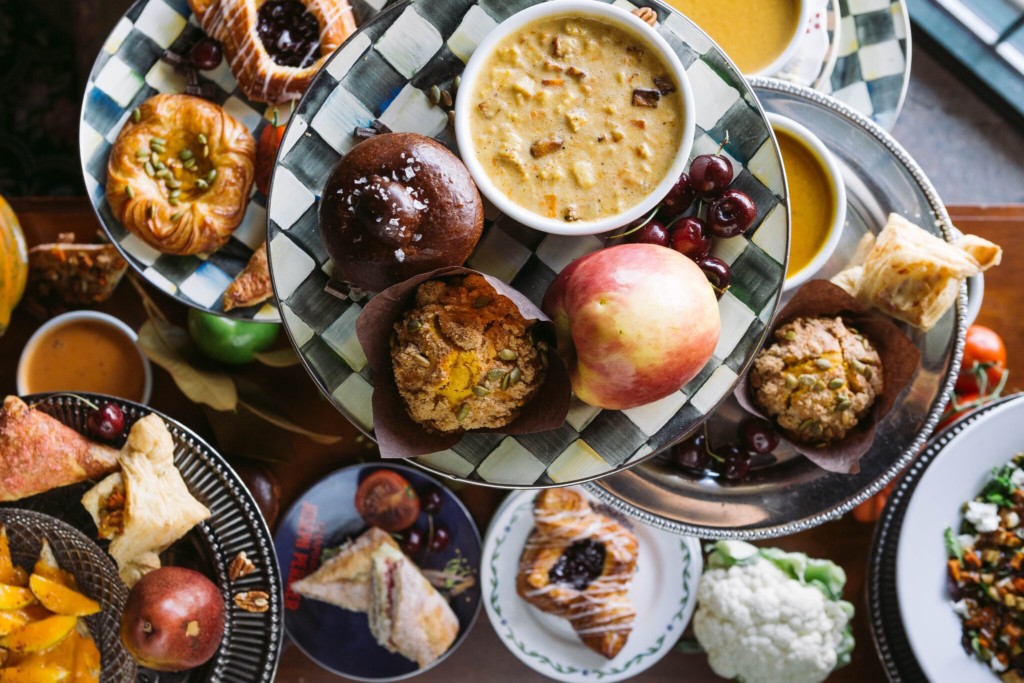 Ahh, Amélie's. The French-inspired respite many NoDa (and uptown and other) residents are proud to call a neighbor. With its charming, Parisian-chic decor and waistline-popping pastries, truly, what's not to love? There's a reason the bakery and café gets so much hype, and it's because Charlotte is dreamily convinced that Amélie's can simply do no wrong.
If you think I'm here to burst your brown-sugar-coated bubble, don't worry, you actually couldn't be more wrong.
I, too, am enamored with the sweet and savory scents that waft through your nostrils as soon as you step foot into the café. I, too, love crunching into a chewy macaron, a treat appropriate for any time of day, baked and filled with impeccable proportions. And sitting amongst the café chatter, pleasant lunch dates, and laptop-wielding writers (or coders or artists—what do those people really do?), I can't help but smirk with contentment as I dig into one pastry too many.
But I must stop my gushing, for fear of making things too weird.
The real reason the both of us (that's you and I, dear reader) are here today is to go over the most delicious items on Amélie's new autumn menu. The menu recently rolled out at all six locations on September 1, so head to your nearest bakery with the below picks in mind when you reach the register—they're my five favorites.

Roasted Root Vegetable + Smoked Gouda Tartine
To be honest, I was sold when Production Kitchen Manager Bobby Barwick said "spicy smoked Gouda spread," but even those words didn't prepare me for what I was about to consume. Being that a tartine is a slice of bread with a sweet or savory topping, this dish came off more like a crunchy French bread pizza, and I was overjoyed knowing I was getting some veggies in along the way. With the Gouda spread serving as the foundation and nicely roasted root vegetables acting as pizza toppings, the tartine distracted me from the fact I was eating turnips—which is just the way I like my vegetables: sneaking in on a (delicious, cheesy) Trojan horse.

Orange + Clove Mimosa
Not your average mimosa. With a tinge of cinnamon and the subtleness of cloves, this morning cocktail relieves your taste buds from the highly acidic memories of most mimosas past. I like to call it "fall in a champagne flute," because it's the seasonal sip I never knew I needed in my life. Be careful, though—it's way too easy to drink, and you will want to take a bucket of the mixture home with you.

Sweet Potato Pecan Petit Four
Even though I'm not a huge fan of marshmallows, this sweet little square won me over. With a pâte sucrée base (meaning flaky pastry) and sweet potato and pecan layering on top next, this small treat packs a big punch. It is finished off with a layer of marshmallow and toasted, crushed pecans, making each bite a delightful harmony. It was served to me as an amuse-bouche, so, apparently, there's no wrong time for marshmallows.

Dried Apricot, Pumpkin Seed + Goat Cheese Salad
A wonderful composition of sweet and savory, this salad will be my go-to for lunch this fall. It's not too heavy, yet, thanks to the quality ingredients—a bed of greens, roasted root veggies, roasted pumpkin seeds, dried apricot, goat cheese, and a maple balsamic dressing—it's chock full of nutrients. Anyone who likes goat cheese and fruit on a salad will devour this tasty plate, and I'm assuming that means all of Charlotte because goat cheese is basically the GOAT in my book. (Pun absolutely intended; I have no self-control.)
Almond Toffee Macaron
It's hard to bake a macaron so soft yet so crunchy, so gooey yet so refined—and yet here we are. The toasted almond macaron had hints of vanilla and tasted like a dream. It wasn't too sweet, but it wasn't bland, either. Topped with a toasted almond and adorned with Amélie's signature-as-of-late splatter design, this macaron had me drooling days later.
Honorable Mentions
Almond Toffee + Smoked Sea Salt Cafe Creme: Served as a divine demitasse, this tiny chocolatey coffee is a dessert I'd drink every day if I could.
Pumpkin Pecan Praline Macaron: A close-second to the toasted almond macaron, this variety is a sugary delight for pumpkin lovers.
Tomato + Pesto Danish with White Truffle + Thyme Bean Salade: Like a flakier pizza with plenty of depth, the danish balances beautifully with the cold bean salad.